By Teresa Varley
Steelers.com
It started off small for Amos Zereoue, learning the fine art of cooking from his father while he was at West Virginia in an effort to avoid eating ramen noodles every night.
When he was drafted by the Steelers, it grew into preparing dinner here and there for his teammates, introducing them to some new culinary delights that he created himself.

"We used to get together at Joey's (Porter) house or one of the guys house and I would make my African dishes," said Zereoue. "A lot of the guys really enjoyed it. At first they were kind of skeptical about what I was making. Joey used to make fun of what I was making. He would make fun of it, but when it was prepared, everyone enjoyed it.

But dinner for the boys has turned into much more for former Steelers running back, who is now the proud owner of Zereoue, an African/French inspired restaurant in New York City.

"I just kind of took it from there and added to it for what I am doing today," said Zereoue. "I had taken a liking to preparing meals and having people get together. I come from a background of cooks. It was the thing I wanted to do. I wanted a place where people can come and enjoy the atmosphere. I grew up in Long Island so I thought what better place to be than in Manhattan."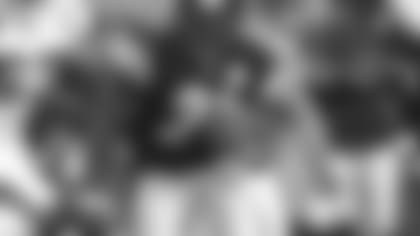 It's not uncommon for athletes to open a restaurant or lend their name to one. Normally they are gathering places on game day, often times with a menu filled with fun bar food. But Zereoue wanted something different.

So he did his homework, seeking assistance from those with a restaurant background as well as looking at what was out there and what might be lacking. And with over 20,000 restaurants in New York City, he found his niche with an African/French theme.

"We have to be different," said Zereoue, who is from Africa's Ivory Coast. "What's new, what is different from the rest. I thought that was different. I didn't want a sports bar with just burgers. I wanted something classy, high end type of thing. I didn't want them to think from the name that it had just a sports theme. I wanted to get away from that."
Zereoue is taking a hands-on approach to the business as well. He is there on a daily basis, and if you time it right you will find him in the kitchen preparing some of those same meals that he cooked for his teammates a while back, now perfected to fit the menu. Other days he focuses on the business-side of things, from the wine list to advertising and everything in between.

"The restaurant business is a funny business," said Zereoue, who opened his restaurant in July, 2006 and has made changes since then. "I thought football was tough, but this is the toughest thing I have ever done. You don't know what to expect. There is a different challenge every day. You have to deal with things you aren't always prepared for. It's one of those deals where you have to go with the flow and prepare yourself for whatever might come up."

When asked what his favorite menu item was, Zereoue just couldn't be pinned down. And you can easily understand why.

"It's my menu so everything on there is my favorite," said the always pleasant Zereoue. "There is so much I like. I enjoy the Margret de Canard, a roasted duck specialty as well as the Cajun Chicken. We change things up too. We try to go seasonal. We have a spring, summer and winter menu."

Zereoue's location at 13 East 37th Street (between Fifth and Madison Avenues) in Midtown draws a business crowd at lunchtime while evenings bring in those out for a night on the town or quiet dinner. But, it does still draw those who remember Zereoue from his playing days, as well as athletes he played with and ones from the New York area.
This week is an especially fun time for Zereoue with an influx of West Virginia fans in town for the Big East Tournament basketball tournament at Madison Square Garden.

"I get a lot of support from West Virginia and Steelers fans. They want to see what it's like. It's been wonderful," said Zereoue, a former WVU standout. "Steelers fans are the best in the league hands down. I had a great experience there. I had the opportunity to play with guys like Jerome (Bettis), Hines (Ward) and Joey and that is something I will cherish for the rest of my life. When I have the chance to catch a game I like to sit down and see what they are doing."

Zereoue has come a long way from his days of eating noodles and cooking for teammates. And there are plenty of New Yorkers thankful that he has as they enjoy some wonderful cuisine.

"I never envisioned doing this, not in a million years," said Zereoue. "It's stressful, but it's also fun. It's like any business and has ups and downs. I enjoy cooking and I enjoy the atmosphere and seeing people enjoy their meals.

"That is the biggest satisfaction. That is why you are in this business. To see their facial expression and the compliment they give me, and when a plate comes back in the kitchen completely wiped out, that is the greatest satisfaction."