The Steelers have introduced a new initiative this year highlighting the 'Women of Steel,' focusing on the women who make Steelers Nation strong.
Throughout the year we will be highlighting various factions of 'Women of Steel,' including female season ticket holders, community leaders, women in football, business leaders and more.
In this segment we are highlighting female season ticket holders, women who have a deep love of football and all things black and gold.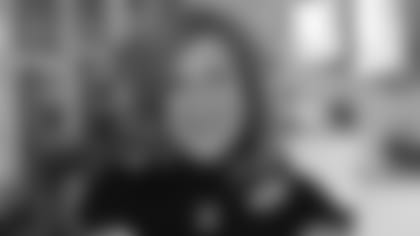 You don't have to be born in Pittsburgh to be a Steelers fan.
You don't have to even have grown up rooting for the black and gold to be a Steelers fan.
You just have to experience it once, to truly fall in love.
And that is exactly what happened to suite holder Kelly Gray.
"I moved to Pittsburgh from Memphis about 10 years ago and immediately became a Steelers fan," said Gray, who currently lives in Sewickley, Pa. "Being a lifelong sports fan, I was so excited to be in such an amazing sports town. I grew up in Birmingham, Alabama and went to the University of Alabama and college football was always a part of my life, from the very beginning. My dad and I spent many Saturdays watching football. It was a big part of my family. It was part of my DNA from the beginning.
"And the Steelers have a lot of similarities with the University of Alabama. The rich tradition. The history of winning the championships, the Super Bowls, and just the cast of characters that have played. That's what drew me initially, a familiarity that I recognized with the Steelers from my college team."
While that drew her to becoming a Steelers fan, what sealed the deal was stepping foot into Heinz Field on game day.
Once that happened, it was all over.
"I worked at FedEx, that is why I moved to Pittsburgh," said Gray. "Through the sponsorship of the FedEx Great Hall, they have a suite and we used it strictly for employees. Every home game there was a rotation of different functions that FedEx Ground hosted in the suite. I became quite accustomed to hosting the suite there with teammates through my department and human resources. 
"I have been to many college games, all around the South, the SEC, but there is nothing like being in Heinz Field with the Terrible Towels going and Renegade playing and that whole feeling of oneness of the fan support. It's just fantastic. It's one of the best things in sports in my opinion."
Such a great feeling that after Gray retired from FedEx, she didn't want the experience of going to the games to end. So, she is now a proud suite holder, enjoying games with family and friends.
"During the pandemic I was sitting around wondering what it would be like to have your own suite," said Gray. "I started making phone calls and inquires and just did it.
"I absolutely love it. The ease of getting in and out of the stadium. The parking. It's nice to have friends enjoy it with you. You don't always have the opportunity to visit and share with them in stadium seats. It's one more way to enjoy it with friends. Since I have been a season ticket holder it's been a weird ride because of the pandemic. One of our first games there was basically nobody in the stadium except for friends and family. That was a surreal memory. You could hear everything on the field, calling the plays, talking to each other, the refs. It was really strange. You never get that in a game.
"I love Steelers football."
Gray became immersed in the history of the Steelers once she was exposed to the team. She caught up on all the time she missed not growing up in Pittsburgh and now her knowledge of the Steelers matches her overall football knowledge.
"I have been a devout fan my whole life," said Gray. "My dad was an expert from watching the games, hanging on every word that was said. I do the same, not to an extreme. I always want to be current. It's something I enjoy keeping up with. I gravitate toward it because it's my interest. I want to be in the know.
"I am a serious football watcher. I love the competition. I want to see good football. I want to see excellent MVP level play. I like seeing good teams play and want ours to be the best. I love the amazing plays, last minute drives, comebacks.
"Coming from Alabama, I am used to being around a strong fan base, but it is really endearing to have so many female Steelers fans you can talk to about the team in depth. You can talk about the draft, the roster, the players, the coaches. I love talking to the women, and the guys, who are surprised that I really know football.
"And the Steelers are special. The rich tradition of the Rooney family is so special. The caliber of the organization. All of that comes across when you see them in action. I love the pride of the organization, the fans. And walking through the Great Hall and seeing everything."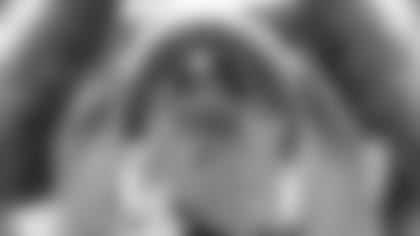 The 2022 football season is one Megan Zillweger-Jones will always hold close to her heart.
Because it will be her first seasons as a Steelers season ticket holder.
Zillweger-Jones put her name on the season ticket waiting list in 2002, and to her surprise, she received an email that told her tickets were available.
She jumped at the opportunity.
"I was honestly shocked because it's been I so long I didn't even expect it anymore," said Zillweger-Jones, who lives in Saxonburg, Pa. "My sister and her husband got their tickets last year. And until that point, I thought that the whole stadium was all seat licenses, and it would never happen. I thought I would be dead before my name came off the list.
"But, we got the email and my husband saw it first. He said to me, what do you think about the seats, did you see where they are? I'm like, what are you talking about? We got the season tickets. I thought he was kidding because he texted me and I hadn't seen the email yet."
Once she saw the email, though, she knew it wasn't a joke and was absolutely thrilled.
"I was like, get out of here," said Zillweger-Jones. "We've been getting tickets through his college roommate. We've been buying tickets from him for the last couple of years. We've been able to go to some games but now to have our own seats and I'm so excited.
"I didn't realize, but evidently this was the second time that we've been given an offer and I didn't know that. I don't know how I missed the first one. I completely panicked because it said this is your second offer and if you don't accept it, you go to the bottom of the waitlist. I was panicking because I did not see the first email. I talked to the people in the ticket office and they were so helpful. I was thinking this is not happening. I finally get the chance to get tickets and I messed up and am going to get put to the bottom of the waitlist.
"But it all worked out. My niece is going to Pitt in the fall so my sister and her husband have seats. I'm excited that we'll be able to go to the games with family. I'm excited, and so are my kids, for what the future is."
Zillweger-Jones grew up cheering for the Steelers, something that started with her father and just grew throughout the years. It was that passion that was instilled in her which had her sign up for the season ticket waiting list, and the dream came true.
"I've always been a Steelers fan," said Zillweger-Jones. "I grew up a Steelers fan thanks to my dad. His whole mood for the week depended on if the Steelers won on Sunday. Watching Steelers games was something we did as a family. My sister and I both loved watching the games and we both got on the list around the same time. She and her husband got their seats last year. We're getting our seats this year. So, I'm excited. That's something to continue with our families and her kids love football and my kids love it. It's a great family thing."
Zillweger-Jones love of the Steelers dates back to the 1970s, and the one thing she truly appreciates is the consistency within the organization.
"We'd go over to my uncle's house on Sunday and my cousins would be there and my dad and my uncle," she recalled. "I remember watching the games with everybody when I was little. If we weren't home, they were on the radio.
"What I love is things are similar now to how they were then. I love integrity. I love the Rooney family has been the ownership from the beginning. They have always had integrity and loyalty with this team. I love that the team always seems to stay together. They seem to be a team more than individual players that are only there for themselves."
And they are a team that she is still pinching herself that she is going to be able to watch in person all season … in her own seats.
"I don't know how long it'll take to set in that like these are our seats," said Zillweger-Jones. "I don't know. I just know I'm excited."
When Renee Minnemeyer-Climo joined the Steelers season ticket waiting list in 1995, she was told it would likely be 20 years until her name would come off the list and she would have the opportunity to purchase tickets.
In 2015, Minnemeyer-Climo got an email from the Steelers ticket office, and her dream came true.
"It was crazy," said Minnemeyer-Climo, who is from Beaver Falls, Pa. "They said when we got on the list it was about a 20 year wait, and it was literally a 20 year wait. We got married, got on the list, and it was a great 20th anniversary gift.
"I got an email about it and the first thing I did was call my husband. Then they said you had to have your decision fast. I didn't wait. I took care of it the first day. It was so exciting."
Going to Steelers games was nothing new for her, as she purchased tickets from a friend who was a season ticket holder back when the team played at Three Rivers Stadium. But when they made the move to Heinz Field, the friend no longer had access to the tickets, so it was tougher, making getting her own season tickets a joy.
"It's the best thing," said Minnemeyer-Climo. "The best.
"I love going to the games. I scream so loud I have no voice the next day. There is nothing like being in the crowd, a night game with the Terrible Towels going and everyone seeing it on television. Football has the most impact from a fan. You can yell so loud and cause an offside, false start. You don't' get that in other sports. It's the best fan sport to be a part of."
The past two years have been tough for her though, unable to go to games because of the Covid pandemic. She is a leukemia survivor, unable to enjoy one of her favorite pastimes because of health concerns. But she is hoping that is all going to change this season.
"I am hoping it's going to work out because I really want to get back into the action," she said. "I've missed it. I plan everything around games. We don't go on vacation during football season. I had a trip cancelled during Covid to Australia and it's happening during football season now. I already have anxiety.
"We have only one person who can come over to our house for games because they know the rule about not talking. I am very superstitious. I have to wear the same thing. It doesn't get washed until they lose, because you know I control the outcome."
Like many, her love of football came from her family, and in her case, it was her late mother who instilled her passion for the black and gold.
"Most people think your love of football comes from your dad. For me it was my mom," said Minnemeyer-Climo. "She was a Steelers fanatic. When I was a little girl, we watched the game. I have the same rule as she did. You don't talk during a Steelers game. Anything I wanted to learn about the Steelers I had to find out during a commercial break because you couldn't talk during a game.
"Back then you were able to go to the Pittsburgh airport and greet the players when they came back from a game. We did that. I got to meet the likes of Terry Bradshaw and Rocky Bleier and my favorite Jack Lambert. We got our picture with him. It was fun because I learned the game and we got to interact with the players."
One of her dreams was to see the Steelers play in the Super Bowl, and enjoy it with her mom to celebrate their love of the game together.
"We went to Super Bowl XL and my mom couldn't go, but said she would go to the next one with us," said Minnemeyer-Climo. "She got cancer and died within a year. Super Bowl XLIII came, and she left an envelope for us to go to the game. We went on her. We were at the game, the best Super Bowl ever. I turned to my husband at the end of the game, and I said I can't believe my mom isn't here with us, she would have loved it. At that point he pulled out his wallet and had a picture of my mom in it and said she is here with us. That was such a memory. I can't believe he did that. It's my favorite football memory. I feel like she was there, and she wasn't going to let me leave without the team winning."
Her experiences going to games, watching on television, have brought her joy and pride, as she knows the Steelers way is a tradition like no other.
"I love the tradition," she said. "I love that we are a respected team that has been around a long time. We don't follow fads. We have a respect for the players that goes beyond other organizations. Even when players leave or come here, they say it's different here. I feel that as a fan too. We have stability. We have longevity and respect for the coaches and fans.
"And our fans are special. What is cool about our female fan base is we are educated football fans. We know the game. We are able to communicate in an educated manner with other people. I feel that not all female fans are in it for the game, and we really get it."