When Stefen Wisniewski announced he was signing with the Steelers on his Twitter account, he was proudly sporting a Steelers hat showing the love not just for his new team, but his hometown team he grew up cheering for.
And the thought of course was, it was a hat he or his family had sitting around the house.
"I went out to Walmart and grabbed one," said Wisniewski from his home in State College, Pa. "That is one of the good things about being near your hometown team. They have Steelers gear everywhere."
And that wasn't the only thing he has been sporting lately that is black and gold.
"I started wearing Steelers gear again. It's been a while," said Wisniewski. "I had to buy some new stuff. I grew a little bit since the last time I was wearing Steelers gear. My wife, Hilary, is pulling out a lot of her Steelers sweatshirts that she had in her closet. She is a Pittsburgher as well."
For Wisniewski, signing with the Steelers as an unrestricted free agent has been a dream come true. He is a Pittsburgher, growing up in South Fayette and attending Central Catholic High School in Pittsburgh. He grew up a Steelers fan, attending games at Heinz Field. Now, he will be playing there.
"It's amazing. I grew up a Steelers fan," said Wisniewski. "Once you are in the NFL you don't always have the opportunity to pick any team that you want. You go where you are drafted, when you are a free agent you go to the best opportunity. When the Steelers said they are interested, it was a dream come true.
"I played at Heinz Field in high school in a WPIAL championship game. I played in a preseason game there. But I never played in a real game in the NFL yet, which I always looked forward to. The fact that I am going to do it with the Steelers is unbelievable. I can't even imagine what it's going to be like to be honest. The energy of that stadium, the fact that they will be cheering for me, it's going to be unbelievable."
What else is likely to be unbelievable is the ticket requests. With family and friends on both his side and his wife's in Pittsburgh, ticket requests will be pouring in.
"I am going to have to come up with a system, so I don't spend my whole paycheck on tickets," joke Wisniewski. "I will have to get some type of lottery system going. I am excited to be playing close to home. To have all of my family at the games.
"It's only been a few days since I signed, but all of my family and friends have reached out excited about it. One of the biggest things in high school and college was my family and friends were at every game. Playing at Penn State I was close. I go to the NFL and get drafted by Oakland and I am in California and nobody was at my games. It was sad to go from having all of my family there to them not being able to. Now all of my friends and family are going to be there. It's going to be awesome. I am looking forward to it.
"My family is so excited. It's crazy emotional. They always hoped I would end up back in Pittsburgh, but it hadn't worked out until this point in my career. It was funny. My sister was nine months pregnant. I agreed to the deal with the Steelers and on that day my sister was nine months pregnant. She was like I am so excited I am almost going to go into labor. She didn't at the time, but she did two days later and gave birth to a healthy baby girl. She and everyone else has been really excited."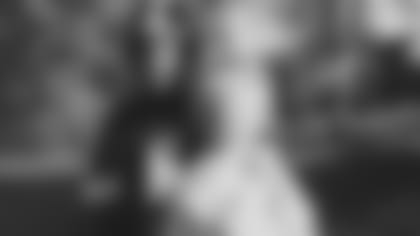 Wisniewski said his interest in the Steelers, and the team's interest in him, all sparked after Ramon Foster announced his retirement, opening up a need on the offensive line.
"I saw on the news and on my phone that Ramon Foster retired," said Wisniewski. "I thought, that would be a good job, I would like to go there. My agent talked to the Steelers. They were interested. I had a couple of other teams interested, but I couldn't turn down the Steelers.
"It's definitely always been my dream to get to play for my hometown team. The fact that it has happened is awesome. My whole family are Pittsburghers. My wife's family are Pittsburghers. They are diehard fans. They always rooted for whatever team I played for, but they also always rooted for the Steelers. I know it was a little weird for them at times not to root for the Steelers. Now they can root for the Steelers and me at the same time. It's going to be pretty cool.
"The whole Steelers organization is a good fit. The Steelers have a great reputation in the NFL. Just being a first-class organization, doing things the right way from top to bottom. Just high character. Commitment to winning. I was aware of all of that following the Steelers my whole life. I have been on both sides of the NFL. I have been on bad teams losing a lot, and I have been on two Super Bowl champions. It's way more fun to be a part of a winning organization and a good organization."
Wisniewski was a starter on the Philadelphia Eagles Super Bowl LII team as well as the Kansas City Chiefs Super Bowl LIV team. That experience he brings is something that can be valuable in the Steelers locker room.
"I think it helps a lot to have guys who have been there and know what it takes," said Wisniewski. "I have seen what championship teams do and I try to lead that out myself and help others do that. I think I can bring that leadership to the Steelers."
Like many kids his age growing up in Pittsburgh, Wisniewski was a fan of players like Troy Polamalu and Jerome Bettis, but even at an early age he was drawn to the guys on the line, watching players like Jeff Hartings and Alan Faneca. And every time he had the opportunity to go to Heinz Field, he relished every moment of watching his favorites on the field.
"We didn't have season tickets, but I made it to games there," said Wisniewski. "I do remember when the Steelers would invite WPIAL and State Championship teams. I remember going with my high school team when we won a State Championship. I also made the U.S. Army All-American team and they invited me and one other kid from Western Pa. and we were honored on the field during the game.
"I remember in general how all of Pittsburgh is. You wake up, go to church, and make sure you are back in time for 1 p.m. kickoff because that is Steelers time."