Talking Steelers Football with Joe Beimel
Los Angeles Dodgers relief pitcher Joe Beimel grew up a few hours away from Pittsburgh and it was only natural that he became a Steelers fan at an early age.

Beimel played two seasons at Allegheny College before attending Duquesne University in Pittsburgh for one year. He was drafted by the Pittsburgh Pirates in 1998 and played three seasons in the majors for them. Beimel spent time with Tampa Bay before signing with the Dodgers in 2006.
Beimel has followed the team through good and bad and recently had the opportunity to visit the team's practice facility, watching practice and meeting some of the players when the Dodgers were in town to play the Pittsburgh Pirates.
*
*Beimel took time out recently to talk with Teresa Varley for Talking Steelers Football.

How did you become a Steelers fan?
I grew up in Kersey, Pennsylvania which is about two and a half hours Northeast of Pittsburgh. I guess I was brainwashed at an early age. It is bred in us up there. I grew up watching them and always loved them.

What are some of your favorite Steelers memories?
Definitely when they won Super Bowl XL. That was definitely a highlight. Over the years it would be just watching the players and going to some games. I was always a big John Stallworth fan growing up and now I am a Troy Polamalu fan. It was nice to come here and meet him and to see how things are run over here.

How closely are you able to follow the Steelers now?
I lived in Cranberry Township for the last eight years so I have been able to watch games. This is my first offseason that I am not going to be living there, but hopefully I will be able to get back and be able to go to some games. I don't have DirecTV yet. At least there are a lot of places where Steelers fans gather to watch games. I am sure I will be able to find a place to watch the games.

Your Dodgers teammate Cory Wade is a Steelers fan as well. Is that fun having someone around the clubhouse to talk football with?
I was kind of shocked because he lives in Utah and grew up in Indianapolis. It just goes to show you us Steelers fans are everywhere. *

*Is there a current Steelers player you enjoy watching, a guy whose game you respect?
It would be Troy Polamalu. I just love the way he plays. He is all over the field making plays. He is by far my favorite.
You had the chance to meet him. What was your impression?
He is a real nice guy. A guy that used to work for the Pirates that I know is good friends with him and used to tell me how nice a guy he is. It was pretty cool to meet him.

**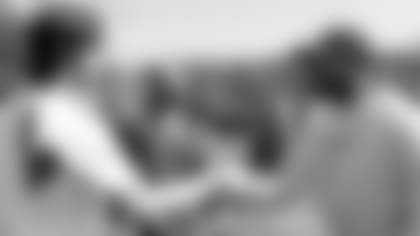 What are your thoughts on what Mike Tomlin has brought to this team?**
It has been awesome. He is a younger guy. He brings a lot of enthusiasm to the team. He is definitely one of the best coaches in the NFL.

When you hear the name Steelers, what is the first thing that comes to mind?
Winning is something that always comes to mind. That and just being home in this area and growing up a Steelers fan.

*What current Steelers player would you like to have batting clean-up in your lineup? *I have seen some big guys out here so I don't know. I could go through the lineup and pick out a few of them. There are some big humans out here.

*What would Ben Roethlisberger have a better chance of doing – throwing a guy out at second base from the catcher position or throwing a guy out at home plate from the outfield? *Probably center field because he has a little more distance there to air it out.  

*Which current player would make a good closer, someone who can come out of the bullpen and have that mentality? *I would have to say Ben because he has the size and definitely has the arm.