Talking Steelers Football with Cory Wade
Los Angeles Dodgers relief pitcher Cory Wade grew up in Indianapolis and now lives in Utah during the off-season, but that has never stopped him from following his favorite football team – the Steelers.
Wade has been a fan for as long as he can remember and recently had the opportunity to visit the team's practice facility, watch practice and meet some of the players when the Dodgers were in town to play the Pittsburgh Pirates.

Wade was originally drafted by the Dodgers in 2004 and in 2008 spent his first season in the majors.
*
*Wade took time out recently to talk with Teresa Varley for Talking Steelers Football.

How did you become a Steelers fan?
My dad grew up a Steelers fan. He started following Joe Greene in college and he groomed me to take the part. That's how it started. I was watching since I could follow them on television. I was probably six or seven before I really got into it. I had some old Terry Bradshaw helmet, jersey and pants. I was that type of fan and really still am.

What are some of your favorite Steelers memories?
The main one that sticks out is Super Bowl XL against the Seahawks, the one for the thumb. It was huge for the organization to finally get that one. It was a lot of fun. I was in Nevada watching the game and it was awesome. Being out on the west coast there were a lot of Seahawks fans. I was all in my Steelers stuff, wearing black and gold. Everyone else was a Seahawks fan. I was rooting by myself but it was fun.

Being from Indianapolis, what was it like watching the playoff game against the Colts that season?
I was teaching baseball lessons so I had to listen to the game. I was in there teaching lessons and had to tell the kids to stop so I could listen to what was going on in the game. I was in there screaming. I was the only person screaming. In the Midwest they are all St. Louis Rams fans or Colts fans. There I am the lone Steelers fan.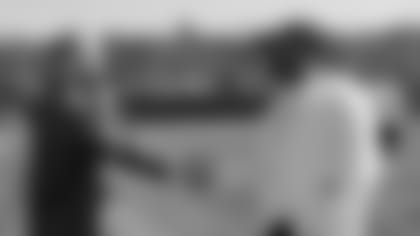 How closely are you able to follow the Steelers now?**
This is my first year of big league ball so in pervious years it wasn't that hard to follow the games. Right now you watch what you can while the season is going on. Hopefully you get an off day on a Sunday and you can sit back and watch the games. I have the Sunday Ticket package so I can get all of the games. If I get a chance to watch a full game I am going to do it and wave my Terrible Towel and having a good time.

Your Dodgers teammate Joe Beimel is a Steelers fan as well. Is that fun having someone around the clubhouse to talk football with?
Yeah it is. We have a trainer too who is a big time fan. Guys are so scattered and you don't run into too many Steelers fans where we are. Having Joe and our trainer Todd (Tomczyk) both being Steelers fans is a lot of fun.

Is there a current Steelers player you enjoy watching, a guy whose game you respect?
Ben Roethlisberger. I like watching the way he conducts the offense and everything he does. You can see every year the way he has matured. He came in right away and we went 15-1. He played really well. I like watching Troy Polamalu play. He is max effort all of the time. Hines Ward just for his longevity and what he has been able to do for this organization is unbelievable.

What are your thoughts on what Mike Tomlin has brought to this team?
He has kept the same attitude and added some to it with what Cowher had here. He is all about defense and max effort running the ball down your throat all of the time. Watching that is great, it's the same thing he did with the Vikings. Having that here has been a lot of fun. They haven't missed a beat when Cowher left. A lot of people were concerned when Cowher left about what was going to happen, who they were going to bring in. The Rooney's brought in a great guy to replace Cowher. It's been awesome.

What is the first thing that comes to your mind when you hear the name Steelers?
Championships and good solid defense. The Steel Curtain. That is it.

What current Steelers player would you like to have batting clean-up in your lineup? *I would say Mike Tomlin. That man is massive. That is a big man. And the attitude he projects I would like to have him in my cleanup spot.  

*What about a leadoff hitter, who would that be?
Willie Parker. He could be my leadoff hitter any day. I would put him in center field too. That man can run. Get him on the edges and he is gone. I would definitely go with Willie Parker on that one.

*Which current player would make a good closer, someone who can come out of the bullpen and have that right mentality? *I would have to say Ben Roethlisberger. He has the arm to do it. I would definitely say that one.