The tattoo emblazed across the chest of Steelers seventh-round draft pick Cory Trice Jr. says it all.
"Only the strong survive."
It's a tattoo he added to his collection just a few months ago and it tells his story, his journey of how always fought through adversity.
"It was just about my time at Purdue, about where I came from and surviving adversity," said Trice. "I have seen guys go through adversity and just quit. I have seen guys go through adversity and never come back. I knew with what I went through in football and life, only the strong survive.
"You have to be strong in faith, with your spirit and have a strong support system around you. You are going to go through tough times, and you want to make sure you have the right people in your corner."
His strength was put to the test during the NFL Draft when he had to wait until the seventh round for the call to finally come. It was tough, but he is tougher.
"It was kind of tough because I had plans to go higher than what I did," said Trice, the cornerback from Purdue. "I knew it was God's plan. Things are going to always work out. I might not have seen it right away, but I still had that mindset.
"It was a big relief to get the call from the Steelers. At that moment I was ready to go to work. It might have come late, but at that point I was ready to show to Steelers Nation and the whole Steelers organization, my family and myself, that they won't regret this pick. It was a big relief. It was exciting. It was a great moment for me and my family."
Trice's family spent the three days of the draft together, watching and waiting through all seven rounds to learn where he would end up. They stuck together until the end, and it was worth the wait.
"I told them I think I can go on day one, but I might not go on day one," said Trice. "They still all came over and stayed with me. From day one to day three, all the way to the seventh round, my family stayed through the whole thing.
"When I got the call everybody was emotional. I wasn't emotional. I was just ready to get to work and prove myself once again. I had a few calls prior to the Steelers from other teams that said they were going to draft me. I kept thinking that was the call. Then when the Steelers called, I was hoping it wasn't one of those type of calls. When Coach Mike Tomlin got on the phone saying they were going to make me a Pittsburgh Steeler, that is when it hit me. I was excited and ready to get to work at that moment."
The person who offered him the most support though the long wait, and his entire life, was his mother, Tomica Mason. She has been his rock, his steady force and the one he can always depend on in good and bad times.
"That is superwoman," said Trice. "She has been supporting me ever since I can remember. She has been there every step of the way. In college, my freshman year, when I wasn't playing, she would come to the games. Home games, away games, she was always there supporting me."
Mason was that solid foundation for Trice, after his father, Cory Trice Sr., was shot and killed when he was just 10 years old. It was a tough time for him, but he got through it thanks to her love and guidance.
"I was really hurt when it happened," said Trice. "I had a good relationship with my dad. It was definitely hard. I had my mom help me get through it, and other friends and family. I had a really strong support system.
"I didn't have anger. I didn't understand everything. It was me being sad. It made having my mom there even more important."
While the loss of his dad was the toughest part of his journey, it wasn't the only bump in the road. Trice suffered a season-ending ACL injury in 2021 at Purdue after starting the first two games of the season. It was a struggle for him at first when as his joy was taken away.
"I couldn't do the thing I loved the most," said Trice. "It was hard to come back from it. Once I made my foundation with my faith and trusted God's plan, that is when I was able to accept my injury and just focus on how I can come out of the situation better than I was before.
"In the beginning it was definitely tougher. You do feel lonely sometimes when you are injured, not playing. I definitely did feel like that. My team did a good job of making me feel like a part of things. I was still around the team. I was going to meetings. At first, I felt lonely because I couldn't accept my injury. Once I learned to accept it and move on and trusting God's plan, that is when I was starting to get to be like myself off the field."
It was his faith, a faith instilled in him by his mother, that guided him through the storm.
"That is how I am going to go through any situation or adversity that I go through moving forward, just having God first," said Trice. "That faith came from my family. I grew up in the church. Once I branched out on my own as far as going to college, and I was on my own, that is when I took my own journey in my faith. My mom laid the foundation down, but I took my own journey. That is when it really hit me. I was reading the Bible, focusing on my faith on my own."
Trice also focused on his goals, goals he wrote on poster board to make sure he could visualize them. He set his goals for himself for school, football and life. And one by one, those goals are becoming reality.
"That was important to me because I wanted to wake up every morning and see what I wanted to achieve in life and each day," said Trice. "In order to achieve those goals, I would have to do certain things, even if I didn't want to do them that day. It helped keep my head on straight. I am a visual guy. I like to see stuff. Me waking up every morning and being to see it was important to me."
A goal that he is proudest of is graduating from Purdue with a major in Communications and making the Academic All-Big Ten team multiple times. He is currently working towards his Master of Science in Technology Leadership and Innovation, something he hopes to complete next offseason.
"Graduating from Purdue was on my goal chart," said Trice. "It made my mom proud, it made my family proud, and it made me proud. Now I am just three classes away from my Masters. I am going to finish that up around this time next year."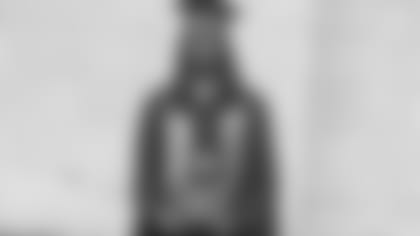 He is an inspiration with what he has overcome and overcoming it with a positive attitude. He wants to show others, including kids in his hometown of Hopkinsville, Kentucky, that you can do whatever you set your mind to.
"My background was kind of tough," said Trice. "My mom always found a way for us, making sure I didn't want for anything. She always made it happen for me and my family. There aren't a lot of athletes that come out of my town. I want to be the guy who lets people know they can do it too, they can achieve anything they want to achieve.
"I went through a few things in my childhood. I overcame adversity and I always knew I would come through it. It was just a matter of when would I be able to get through it, make sure I was ready and doing my part.
"My mom would always tell me the storm won't last forever. She would tell me to be ready when the storm was over with, it won't last forever. That is saying you are going through things, just make sure you are doing your part, the best you can, so when the storm is over with you won't be caught off guard, you will be ready to go."
And Trice is ready to go.
"I want to prove things," said Trice. "I want to go in there and do whatever I can to help the team win and prove to myself how good I am."