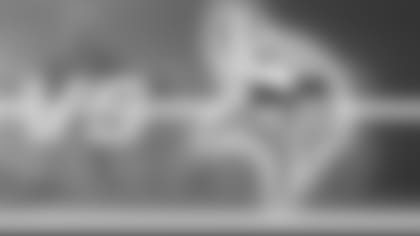 ](http://www.steelers.com/adPromo/clickThrough/processClick.io?adPromoID=95922)
 STEELERS vs. VIKINGS SUNDAY, OCTOBER 25 2009 KICKOFF 1:00 P.M. HEINZ FIELD
HEAD COACH BRAD CHILDRESS
How were you able to insulate all of your players from the attention Brett Favre got at the start of the season?I don't know that they were insulated because it seemed like there was a blow-by-blow that went on. They all had some different comments about it but we were able to talk about it as a team before Brett [Favre] got here when we got to get and then after he got here. It's a good group of guys, they deal with what they need to deal with, that's been successful. All I try to do is orient them and provide a good place for them to work. 
Has the hype died down or risen over this 6-0 start?
No, I don't know what it's like outside the walls of, "Winter Park," here but you've got a resolute bunch of guys that realize they're off to a good start and to treat the 6-0 just like you're 0-6. You go back to work and on the basics and the fundamentals and all the things that you need to work on.
 
Talk about your weapons and how you've been able to show so much.
Well, there's no such thing as too many tools in the toolbox. There's only one ball but they've all contributed differently at different times and I don't have any illusions about everybody on this 53-man roster is going to have to contribute something somewhere and that's what we talk about everyday.
 
Is [Brett] Favre what you expected?
He's probably a harder worker, he's a gym-rat type guy, he is a guy that spends time at his craft with all the things that you need to be good at, whether it's his strength training or watching tape, spending time knowing the opponent. As much as anything, he's spent time getting up to speed on this system, but more importantly our players and what specific skills they have. He's a guy that works at it. He's a game manager, you know as a quarterback, if you touch the ball 60 times in this game, you're going to have something to do with the outcome.
 
Is Adrian Peterson as good as it gets? What's special about him?
Aside from the physical skills that you see, great person, great human being, great worker. He doesn't have any diva qualities. He's a grinder, he comes in and works hard to take care of his body. For an NFL running back, it's hard to practice on Wednesday. He practices every Wednesday, he doesn't stand around with his hands in his sweatpants. He enjoys the competition, he's always got a smile on his face. Great competitor, doesn't care if you're throwing it 60 times or running it.
 
Does he remind you of anyone style-wise?
No, he reminds me of him. He's got his own slashing-style. He runs violently and explosively and has top-end speed to be able to run away if you give him something.
Can you talk about your teams ability to stay in games and finish them out?
I believe we were behind the Detroit Lions by 10 in that game at the beginning. We may have been behind at the first game [at Cleveland] I don't exactly remember. It's a hell of a bunch of guys, and they're great competitors and they're resolute. They don't have any can't in them or quit in them, at the same time they realize they have warts and what they have to work on.
 
Can you talk about going up against Mike Tomlin?
You like to compete against guys you know, somebody's got to win, somebody's got to lose. For me it's been Steve Spagnuolo who we worked with in Philadelphia and John Harbaugh this past week and now Mike [Tomlin] who was our defensive coordinator here. Those are the kind of things you like. You like to bang heads. Guys that our staff had familiarity with and guys our players had familiarity with them. My experience is you always want to do good against somebody you have some familiarity with.
 
Talk about playing away from the dome, and how your team has been able to focus.
I just think guys appreciate schedule, they know what they're getting themselves into, they know where they're going and how we go, how we travel. There's no special bells and whistles, we do it the same all the time and something about packing a bunch of guys up on a plane and it's, "you against the world," so to speak.
 
Did you think Ben Roethlisberger and Pittsburgh would have such a good pass game instead of its usual running football scheme?
I think it's a credit to him and it's a credit to them there to not put round pegs in square holes. Would they like to run it? Sure they would, but you can go back to the Don Schula's of the world and the Dan Marino's and they were a run-it team. Ben [Roethlisberger] has always had an ability, whether it's at Miami of Ohio or coming in as a rookie. He's a big athletic guy that can see. He can make all the throws, he can make throws with people draped on him, he can hitch it from anywhere on the field in a lot of different platforms.
 
Does he [Ben Roethlisberger] remind you of Brett Favre?
A young Brett Favre.

RUNNING BACK ADRIAN PETERSON
You came off of a performance against Baltimore that was pretty impressive.  What do you attribute your success to?
Just being patient.  Putting guys on guys.  The offensive line did a really great job, opened up holes for me and I was able to take advantage of it.
The Steelers have a pretty stingy defense themselves, what do you look for this week running against them?
Well we definitely are going to have to come out and start fast because it is going to be hard to play pick-up at Heinz Field.  That is going to be the main thing and just come with the same approach we had against Baltimore. They have an amazing defense.  I am excited that Troy (Polamalu) is back playing now and I am really looking forward to a good game.
Did you follow past running backs and did any influence your style at all?
I definitely followed guys, but I wouldn't say any really influenced my style.  I kind of have my own unique style, so no.
Who were your favorites growing up, especially coming from Texas?
Well coming from Texas, Emmitt Smith, and just watching how he was, he was more like my style but he was a complete back.  I loved watching him.  Terrell Davis.  I enjoyed watching him also.  But yeah, the position of guys that came from Texas, Earl Campbell and those guys, they were when I was younger so I don't really remember too much about those guys. 
Both locally and nationally, how much has the fan and media attention shifted from you to Brett (Favre) since he came aboard?
Having a guy like Brett really just makes our offense totally different. We can balance it out with the run and the pass. As far as the media attention, it's Brett Favre. Anywhere he goes he will be the main attraction and I like it. The focus is not on me, it's not about Adrian Peterson running for so many yards every game.  We are able to get wins in so many different ways with everybody catching the ball.  So I am really enjoying that.
With Aaron Smith out of the lineup, what do you make of the Steelers without him as a run defense?
Anytime you lose a starter it's hard to replace that guy. But the Steel Curtain, the Pittsburgh defense and the tradition, they will have a guy in there that will get the job done.  One player doesn't take away from the defense.  They are an amazing defense and we are just preparing to come in and get a big win.
Do you feel like you have proven some national critics wrong?  What do you have to say to those who say you aren't as good as your record?
You are definitely entitled to your own opinion. Think what you want to think.  All we are going to do each week is focus on the team that we are facing whether it is home or away and come out with a win, victorious.
Mike Tomlin said in his press conference that you are arguably the best football player in the world. What do you think when people say that?
It is really humbling to be honest. I feel good.  The whole workout I put into it plays off.  But to hear something like that from Coach Tomlin, I have the ultimate respect for him; I had the chance to meet him down at the Super Bowl.  I just have the ultimate respect for him as a coach and to hear him say something like that is makes me feel good.  But at the same time it is humbling for me to understand to continue to stay on the path that I am on, working hard, and with God willing, the sky is the limit.
Where did you meet Mike (Tomlin)?
It was at one of the Super Bowl events that they had.  I just had the opportunity to speak to him for a few minutes.  We just chit-chatted back and forth.  Didn't really have the opportunity to get into a deep conversation. 
You have fourteen catches so far this year.  Can you talk about that part of your game?
When you have Brett back there, a guy that has been in the league for 18 years, we are starting to learn that as a linebacker role, he loves to check down.  If he doesn't see anything down filed, he is going to be looking for us.  Just taking advantages of opportunities we have of one on one situations, trying to get open for him, to be that escape goat when he needs it.
What do you think of the nick name 'Purple Jesus'?
I didn't like it at first but I am starting to like it a little more.  All because of how I am trying to change my life style, and how I am able to affect so many people around the world.  Just being a mentor and using my story to of how I overcame certain situation and things like that through faith, prayer and having God in my life.  In that aspect I like it.  Hopefully I can affect a lot of people not only by the way I carry the ball but with my testimonies I can share with people.