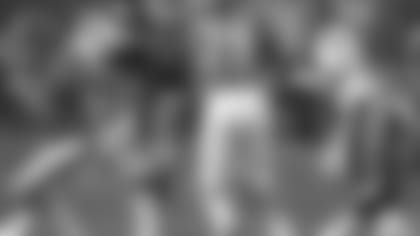 Another in a series of stories chronicling the 52 playoff games in Steelers history.**
The Steelers had to be tickled that 1977 was over, because the playing field where they had their most consistent success was the one where the major players were lawyers. Ernie Holmes was acquitted of cocaine possession charges; Chuck Noll was cleared of charges brought by George Atkinson over the "criminal element" remarks; and Mel Blount dropped his defamation lawsuit against Noll for including him in the "criminal element," which had happened under questioning by Atkinson's lawyer.
All of that contributed to an unsettled environment in the Steelers' locker room, and throughout the season it became clear the team had lost its singular focus. Jack Lambert held out. Mel Blount held out. Glen Edwards, Jimmy Allen, Ernie Holmes all moaned about money. Guys walked out during the season, and in some cases Noll relented and took them back.
But times were about to change. * * *


It was March 1978, and if the weather for the annual NFL owners' meetings was sunny, what was being done appeared to cast a dark cloud over the way football was played in Pittsburgh. But as all great men do, Chuck Noll had a different vision. The moves were sold to the public as a concern for "the increased emphasis on defense," but what the NFL really suits wanted was more scoring. So they changed the rules.
Offensive linemen could use their hands to pass block; defensive players had to cease contact with a receiver beyond 5 yards of the line of scrimmage; and a side judge was added, in effect, to call more pass interference penalties. While everyone else was looking at how this was going to affect the Steelers defense, Noll was seeing how it was going to change his offense.
But first, fetch the broom. The big broom.
Before the house-cleaning was over, Jim Clack, Frank Lewis, Reggie Harrison, Ernie Holmes, Jimmy Allen and Glen Edwards were gone. Twelve Super Bowl rings among them. Not all were problem players, but each one was standing in the way of something, and Noll was in full-blown "whatever it takes" mode. "We're trying to rid ourselves of distractions," said Noll. "We can't have another season like last year. We've got to work like hell to get the distractions settled."
The moves were interpreted as a sign of a major rebuilding project, but the Steelers actually were working at the football version of Darwinism. They were adapting to their environment. On July 2, 1978, a Pittsburgh Press story under the headline, "Revised Bump-And-Run Rule Suits Terry Bradshaw Fine," revealed a little about how the Steelers planned to do that.
"I think a quarterback will now be able to adjust to his routes and maybe get rid of the ball a little quicker," said Bradshaw. "I think you'll have the same basic coverages, but I think the bump-and-run will go out the window. This is gonna stop all the people laying all over the receivers' backs. And that could definitely help me, because a lot of times what has held us up is receivers getting jammed by a cornerback who is all over him."
Once camp opened and the focus was all about football, the first play of the first scrimmage of the summer? A pass. There were four preseason games, and the Steelers won two and lost two, but there was something encouraging about this .500 record. There was a momentum building, and those close to the team certainly felt it.
"The biggest difference in this camp compared to last year is that this camp is about football, not gossip," said Joe Greene. "Everything that's happening in this camp is about football. That's not saying we're going to go out there and kick butts, but that's saying we're going to be going about our business, what we're being paid for."
The Steelers opened with a 28-17 win over a Buffalo Bills team that would finish 5-11, but in that game Bradshaw completed 14-of-19 for 217 yards, and afterwards Rocky Bleier summed up the afternoon succinctly, "Our passing attack was the big difference in this game."
The next week, the Steelers defeated Seattle, 21-10, a game in which Franco Harris rushed for 64 yards and Bradshaw passed for 213 and two touchdowns. What followed was a road win in Cincinnati, where Harris rushed for 73 yards and Bradshaw completed 14-of-19 for 242 yards and two more touchdowns. The focal point of the offense had shifted from Harris' legs to Bradshaw's right arm, and Noll not only recognized that and embraced it, but he also was actively trying to nurture it.
"I think he's more confident that he's ever been before," said Noll about Bradshaw that September. "That makes a difference. And everybody's helping each other. The quarterbacks are helping the receivers, and the receivers are helping the quarterbacks. He's getting the ball to (tight end) Bennie Cunningham and our running backs as well as the wide receivers, which has helped."
And so it would go throughout the rest of the regular season. The 1978 Steelers committed 39 turnovers, an astonishing number for a team that would finish 14-2, but Noll never pulled back on the reins, he never inhibited his quarterback from trying to make plays down the field to the wide receivers, he never went back to the style of offense the team had used to win its first two Super Bowl titles. Terry Bradshaw's 1978 season is remembered as one continuous highlights film, but while he threw 28 touchdown passes, he also threw 20 interceptions. And this incongruity was being noticed even as the Steelers kept piling up the wins.
The Oct. 14, 1978 edition of the Pittsburgh Post-Gazette carried this observation: "The mystery has yet to be unraveled and the clues are difficult to read. Even though the Steelers season is six games old, it isn't easy to judge where they stand as a team. They're off to their best start ever, but nobody is claiming this is their best team. It is apparent they'll win their division and make the playoffs, but there are still a lot of unanswered questions about the team."
The defense would get better, but Bradshaw fell into a slump. In Los Angeles, former Steelers defensive coordinator Bud Carson was holding the same job with the Rams, and his unit had a big day against the Steelers. The Rams intercepted Bradshaw three times and held the Steelers to 59 yards rushing in a 10-7 win. The next week, the play of the defense was what allowed the team to survive the 1-10 Bengals, a 7-6 victory in which three sacks and five takeaways, two of them interceptions by Mel Blount, nullified another horrible game from Bradshaw, who threw four more interceptions.
Afterward, Greene gave his offensive teammates a gentle nudge. "The load has shifted, but to win, we're going to have to get better offensively, because there are better offensive teams in the league than Cincinnati."
Bradshaw may have been in the latter stages of a regular season in which he would be voted the Associated Press Player of the Year, a first-team All-Pro and the Steelers MVP for a second straight time, but he just didn't seem to be comfortable in his own skin.
"I doubt I'll ever be able to look in the mirror and say I'm the best quarterback in football," said Bradshaw. "Maybe it's because of my personality. I think I have charisma, but I don't think I'll get the recognition. First mistake I make, I'll be battered for it. (The media) make excuses for the other guys; they don't for me. (Bert) Jones is always great. (Roger) Staubach may have a bad game, but he's still great … the same thing with (Bob) Griese. I lose my greatness when I have a bad game. I go back to being a dummy."
With the playoffs at hand, and with homefield advantage secured, Bradshaw and the Steelers were primed to show the rest of the NFL that they indeed were the best.
For the Steelers, the 1978 playoffs began at Three Rivers Stadium against the Denver Broncos, a chance to avenge their loss to them in the 1977 postseason at Mile High Stadium. Not only was this game a rematch of the 1977 playoffs, it also was a rematch of the Steelers' 1978 regular season finale. The game meant nothing to the Steelers in the standings, but that didn't make it meaningless in the minds of some of their great players.
The Steelers led, 21-17, and Denver had the ball on the 1-yard line with seven seconds to play. Noll said afterwards, "I think that Joe (Greene) put himself back in. We had wanted to give some other people some work."
After a pass interference call in the end zone gave the Broncos the ball on the 1-yard line for that final play, Greene went back into the game. Denver chose a running play, but Lonnie Perrin was stopped for no gain up the middle. Greene said, "Lambert got him. Lambert made the play. My job was to stay low so I wouldn't get blown off the ball. Fortunately I didn't. I would've taken a loss (to the Broncos) hard. I don't know about anyone else, but it would've been a downer for me."
Now, it was time for the playoffs, and the teams weren't any more fond of each other.
Broncos coach Red Miller bristled at the oft-repeated suggestion that his defending AFC Champions were nothing but a fluke. "They might go in thinking they can stop us like they did in the first half (of the regular season game), but we expect our offense to show them something and let our defense work on the positive side of the field this time. We didn't rush our linebackers in that last game, and it helps if you can rattle their quarterback and keep him contained."
Also, Jack Lambert seethed over Denver's Randy Gradishar being selected first-team All-Pro at middle linebacker instead of him. The Steel Curtain was tired of the Orange Crush, and a pregame incident brought that into sharp focus. L.C. Greenwood walked onto the field and strolled past an area where a group of the Broncos were loosening up. In Greenwood's hand was an orange, and once he got their attention, he smashed it against a wall.
The Steelers built a 19-3 lead on a couple of touchdown runs by Franco Harris, but the Broncos closed to 19-10 and seemed to be building some momentum before Joe Greene killed that by blocking a 29-yard field goal attempt by Jim Turner.
Then as they had all season, the Steelers offense took advantage of an opponent's mistakes with quick strikes that put the game away. Within a 32-second span, Bradshaw passed to John Stallworth for a 48-yard touchdown and to Lynn Swann for a 38-yard touchdown. Game over, 33-10.
Bradshaw said, "It was my plan to get the ball to Stallworth. I don't know if it was Chuck Noll's plan, but I knew Swann was going to draw a lot of double coverage, and I wasn't going to beat my head against the wall trying to force it to Swann."
Noll had no problem with Bradshaw's decision-making. "The big play was the key to the whole thing of course, and Terry was at the hub of it all. It brings you to the dilemma of which came first: the receivers or the quarterback? We'd like to think you can't do one without the other."