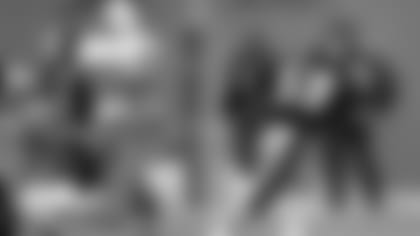 Another in a series of stories chronicling the 52 playoff games in Steelers history.**
"Our attitude is that we're not going to be denied," said Mike Webster. "I think there is a genuine affection for everyone on this team. We don't want to short-change each other. We're having a good time playing. We're just looking forward to next week."
Webster said that in the days leading up to the 1978 AFC Championship Game against the Houston Oilers at Three Rivers Stadium. It marked quite a difference from 1977 when the Steelers had been wracked by internal discord, but winning and competing for a championship has a way of bringing everybody together.
In finishing 14-2 during the 1978 regular season, the Steelers did to their competition what Genghis Khan and the Mongols did to theirs. Nine of those14 wins were by double-digit margins; Terry Bradshaw tied for the AFC lead in passing yards, and the offense also averaged 143.6 yards rushing per game while converting 48 percent on third downs. The defense contributed to this marauding persona by recording 44 sacks and 48 takeaways.
In the AFC Divisional Playoffs, the Steelers had hosted and hammered the Denver Broncos, 33-10, an ignominious exit for the defending AFC Champions, and now it was time for the rubber match with Earl Campbell's Houston Oilers.
The first of the home-and-home regular season series between these AFC Central Division teams came in the schedule's eighth week, with the Steelers already 7-0 and in command of the race for the division title. That winning streak would end the following Monday night at Three Rivers Stadium when Campbell scored twice in a game that ended in a 24-17 victory for the Oilers.
"I hate to lose, but something good may come out of this," said Jack Lambert. "There's some possibility that maybe we thought we couldn't be beaten. Now we know we can. That undefeated stuff is over with."
Noll was uncharacteristically upbeat after a loss – "Hopefully we can use this as a springboard" – but after sloppy wins over Kansas City and New Orleans, it was Jack Ham who spoke his mind.
"Nobody on our defense is happy with the way we're playing," said Ham of a team that was 9-1 with a three-game lead over the Oilers in the AFC Central Division at the time. "You can lull yourself to sleep thinking you're playing pretty good football. But we're not, and we've got to get better and better."
The second meeting was in the Astrodome, and the presence of Howard Cosell and the rest of the Monday Night Football circus just added to the hype. The Steelers were 11-2, and while their defense was better, Terry Bradshaw had fallen into a slump. The Rams had intercepted Bradshaw three times and held the Steelers to 59 yards rushing in a 10-7 win over the Steelers, and the next week, the play of the defense was what allowed the team to survive the 1-10 Bengals.
Steelers-Oilers II was another low-scoring affair, with the bruises far outnumbering the points in a 13-3 win for Pittsburgh. Donnie Shell KO'd Campbell early in the game by sending him to the sideline with a broken rib. "We didn't have enough Band-Aids," said Oilers coach Bum Phillips. "There's nothing I'd like better than to play Pittsburgh three times, and I've got to be a damn fool to say that."
Maybe Bum was a fool, but he got his wish, and the Oilers seemed to know what to expect when they arrived in Pittsburgh for the AFC Championship Game.
Phillips was folksy before turning serious. "Playing Pittsburgh is like eating an ice cream cone on a hot summer day. Sometimes before you can get it all in your mouth, it gets all over you. But no, I don't see any change in the style of play. We're bringing along a lot of medical people and maybe a few blood donors."
Added Oilers quarterback Dan Pastorini, "It's going to be a bloodbath." Strangely, the man they called Mean Joe took a different view: "I think it's very appropriate that we play them for the AFC Championship. I was rooting for them. Not because we wanted to play them. It was something natural. I was feeling good for them."
It was Jan. 3, four days before the game, and the weather in Pittsburgh offered 9-degree temperatures with 16 mile-per-hour winds. Phillips was bringing a dome team into this, and he didn't want to make the weather an issue.
"You can't practice being miserable," said Phillips. "It'll be an emotional game, and it won't really matter if it's cold or hot, or whether it rains or snows. I don't think we'll use weather as an excuse. I'm not worried about the weather. I'm worried about Pittsburgh. We've both got to play in it. It ain't gonna be colder on our side."
As usual, Lambert's perspective was unique. "The only time I mind the cold is at halftime, when you're wet and cold and you don't have time to change into anything. I feel a helluva lot worse for the fans. All they've got under them is that cold cement."
When game day arrived the weather was every bit as horrible as anyone could have expected, with a wicked combination of cold, wind and freezing rain, and even though there was a general consensus that this matchup was between the two best teams in the AFC for a spot in Super Bowl XIII, the outcome was decided before halftime. On their first offensive snap, the Oilers ran the same play that Earl Campbell used to gain 10 yards during the teams' meeting in the Astrodome one month before. This time, Jack Ham stuffed it for a 3-yard loss, and it was the start of a day when he was the best player in a Steelers uniform.
Ham accounted for three takeaways that led to 17 points, and he finished with five tackles, a forced fumble, a sack, one interception and two fumble recoveries. Campbell ran 10 times to Ham's side of the field before the score got to 31-3, and he gained all of 11 yards. Decades later, the perception is that the Steelers offense was dominant in what turned out to be a 34-5 win, but Noll's appraisal at the time was the opposite.
"I'll tell you one thing – our defense does a helluva job whenever our offense makes a mistake," said Noll. "This defense has had an attitude over the years that when it goes on the field, no matter where it goes in on the field, it will get the football back. That's allowed us to do the things we've done over the years."
Oilers defensive end Elvin Bethea had guaranteed the Oilers would win, and after stuffing him all day, tackle Jon Kolb said, "Guarantees aren't worth that much. I found that out when I bought my first car. It takes some people longer." Admitted Bethea, "It might've been worse on a dry field."
Said Noll in the aftermath, "Our football team wanted an unconditional surrender today … And we got it."
Harris 7 run (Gerela kick)
Bleier 17 run (Gerela kick)
Swann 29 pass from Bradshaw (Gerela kick)
Stallworth 17 pass from Bradshaw (Gerela kick)
Washington tackled Bleier for safety