The Steelers relationship with the different branches of the military is one that has been in place for decades and it continues today in many forms.
The team was recently honored by the local branch of the United States Army for that commitment during a ceremony in the Steelers locker room at Heinz Field, with Jim Rooney joining the group to accept the honor.
The units on hand to honor the team were the Second Battalion ARCD and US Army Reserve Soldiers in Pittsburgh, as well as the Harrisburg Battalion and the Pittsburgh Company Recruiting, Cold Steel Battalion.
The Army is often part of the team's game day endeavors, including being part of the Joint Services Color Guard at home games. In addition, the team has honored active and veteran members of the Army through programs such as the ATI Salute to Heroes, Heroes at Heinz Field, Armed Forces recognitions, and Salute to Service game to name a few. The Army also participates in the annual Military Challenge as part of the Salute to Service initiative.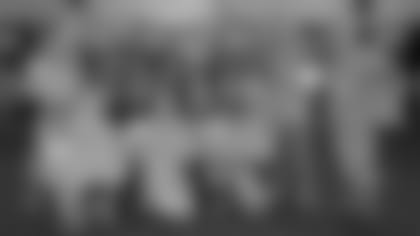 One of the most touching things is when the team hosts ceremonies for change of commands, retirements and swearing ins, which are staples for the military.
"We wanted to say thank you for everything you have done for us and all of the support the Steelers have given all of the soldiers in Pennsylvania, and especially those in the Pittsburgh area. It's outstanding the support you give us," said Sgt. First Class Daniel Vollstedt. "The re-enlistment ceremony will go down as one of the biggest events we have ever done, and I know the soldiers that were involved with it were very honored that they were allowed to do that, especially having it here at Heinz Field."
Vollstedt and other members of the units presented the team with a plaque, as well as other items. Rooney presented the unit with an autographed football, special coins and Terrible Towels to the members of the Army on hand.
"We are eternally grateful for the service of the men and women of the United States Army," said Rooney. "It's an honor for us to have such a close relationship with the Army both locally and nationally. For them to say thank you to us is special, but we look at it differently. We are the ones who are thankful for them and all they do to protect and serve our country.
"We're eternally grateful for your sacrifices, the sacrifices your families make, and it is special for us to play a part in this relationship. We are very, very grateful for each of you and what you do, what you do as a team – your teamwork is a good model for us."