By Teresa Varley
Steelers.com
WOODLEY HOSTS CAMP IN SAGINAW, MICHIGAN
Linebacker LaMarr Woodley has great memories from attending the Terry McDaniel football camp in his hometown of Saginaw, Michigan when he was in the fifth grade.
That is why he is trying to make memories for kids today growing up in his hometown.
McDaniel, who is also from Saginaw, hosted a camp when he was with the Oakland Raiders that Woodley and his friends attended.
"He brought a lot of guys there," said Woodley. "It was a memorable thing for everybody. Guys my age now still talk about that camp, the shirts they gave and the bags. Everybody remembered that camp.
"I said if I ever had the opportunity to come back and do a camp I want to have it like he had his."
Woodley is hoping the same thing will one day be said about the First Annual Summer Football Camp he is co-hosting with St. Louis Rams defensive tackle Clifton Ryan in Saginaw.
The free camp for youth 8-13 will take place on Saturday, June 14 at Saginaw High School. They will work on football skills, sportsmanship and teamwork skills while building self-esteem on and off the field.
"I love doing stuff in my community," said Woodley. "It gives the community an opportunity to see some of the guys they see on TV. It gives the kids a chance to see some of the drills we do in the NFL. But the main thing is it brings the community together.
Woodley plans on having others football players from the Michigan area attend the camp to help out.
"Saginaw will always be my community," said Woodley. "I'll continue to support my hometown no matter where my NFL career takes me. I wouldn't be where I am today if it wasn't for all of the community members who have helped me along the way, so this is my way of giving back."
STARKS HOSTS CAMP IN ORLANDO, FLORIDA
Offensive tackle Max Starks isn't shy when it comes to getting involved in the community, whether it is in Pittsburgh or his native Florida.
That is why Starks is once again hosting the Max Starks NFL Youth Football Camp on June 27-28 at Lake Highland Prep School in Orlando, Florida.
The primary goal of the camp is to help youth develop a strong image both on and off the field, while also providing football drills and teaching the kids skills.
"It's important to give back if you have the opportunity to," said Starks. "It's the right thing to do. If you can help somebody for the better and you have the opportunity to do it, why not."
Starks, who played at Lake Highland Prep, did not attend such a camp as a kid so is happy to be able to provide the service to today's kids.
"It wasn't offered when I was a child," said Starks. "That's why it makes it even more special to offer it to kids who wouldn't have an opportunity to ordinarily."
**MILLER HOSTS CAMP IN SWORDS CREEK, VIRGINIA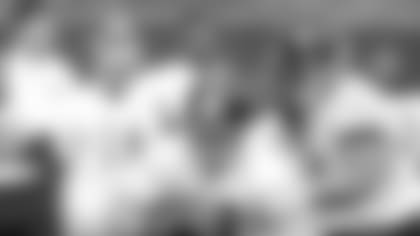 Tight end Heath Miller will host the Heath Miller Football Camp for the first time on Saturday, June 7. The camp will take place at his alma mater, Honaker High School, in Swords Creek, Virginia.
The camp is designed to teach a wide variety of fundamentals, techniques and drills, including speed and agility development techniques along with core football drills.
"It's an opportunity for me to give back to the people in my community," said Miller. "When I thought about who I wanted to give back to kids were first and foremost in my mind. This was a good way to do that."
The camp will have two sessions, one in the morning for grades four through seven and an afternoon session for grades eight through 11.
Miller will be joined at the camp by area coaches and is happy to provide something like this in his hometown.
"I went to a few camps growing up, but not in my hometown," said Miller. "It's always a fun time to bond with your friends who you go to camp with. I had good memories from those. I am happy to do this at home."