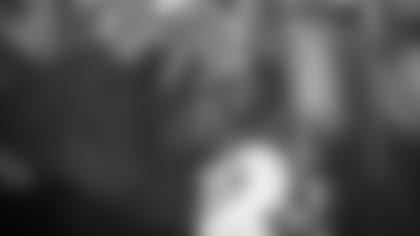 Fear was in the air at the fourth annual Steelers Fright Night at the Hundred Acres Manor Haunted House in Pittsburgh's South Park.
Kicker Jeff Reed and long snapper Greg Warren hosted the event, which benefitted the Homeless Children's Education Fund and Animal Friends.
"It's awesome," said Joseph Lagana, founder of Homeless Children's Education Fund. "It tells the broader community that the Steelers are supporting what we do. The day after a ball game for them to come out here shows a whole different side of professional athletes."
Players had the chance to make their way through the haunted house, which underwent a major renovation this year and held a lot of surprises for the players who were trying to maneuver their way through tight, dark spaces while keeping an eye out for those who would unexpectedly jump out from their hiding spots. 
"This is a blast," said linebacker Keyaron Fox. "It's my second year. It's a lot of fun. It's pretty scary.  Every corner was a surprise. I pushed everyone in front of me to see what was coming. They caught me by surprise a few times."
He wasn't the only one caught off guard. They might be tough football players, but they aren't immune to things that go bump in the night inside a haunted house.
"I was the most scared. I will fess up," said running back Isaac Redman. "You would see something flying from around the corner at you and you would yell at it. One thing flew at me and I punched at it." 
After taking their turn at being scared, the players had the chance to turn the tables and scare fans who showed up for the special haunted night. They had their faces painted, one more gruesome than the next, and then donned costumes and headed into the house to scare the masses.
"It's fun being able to go out and scare people and it goes for a good cause," said Warren, who wielded a chain saw and prison guard uniform. "You never get to do that."
Max Starks, who participates every year, comes back because he is a fan of haunted houses, except for one aspect.
"This is one of the highlights during the season outside of playing football," said Starks. "It's a chance during a fun holiday to be interactive with fans. We are all fans of haunted houses. 
"Every time I go through the clown part and the fun house it still freaks me out like I was a kid watching 'Killer Clowns from Outer Space.'  I still don't like clowns to this day because of that. Don't take offense any clowns out there. If you have a dream and want to be one, just don't jump out of a dark alley at me."