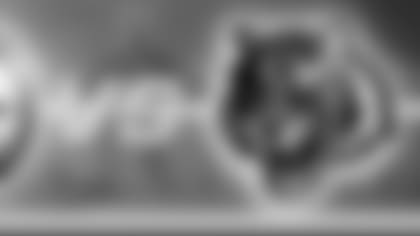 STEELERS AT BENGALSMONDAY, NOVEMBER 8AT PAUL BROWN STADIUMPOST-GAME QUOTES**
      "Well, we're far from perfect, but we're 6-2. It's great to get out of here with a win. We have to get well quickly. We have some guys who got banged out of that one for various reasons (for whom) we don't have detailed medical information for at this time. I will say this though, we made some mistakes but we did enough to win. I like some things that I saw. When we had to, we moved the ball on the ground and put ourselves in position to secure the game. Carson Palmer and company, with some timeouts, are a tough crew to deal with. We've seen that flick before. I like this ending a little better than the last time we were here. It's all a learning process. Along the way, you have to find a way to win the game. Hopefully we're better for this experience. We have a scalded Patriot outfit coming into our place. We'll accept the challenges and make no excuses for what we do."
It seems like you capitalized on their mistakes ...
      "Initially, we created some opportunities. We caused a fumble on the opening kickoff, a blocked kick — both provided a spark for us. You knew this would be a 60-minute game. It was an awesome atmosphere. The crowd support was spectacular."
After Ben Roethlisberger's interception, you seemed to run the ball almost exclusively ...
      "That's situational football. That's a timely manner. That's a sequence where you have to run and run effectively, which I thought we did."
It seems like the offensive line was like a carousel with players coming in and out ...
      "We're not going to make excuses. They understand our standard and they play to it."
Can you talk about your plan in terms of throwing a lot on first down?
      "We wanted to mix it up, as always is the case. We feel that we're capable of moving it on the ground or through the air. They're very familiar with us —not just from a personnel standpoint, but schematically as well."
The final defensive play came down to James Harrison. What did you think of that play and the way it ended up?
      "It's really quite typical of James and the kind of play that he provides us. He's a great football player. He's a detailed guy and a diligent worker. Much has been said about him of late — that's not the James we know. He makes timely plays for us. We'd like him to be measured on plays like that rather than unfortunate penalties."
What do you think goes through his mind at that very moment?
      "I don't think anything goes through his mind. I think he's just trying to make plays to help us win. He's kind of a flat-liner. He's very cerebral. It takes that kind of demeanor to make those kind of plays, and he does it time and time again."
How much of a concern is it that you weren't able to put them away at the end?
      "As I sit here right now, it's not a concern at all, because we won. When we get back home and watch film, I might be concerned by it."
Has Jonathan Scott played much guard for you?
      "No, but he did tonight. We were getting Matt Spaeth ready to play tackle because Max Starks was down. Thankfully, it didn't come to that because Maurkice Pouncey was coming back in on the cart and ready to play. Sometimes you get ultra thin. To the credit of our coaches and players, I don't think anyone blinked, and we didn't have to go to the 'Matt Spaeth tackle plan.' "
Do you have an injury update on those who got knocked out of the game?
      "Juicy (Kemoeatu) has a knee, Max was experiencing stingers, Will Allen got banged out of there, Isaac Redman got banged out of there, Mewelde Moore got banged out of there ... That's just the kind of game it was."
Casey Hampton was flagged on the blow to Carson Palmer's knee and wasn't happy with the call. What is your reaction to the way Casey reacted?
      "I didn't like the way Casey responded because we just have to move on. The next snap is the most important one. We have to focus on the things that we can control — and that's our readiness for the next snap. We got a little emotional, and I think it carried over into a sequence of events for us. It's a good lesson to learn when you win."
You eluded to what happened in that very same spot one year ago. Did you say anything to the guys out on the field?
      "I didn't need to. Those who were there remember it."
What prompted the play with Antwaan Randle El? Was there something the defense was giving you look-wise that made you think that might work?
      "No. Randle El has a nice skill-set. We had it dialed up to go to it if given the opportunity. I think (Chris) Crocker was out of the game, but that wasn't the determining factor. It was just about us trying to get the play off, and we were prepared to do so."
Troy Polamalu looked a little down when you were coming into the locker room and you said something to pick him up ...
      "Troy likes to win with style points. You don't always get what you want. Sometimes you just have to take the win and move on. I don't mind a guy that's competitive and wants to win in spectacular fashion. That's a good problem to have."
On WR Antwaan Randle El's touchdown pass ...
      "It was a great play. It was reminiscent of a play he had either in my rookie year or second year here. We were going the same way. It was neat to watch, even though I was on the ground watching."
Your linemen were dropping like flies tonight ...
      "You've got to give those guys credit, for the guys that stepped up. There was a time that we thought Matt Spaeth was going to have to play right tackle for us. Guys answered the bell. I'm really proud of them, and I hope everybody gets healthy quick."
On RB Rashard Mendenhall's performance in the final drive ...
      "There were a couple of times he looked over to the sideline and he wanted to come out because he was getting gassed. I told him, 'This is what makes you great.' He plugged along, he got first downs and held onto the ball. It truly is what's making him an elite running back."
Steelers head coach Mike Tomlin said that 6-2 is all that matters ...
      "We find ways to win games. That's what makes this team special in all phases. When one fails, another picks them up. I'm really just proud of the way guys played, and we proved that we can win close games when it counts. We've got a long way to go, and we know that."
On the large Paul Brown Stadium crowd ...
      "It's great. It's always good to see. I don't know if I've ever played a night game here in Cincinnati that I recall. There was a lot of orange up there — more than normally —but Steeler fans were out there and you could hear them."
The defense stepped up on the final drive ...
      "As always. They're so good, so much fun to watch. I told them, 'That's my fault for the pick. It made it close, and I shouldn't have let it happen, but they bailed me out."
Is it ever easy to play at Paul Brown Stadium ...
      "Never, never. In the AFC North, it's never easy."
What were you thinking on the final defensive play of the game?
      "I figured it was fourth- and- five, (Jordan) Shipley was in motion, so that was (Carson Palmer's) first option."
Was the score was closer than it needed to be tonight?
      "We won. No matter what the score was, we won. This was one of those times when we had to stand up as a defense and we did."
Were you getting frustrated with penalties going against the Steelers defense throughout the game?
      "I was cool. There are going to be games like that. When you put referees in tight situations in the heat of the moment, you have to stay in control of yourself."
What happened on the pass interference call that was called from the official who seemed to be standing too far away from the play?
      "The official right on top of the play didn't call it. The back judge made the pass interference call, and I have to live with it."
How often did you defend Terrell Owens, and what was the game plan against him?
      "Whenever he lined up on my side I had him. There was no following him around the field. They have three good receivers with T.O., Chad (Ochocinco) and Shipley in the slot."
How was the defense able to recover in the fourth quarter after giving up two touchdowns?
      "We have to close games out. Regardless of how we play, no matter if we have a lead or have been up the whole game, we have to close games out. Tonight, we did."
Talk about your 39-yard touchdown catch ...
      "They lined up in man-to-man coverage against me. They had great coverage. It was a great throw by Antwaan Randle El. He went back to his Indiana days (where he played quarterback)."
How important was it to be 6-2 leaving Cincinnati?
      "It was a must-win for us. We are trying to keep pace with the best team in our division. We have the same record as the Ravens. This was a big win for us."
How important was it for the Steelers to get the win and be 6-2 at the midway point of the season?
      "It's big. The biggest thing is to keep moving forward in the division. We know we have a loss to Baltimore, but we have to keep moving forward and keep winning divisional games. Those are important at the end of the year."
Talk about how important special teams were to the Steelers' win tonight ...
      "We want to get as many yards as we can off of returns, but if we can get the ball out, we are going to get the ball out. Emmanuel (Sanders) made a great play on the kickoff getting the ball out, and we were able to make a score off of it. Early on, we were working well on defense and complementing it on offense, and special teams was playing good. We need to finish it out better in the fourth quarter."
Talk about your touchdown throw ...
      "We practiced it a couple of times. That particular play hasn't been practiced too long. It was always in the arsenal. I thank God for the opportunity to be able to have the play called and to be able to run it. We always look for the perfect spot to run it. We had the opportunity and we cashed in on it."
Was it important for your team to win tonight?
      "The beat us twice last year. The swept the whole division. They were the guys to beat. The AFC North championship goes through Cincinnati. It was definitely a big win for us. To come in and win an AFC North game on the road is a confidence boost for our team."
The following is from his postgame news conference ...
      "It's a disappointing game to lose, there's no other way around it. We dropped the kickoff and later on with the punt we spotted them 10 points. We didn't play well enough. We left too many things out there, early in the game converting third down. Offensively we put ourselves behind a little bit. We did some things better, including applying the pressure."
You and Chad Ochocinco were having some discussion in the fourth quarter. Was he upset about something?
      "Yeah, he was upset, but we've got to play football. If he's not going to get it done right, he's got to come take an opportunity to freshen up his mind and get right back in the game. It was good that he got out of the game so he could concentrate and get his job done.
      "When you're playing that position, you can't dictate when the ball comes to you. The coverage is going to dictate it, and the quarterback isn't going to throw the ball in the coverage, and sometimes it's frustrating."
How deflating was that opening kickoff fumble, then followed by the blocked punt?
      "It wasn't deflating, because we came back and played the football game, but it hurt us."
It looked like you benched OT Andre Smith at one point ...
      "You can't give up the sack, so we pulled him out. Nobody has a right to play here. We're going to play guys that are going to get it done right for us."
The following is from a postgame interview on the Bengals Radio Network ...
You guys seemed to self-destruct early, but then dug yourselves out of the hole ...
      "No, you don't want to spot anybody anything. And you get the exact opposite start that you hoped to have. You want to have that start on the other side, but we had it on the wrong side."
Can you talk about the fight in this football team?
      "You're talking about a team that's a losing team when you start talking about fight. We'll get it turned around. We've got a game over in Indianapolis this week we're going to go over and win."
Offensively, the third quarter was a problem. Other than that, though, the offense looked pretty good ...
      "We didn't get much done right in that third quarter. We had a couple pressures that put us behind, and so the yardage became a little bit more than you'd like to have to bite off. You want to stay on schedule against that defense because then they are able to run some of the pressure looks and play the man under, and do some things that way that makes it even a harder time for us."
Can you talk about the need for a game with sufficient offense, defense and special teams all together?
      "We didn't get some things right. We dropped the ball on the kickoff. We get a punt blocked. Those are things you can't have. This is the National Football League. We need to make sure our guys recognize and do that right. And then you don't get the ball punted down the field and miss two field goals. On special teams today, we didn't hold up our end of the bargain at all. Our specialists didn't perform the way they need to. We had a high snap on the second field goal, which may have thrown it off a little bit. So it wasn't good enough. Our guys have got to play better. When you're down like this, it's hard to overcome if you don't make those points."
With Indianapolis coming up, and you look at the tape and see that you aren't satisfied with some players' effort and execution ...
      "It's the execution. The effort is not lacking. The ability to stop the touchdown on third down is important. And defense in the red zone. There are plays like that, and you've got to make those plays. We can't have a gadget play go against us like that. When they throw the ball up in the air, we've got to make that play. Those are the things we've got to do. Stay in position and make those plays."
      "Yeah. Just play the game, and you win your battles each and every time you're out there. That's what it comes down to. It's you and him — one of you is going to win, and one of you is going to lose."
Did the fourth quarter almost feel like last year's fourth quarter against the Steelers, when you came back to win the game?
      "Yeah. I thought, and everybody in the huddle thought, that we were going to go down and score. Obviously, and unfortunately, that's not the case. At the end of the game we ran out of downs and ran out of time, and we didn't do enough to win the game."
On the fourth-down pass to (Jordan) Shipley, was he your first read?
      "He was the second read. It was just a really tough catch — a really tough play to make in between to really big physical guys. It was a really tough play for a young guy to make. He's capable of making that play, and I know that he's frustrated and feels terrible about it. It would have been an amazing catch. That's not going to change my thought of trying to get him the ball, because I know Ship is a great receiver and is capable of making great plays and great catches. He's going to shrug this one off and when he gets in that situation again, he'll make that play."
Did they blitz on that play?
      "No. It was just a zone drop. At fourth and five, they know that we're probably not going to run the ball. They did a good job. They made the play to win the game and you have to give them credit for that."
Did it surprise you that they didn't blitz?
      "No. You never know. It's 50-50 whether they blitz or not. That one wasn't."
T.O. had a lot of catches and Chad didn't have many catches. How much of that was the coverage and how much was it Chad not being open?
      "It's tough to get open against double coverage, and that's what they did. They did a good job in a number of different situations and looks by putting two guys on him. That's pretty typical of Pittsburgh. Their defensive coordinator knows Chad pretty well and he knows what he's capable of doing. They kind of have the mindset that when we play against those guys, they aren't going to let Chad go for 10 catches like Terrell did."
Chad looked frustrated at one point, and you were talking to him in the locker room ...
      "It's just a frustrating thing for him. He wants to catch the ball and he wants to make an impact in the game. Unfortunately, he was unable to do that. He's an emotional player and I'm an emotional player. That's part of football. That's part of what happens in this game. I love his competitiveness. I love his fire, and his want and his desire for the ball — and to contribute. He just got frustrated, and that's part of the deal."
It looked like after the game in the locker room, you and Chad were talking about the game and the frustration ...
      "We talked about the situation. That's what Chad and I do well, which is communicate. We talked about what happened, and what went wrong, and how to fix it and how to move on."
Mentally, how tough is it to come back after being down right from the beginning of the game?
      "It's difficult to overcome a deficit like that against a good team. They are a team that has been to the Super Bowl — a team that's been to the playoffs. They are very mature with a lot of veterans. When you put yourself that far in a hole it's very difficult to overcome, and obviously we didn't overcome it."
      "Probably in top handful of guys to play the game at that position. I think the numbers speak for themselves. He is still playing the game at an extremely high level at 35 or 36 years old, or however old he is."
      "I want to thank God for this opportunity tonight. He gave us the opportunity to perform. Obviously everyone saw what we can do on offense. For whatever reason, it's not happening early. We have to find some way to get 85 (Ochocinco) involved for this offense to come to fruition. In a game like this against a division rival, you have to be mentally sharp and you have to execute. We had some costly turnovers. But despite that, we gave ourselves an opportunity to win the game. I've been saying this a lot, but we just seem to come up a play short every time."
It looked like you were having your way out there tonight. Did you have a lot of one-on-one coverage?
      "In those situations, you just have to take what the defense gives you. Obviously, we were trying to get an idea of what they were doing out there and, when those matchups come about, you try to exploit them. I'm no stranger to bump-and-run (coverage). I've been watching film of those guys all week, and I've played against them before on other teams. They're an aggressive defense, and I think we got them when we had the opportunities to."
On the second-to-last play of the game, it looked like they had you covered pretty well. What did you see?
      "They pressed on me while I was in the slot. It was really a matter of me trying to get a release and get into my route. It was a timing route, and we were just off sync a little bit. Those are the type of things you practice and try to execute in the game. Sometimes the rhythm is knocked off a little during the course of the game. I thought Carson played a good game. He sat back in the pocket, took a lot of heat, and put the ball in the right spot in tight situations. We gave ourselves a chance to win the ball game. The last four games, it's been a play here or there."
How do you think you guys go about getting Chad more involved?
      "I think that's up to the offensive coaching staff. Chad is a great talent, and somehow we need to find a way to get him the ball early to mix it up and take advantage of his skills. I'm doing what I can to take pressure off of him. Defensively, they try to take him out of the game."
Do you feel it's a difference in tempo when you guys start moving the ball in the fourth quarter?
      "Yes, at that point in time. We know we have to pass the ball, and they know we're going to throw. Everyone has to be sharp so we can execute. We started the game with that tempo because we know we're successful in the no-huddle. For whatever reason, there's not that same sense of urgency as there is late in the game."
You've talked about all the talent this team has. Can you put into words what's gone wrong?
      "I don't know. I think there have been lapses in all phases. What's key is converting third downs on offense and stopping them on third down on defense. Special teams is an area we need to be better in. In order for us to beat teams like Pittsburgh, we have to be better in all areas. I feel we might be the best 2-6 team I've been on. We have the guys to turn it around; we just have to do it. You never know. Anything can happen in this league. Tonight would have been a great night to start. We just have to put this behind us for a day, and then prepare for Indianapolis. No one is playing their best football right now. We had an opportunity tonight, but we kind of screwed it up."
There were some shots of you displaying your frustration at times. Your first catch didn't come until late in the game ...
      "It's been like that all year. Teams are taking me away. It's very frustrating. They're not allowing me to be available to help this team out. I was emotional, but in no way did it affect what we were doing out there on the field."
What was the difference in the fourth quarter?
      "I have no idea. It was similar to the game in Atlanta. I can't really put my finger on it, but if we can start that way, we'll be fine."
You were having an animated conversation with Marvin in the fourth quarter. Was that just frustration about not getting the ball?
      "It was just him telling me to keep my head up, that's all."
Where do you guys go from here?
      "Just approach it like any other week. We need to go out there and play. Nothing changes for me."
You rushed for more yards tonight than any other running back has all season against Pittsburgh. The Steelers present a big challenge, and you were up for it tonight ...
      "Yeah. It feels good to get a little bit of success out there. The running game was kind of sidelined the more they put points on the board. We stubbed ourselves in the foot with that one. But we did have some good plays in the run game up front."
Can you talk about the juggling catch you made to convert the third down and keep the final drive alive? It seemed like your old baseball days came back to you there ...
      "(Laughs) Yeah. It was floating right in front of me, so all I had to do was grab it."
It seems like it's always something. If it's not offense, it's the defense, or special teams. How frustrating is it when you guys made mistakes early and subsequently dug yourselves a hole?
      "Yeah, they did get up on us quick. We're still struggling in areas that we definitely shouldn't be at this point in the season. I don't really have an explanation for it other than guys are just going to have to watch the film and come back to work and be better next week."
You guys got down early but then fought all the way back and brought the game down to the final drive in their red-zone. That really must show the grittiness of this team ...
      "No doubt. Guys get up when this opponent comes into town, or when we go there. It was a good sign to see the guys fighting like they did. We've just got to get that fight going right away and not stub ourselves in the foot."
How are you doing physically?
      "I think a lot of guys are beat up. Any time you get your butt whipped each and every week, it's not going to be pretty in the training room. We've got to get healthy, and we've just got to come back and rally as a team."
How about your own physical health? Is it your calf that is hurt?
      "I'm not going to say. I'll let Marvin (head coach Marvin Lewis) talk about it."
Do you think you'll be able to play next week?
      "I don't know, it's too early to tell."
There are probably seven or eight plays you guys can point to that really had the biggest impact of the outcome. Can you talk about that?
      "We fought as hard as we could. We gave up a trick play and a couple of third-downs where we let him (Steelers QB Ben Roethlisberger) out of the pocket. There were a lot of little things that let to those six points (the score differential). You know, it's just the same thing every week."
There were some big mistakes on special teams. That has to be tough to overcome when you are trying to beat a team like Pittsburgh ...
      "It really is. It's more disheartening because a lot of those guys that play defense also play special teams. So it should be a part of what we do. We're underachieving right now. We have so much talent on paper, and we show how good we can be late in the game each and every week. But we play so bad in the first half that it doesn't come out as a win."
Is the problem as much execution as it is playing smart?
      "Yeah. Like I continue to say every week: It's just executing. We were so much more efficient last year. This year ... I'm just trying to find an answer. I don't know what to say."
You have an icepack on your back, and look battered and bruised. Just another tough AFC North contest?
      "Yeah. It's a battle every week. I have fun taking these on, and blocking a guy like James (Harrison). This is what you live for. For the left tackle, it's the challenge every week of being the guy that is back there on the blind side, so I love it."
You were going hard on every snap, and it seemed like you were challenging your guys even more tonight to do the same ...
      "Yeah. That's part of me. I love the challenges of playing, and that's why I play this game — the challenges. Just to continue to challenge guys, even when it's ugly, or even when it's not going good, you still want guys fighting every snap. That's the only way you can be successful. The great football teams learn how to fight every single play, and that's what we want guys to continue to do here."
James Harrison showed you a lot of respect at the end of the game by finding you to talk to you. What does that mean to you?
      "I think that's the first time I've had one of those elite guys like that come up find me. So he came and found me, and he just told me 'great job and stay healthy.' So it's definitely a good feeling to play an elite guy like that and play well."