The Steelers and the United Way, a relationship that was formed more than 40 years ago is still going strong today, handed down from generations of the Rooney family, as well as generations of players.
That bond continued on Wednesday night when Trey Edmunds, the team's United Way spokesman, helped the agency at the Pull on the Pride Wrap Party at Heinz Field, an event that combined encouraging young professionals to be active in the community as well as helping the agency's mentoring program.
"Any chance I get to make an impact, I never take it for granted, I never take it lightly," said Edmunds.
All participants were asked to donate a college hoodie to the United Way of Southwestern Pa., hoodies that will be donated to middle school students who are part of the United Way's Be A Middle School Mentor initiative.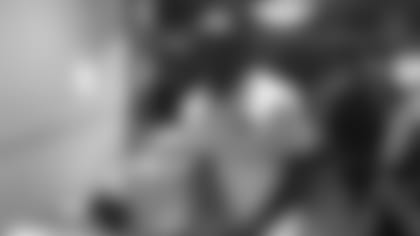 "A lot of times our job is to be a good mentor and good role model, someone positive these kids can look up to," said Edmunds. "I know when I was younger, and I saw guys walking around with college hoodies, it amped me to want to look at that specific college or check that specific college out. That is what we are into nowadays, which colors look the best, which schools win the most games. But if a kid sees me in a hoodie, they might think it's cool and give them the extra urge to do what they have to do now to get into that position."
The group wrapped the hoodies, a total of 600, so the recipients will enjoy receiving a gift that will be two-fold for many including inspiring them to dream about their future, as well as provide warmth in the cold winter months ahead.
And what it all boils down to is the fact that everyone who is taking part is helping to grow the mentoring program, one that gives back just by existing.
"For a kid to have someone they can look up to, is doing something they might want to do some day, it gives them light," said Edmunds. "It lets them see there is a light at the end of what they are trying to do and what they are trying to do is not impossible."