Joe Haden's eyes lit up, brighter and more radiant than the fall sun that was glowing over the practice fields at the UPMC Rooney Sports Complex on a beautiful fall afternoon.
And his smile, it was equally radiant, filled with the joy that you know is mirrored deep in his heart.
Because Joe Haden was talking about something he loves.
He was talking about football.
"I love football," Haden said, in a tone used to speak of the most precious things in life. "I love playing football."
Haden is in his 12th year in the NFL and his love for the game has only grown stronger as time has passed. He practices and plays with the youthful exuberance of those who are just getting their feet wet, early in their career, bouncing around like an energizer bunny.
"I'm having a blast," said Haden. "I'm having so much fun. Just being on this team. Having great teammates. It's a blessing. They keep me young."
Haden looked around at the practice fields, smiling more as his teammates made their way into the locker room after practice.
The locker room is a place he has walked around year after year handing out new pairs of Nike Air Jordans to his teammates, shoes he got through his contract with the brand. A place where he has shown pictures of his sons and seen pictures of his teammate's kids.
It's a place that is a haven for the players. A place where they bond in a way that you can't understand unless you have been a part of that type of team environment.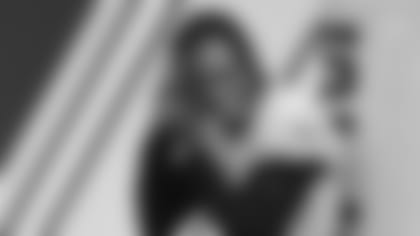 "I love the camaraderie," said Haden. "I love the locker room. I love being in there with all these different dudes. There is no place you can be with so many different people, different religions, different ethnic backgrounds. Guys from single family homes or guys that had their parents growing up.
"It's just a place where everybody's coming together for a common goal. Where you can have that type of bond. It's a brotherhood that you can't really get anywhere else. I think when I get out of the league, that is what I am going to miss the most, that locker room. You can't make it up with anything else."
Haden knows how lucky he is. He is playing the game he loves, a kid's game, in a place that gave him a second lease on his football life.
In 2017, just hours after he was released by the Cleveland Browns, the team that had drafted him in the first round of the 2010 NFL Draft, the Steelers signed Haden, revitalizing his career. It was the fresh start he needed, a chance to revitalize his career.
"Oh my gosh, this gave me new life," said Haden. "When I was playing in Cleveland, it was amazing, the fans and everything. But it was just the turnover. I had six different head coaches, six different position coaches. There was a lot of change.
"Coming here and having Coach (Mike) Tomlin being the perfect head coach. You have Mr. (Art) Rooney II being the owner. A great general manger. Them being here for so long.
"Here, legit, there is no playing, no gray area. You do your job. You work hard. You practice hard. You play as a pro. Do all of that and you're fine. It's all about winning here. I just love the fact that there's no gray area. You just come here and do what you got to do. The coaches respect you as a man and you do what you've got to do."
The respect, it's a two-way street. Haden has so much love and respect for Tomlin, enjoying every minute of playing for his coach.
"I love Coach. I love Coach Tomlin to death. I can't even," said Haden. "He's my favorite coach I've ever played for my entire life. And I'm not just saying that because I'm here. He is just a leader of men. Those team meetings. I sit in those team meetings, and I can't wait for him to start talking. Anything he says, he just delivers a great message."
It's the messages and leadership from Tomlin, as well as those he encountered early in his career, that have Haden now someone who also delivers a great message, especially to younger players.
He has new guys on the team tell him how they have watched him since they were in middle school or high school, something that makes him chuckle. He embraces it, giving those players encouragement, teaching them, and sharing his tricks of the trade with them because he was lucky enough to experience the same thing his rookie season in Cleveland.
"Honestly it's a blessing when guys say that to me," said Haden. "When I first came into the league, I remember doing that to another guy. When I got to Cleveland, there was a veteran cornerback, Sheldon Brown. I just loved him. I remember watching him when I was in middle school. I was like, 'Oh my God, Sheldon Brown is playing the same position as me. I'm probably going to be starting with Sheldon. This is amazing.'
"I would always watch him, and by that time he's married, had kids, just a grown man. I was thinking I am playing with adults. I just watched him and kind of figured out the way he was. He always helped me out.
"From that point on, as I started getting older in the league, I had some of the kids coming saying, 'Joe, I used to watch you all of the time.' That's how I always was with Sheldon, and I wanted be as nice as I possibly could. I wanted to give them guidance because you don't know. Sheldon embraced me. He taught me the plays. He showed me the ropes. That's all I try to do for these dudes too. Just that welcoming thing. I feel like I want to give that to those dudes. You can help somebody else so much that you don't even know it sometimes."
Haden has shared so many things with young players, from adjusting to life in the NFL, managing finances, learning the game better and taking care of your body. The latter is something he makes sure he does, and what keeps him so fresh and energetic on the field.
If you watch him, you will never know he has the mileage of a 12-year veteran on his body. And he wants to keep it that way, working with physical therapist Alex Skacel on a regular basis to assure he is in the best condition possible.
"I've been working for the past seven years with a physical therapist that I have full time. My man, Alex," said Haden. "He's works with me, three, four times a week, two or three hours a day, while I'm outside of the facility. Just working on my hamstrings, my back, keeping my speed right, little bumps and bruises. Just making sure I take care of my body. That's been the biggest thing keeping me in shape. As you get older, I can't just wake up and get out of bed without any stretching. It's making sure that I do the little things and I think it's helped me out tremendously and I encourage others to do the same."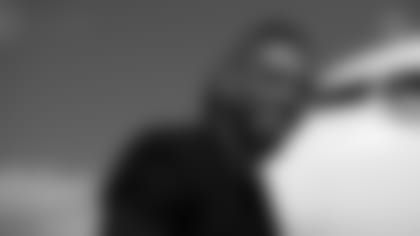 The smile that was ever present when talking about football, didn't go away for a minute as Haden hit on other topics. Because when he has a passion for something, he goes all in.
And one thing he has a passion for…is fashion.
If you follow him on any form of social media, you have seen his unique, incredible style. He pulls it off like nobody else can.
"I just always liked fashion," said Haden, who even in his practice jersey and shorts had on a ridiculously amazing pair of cleats. "I've always liked different, bright, colorful things.
"I don't have a stylist or anything. I literally love clothes, so I can see something and put it together. I feel like I'm a stylist lowkey."
Lowkey, not so much. His style is anything but lowkey.
"I'm giving inspiration with my style," he laughed. "I feel like I'm going to call myself a trendsetter."
Haden has plenty to pick from when it comes to his style. He owns around 1,500 pairs of sneakers, something that is the staple of his wardrobe. That includes a rare pair of the Nike Air Max Marty McFly shoes inspired by Back to the Future.
When he goes to pick out the outfit of the day, it all begins with the kicks of the day.
"I walk into my closet in the morning," said Haden. "First, I look around and pick a color of shoes that I want to wear. I might feel like wearing purple. I have 30-40 different shoes with purple in them. I find them, then find a little sweatsuit. So, shoes get picked first, then it goes to the sweatsuit."
The obsession with the shoes started at an age where most kids can barely tie their shoes. Haden was five when he started to think sneakers were cool, and seven when he legit started to collect them. Yes, you read that right. He started collecting shoes at age seven.
"My dad, he likes tennis shoes," said Haden. "I always loved the Jordans, Kevin Garnett, they started coming out with the Vince Carter shoes. I watched basketball big time. Any player that came out with a shoe, I wanted to have his shoe. Anything like grass cutting or whatever, anytime I got any kind of money, I put it instantly to shoes."
As we all know, though, sometimes those shoes aren't the easiest to find and sell out fast. That never fazed the young Haden.
"Oh yeah, I'm the kid waiting outside the store," said Haden. "It's like four o'clock in the morning. I'm standing outside of Foot Locker, me and my best friend. Either my mom dropped us off or his mom dropped us off. We'd just sit there for a good four or five hours camping to get the Jordans. I always got them. I was there early enough to get them."
Haden had hoop dreams when he was in high school. He thought he was destined for the NBA. But he soon found out that wasn't going to be his path.
"I really thought I was going to go to the NBA," said Haden. "Honestly, when I was in high school, I didn't get any Division I offers for basketball and then had 40 Division I offers for football. I figured football is probably going to be the right way."
While football became a game he loved to play, he still hasn't lost his passion for basketball. While with the Browns he was a regular at Cleveland Cavaliers games, and still is a regular at NBA games in the offseason, sitting courtside and taking it all in.
He also has developed a relationship with two of his all-time favorite basketball players – Michael Jordan and LeBron James.
He went from camping out to buy Jordans, to now being sponsored by the Jordan brand.
"I am not going to lie to you. I am still star struck when I see Michael Jordan," said Haden. "Hanging out with him, talking to him, we probably hung out about five or six times now. But I still get choked up, I still get a little nervous. This is Michael Jordan. It's Michael Jordan. I'm so appreciative because he's so nice of a dude, but for me meeting those dudes, I still get star struck by those dudes."
The relationship with James is a little different as they are closer in age, but it all started off with Haden being a fan of the hoop's superstar.
"When I was 12-years-old, I think that's when he got drafted by Cleveland," said Haden. "I watched him play. Then I ended up being in Cleveland for four years while he was playing there and got to meet him, hung out with him a couple of times. It's special."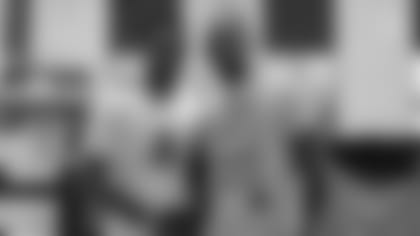 Special. That's a word that has a different meaning for Haden than it does for most.
Family comes first for Haden with everything. His is a loving husband to Sarah and a doting dad to Jett and Joe.
He is the oldest of five sons to Joe and Zakiya Haden, always motivated by the love of his family.
"What drives me? My family. God," said Haden. "I just feel so blessed to be in the position I am in, playing football. I have been playing since I was seven years. I have four younger brothers, an amazing mom and dad. When it came to football, my parents just said have fun. I just loved it."
There is one brother he has a special bond with, his younger brother Jacob, who is a Special Olympian. Jacob, who is five years younger than Joe, has a cognitive disorder which affects his ability to speak and communicate verbally. But it hasn't stopped his love for sports. That is why Joe has made a commitment to helping Special Olympics, serving as a Global Ambassador for Special Olympics since 2015.
Haden's eyes that shined brighter than the sun when talking about football, you should have seen them when he talked about Jacob. They could light up the entire city.
"That dude is so special," said Haden. "He calls to check up on me, seeing how I am doing. Always thinking about others. But anything I can do with Special Olympics is just so meaningful because me and my brothers, all we do is play sports. He was always supporting us, and we've always done the same. We go to his bocce ball tournaments, his track meets. It doesn't matter who wins, they are just so excited. He just always keeps us even keeled. Always keeps us knowing what life is really about."
At Heinz Field will see Haden jerseys in the stands. But oftentimes there is one special person wearing one. Jacob Haden.
"It's everything to see that," said Haden. "That's what it's all about, my little brother knowing that his big brother is out there. I'm always looking at the crowd. Every time I come over to the sidelines or something, and I give a sign looking up, it's to him. He is special."