In celebration of Black History Month, we take the time to recognize and reflect on the thoughts and contributions of members of the Steelers organization. Today we look at the life, legacy and career of Lowell Perry.
Inside the library at the Steelers office at the UPMC Rooney Sports Complex, prominently located behind the six Super Bowl trophies the team has won, is a wall that is home to photos of the best of the best who have ever worn the black and gold. A total of 94 pictures adorn the wall, all of them with meaning.
The vast majority of the pictures are the same ones that hung on the wall in Art Rooney Sr.'s office at Three Rivers Stadium, with some added through the years.
The photos are a who's who in Steelers' history, names that roll off the tongue of Steelers fans with ease.
Joe Greene. Jack Lambert. Terry Bradshaw. Lynn Swann.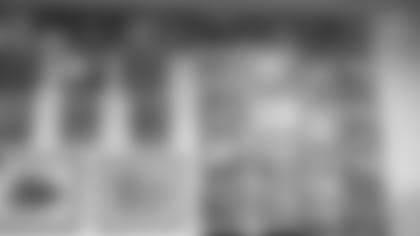 I could list others, but you get the point. The players were special and had a special place in Art Rooney Sr.'s heart.
One of those photos is of a player who Steelers fans not familiar with the early history of the team might not recognize, because his career wasn't a long one. However, his impact on Rooney, the Steelers, the NFL and the business world was.
Below a photo of Lambert, and above one of Bradshaw, is a picture of Lowell Perry. Perry was selected by the Steelers in the eighth round of the 1953 NFL Draft. Perry's arrival with the Steelers was delayed for three seasons due to ROTC duties.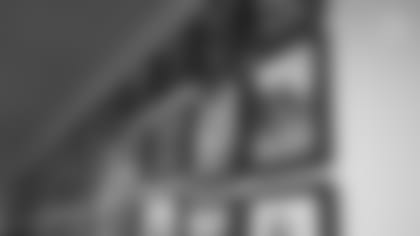 In 1956 Perry was able to finally join the Steelers for a delayed rookie season. It was time to live out his dream of playing in the NFL, something he waited a long time for.
Sadly, though, his career would be cut short before it barely even began.
In the sixth game of his rookie campaign, one that was showing amazing signs of promise for a long and heralded career for the receiver and kick returner, it was abruptly cut short due to injury.
While it ended his playing career, it was the start of a lifetime of breaking racial barriers.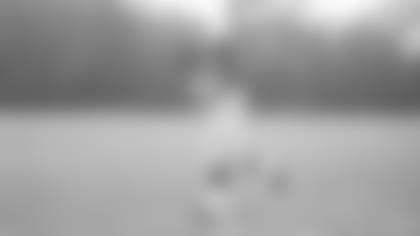 Lowell Perry was born in 1931 and grew up in Ypsilanti, Michigan. He followed in the footsteps of his father, attending the University of Michigan where he was a standout athlete and two-way player for the Wolverines football team.
Perry's college career led him to being named an All-American, only the second Black player to be named All-American at the school.
His dream, though, was to succeed in football beyond the college ranks.
That dream became reality when he was drafted by the Steelers, but sometimes dreams are slightly delayed. And that was the case for Perry. After he was drafted, Perry was called to serve his country through the ROTC and joined the United States Air Force, where he earned the rank of second lieutenant. While at the same time, he kept football in his heart, playing for the Bolling Air Force team.
The Steelers assured him they would wait for him, and the receiver was back with the team for the 1956 season for his delayed rookie year. But it was a season that wouldn't play out the way Perry had every imagined.
It started when he had to deal with racial injustice on a road trip to Jacksonville, Florida to play the Chicago Bears in an exhibition game. Black players were barred from taking part in a parade the city had arranged for the teams and had to stay at a separate hotel because of segregation. Art Rooney Sr. arrived later, and when he learned of the news, promised it would never happen to his players again, a promise Rooney kept.
Perry's son, New York Knicks General Manager Scott Perry, remembers hearing the story of the trip to Jacksonville, but is forever thankful for the support his dad, who passed away in 2001, received from the organization.
"There were just a handful of Black, minority players on teams in the NFL then," said Scott Perry. "He had a little bit of that dynamic to deal with, but he always just talked so much about how the Steelers organization handled things, how they treated their players and embraced everyone as equals. That really stood out to him."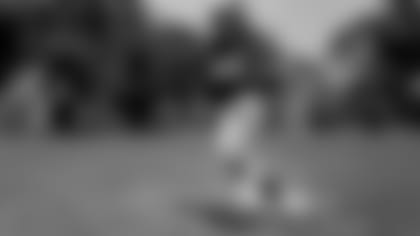 What also would stand out, is how Rooney and the organization treated him during the most difficult time of his rookie year, a time that changed everything for him.
Perry started off with a bang when he ran for a 93-yard touchdown in a preseason game against the Detroit Lions on the first play of his career. And the regular season also started off strong for him, catching 14 passes for 334 yards and two touchdowns, including a 75-yard touchdown catch against the Cleveland Browns, in his first six games.
"It was a very tough game, like it is today," said Perry. "He talked to us about the hard work, the physicality that went into practices, two-a-days, getting prepared for game days like these guys do today. Just how mentally strong he had to be.
"He was a very humble person, so he was never overly braggadocious about his time playing. I did gather he was having a very, very good rookie season, catching passes and returning kicks and you know, on his way to becoming a really good player in the NFL."
Until it all came to a quick and disappointing end. Going against the New York Giants in the sixth game of his career, Perry was hit by Giants defensive tackle Rosey Grier and linebacker Bill Svoboda, resulting in a fractured pelvis and dislocated left hip.
It was a devastating injury for the young receiver, something that he was never able to come back from. But he had a support system that got him through it all – Art Rooney Sr. and his wife, Kathleen.
"I remember at a very young age him sharing what that really meant to him," said Perry. "He told me he was in the hospital for 13 weeks in traction. Obviously, surgery is a lot better today. Those were some tough long days. Hard days.
"He said Mr. Rooney and/or his wife either came by the hospital or called him every single day for those 13 weeks. Every day. I think that left an indelible mark on him. First of all, what kind of people they were. It meant so much to him. That was a major part of getting him through that trying time. You are a young athlete in the prime of your career and now that probably wasn't going to happen because of the nature of the injury.
"He shared that Mr. Rooney told him all along if you want to come back and try to play, or if you don't want to play, you will have a position with this organization and that meant a lot to my dad."
Perry's dream was to return to the playing field, but after losing the speed that made him so effective, he knew it wasn't going to be a reality.
Instead, he made history, becoming the NFL's first Black assistant coach when Rooney kept his promise and hired him as the receivers/ends coach in 1957 and then he went on to work as a scout in 1958.
While Perry relished the roles and was grateful for the opportunity, it wasn't where his path would eventually lead. Rooney had paid for his first year of law school at Duquesne University, and that led to him breaking more barriers.
"What the Rooneys did for him to get him onto the next chapter of his life was huge and meant so much to him," said Perry. "That was passed down to his kids and really stuck. That hit home for me. I keep a lot of those lessons in my life now.
"I can't tell you how emotional I get when I talk about it. You don't see that often. I didn't live in that era, but you don't see that type of commitment, support and help now. That is rare. He was blessed to have been there.
"My life wouldn't be the same, his life wouldn't be the same, if he hadn't been in Pittsburgh. If he were still here today, he would attribute a lot of his experience there in Pittsburgh to Art Rooney Sr. helping him with the opportunity to play and being there for him all the time. That was appreciated so much by him. I learned stories from a young age that I carry with me now."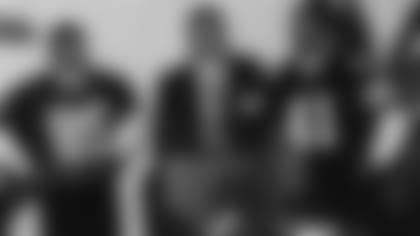 Those stories he carries with him aren't ones that always came from his dad, because his dad didn't like to share the stories of his success. Instead, they came from others in the sports world, the business world, or just in his community in Michigan.
"As I got older and I would run into people in the community, or professionals in Detroit or around the country that knew my dad and respected him, the things he did, people who looked up to him," said Perry. "He wasn't someone at home who sang his praises. He was my dad, busy being a father to three kids and a husband.
"I knew about the things he did as a young kid coming up, but once I got into college and in the work world and people started sharing stories about how he helped them, inspired them, that I knew nothing about. I think that is when it really hit home. My dad was the singular most impactful person in my life. But just the impact he had outside of his own family. He had a far reach in terms of helping others, breaking some glass ceilings. I know he was proud of that. I am proud of that myself."
And there is plenty to be proud of.
Perry used the law school stepping-stone Rooney provided him to go on and earn his law degree from Detroit College of Law and began an illustrious career. He clerked for U.S. District Court Judge Frank Picard, served as a hearing officer and prosecuted unfair labor practice charges with the National Labor Relations Board and served on the board of NFL Charities.
With a little bit of football still in his blood, Perry took a job as a color analyst for CBS Television in 1966, working with play-by-play announcer Joe Tucker to broadcast Steelers games. It was a ground-breaking move, as he because the first Black person to broadcast a game to a national television audience.
Perry returned back to Michigan following his broadcasting days, joining Chrysler as a labor relations lawyer and escalating to the point where in the early 1970s he became the first Black person to manage a U.S. automotive plant.
In 1975, President Gerald Ford tapped Perry to be the Chairman of the Equal Employment Opportunity Commission. During Perry's swearing in, President Ford spoke glowingly about him in his comments:
"This is a very great moment in this Administration. It is my great privilege and pleasure to have selected for this very vital role a person that I have known a good many years, a person that I have admired for many, many years.
"He first came to my attention when I saw his prowess on the gridiron at the University of Michigan. He made it and I didn't. He was really good and played not only exceptionally well at Ann Arbor but very well for the Pittsburgh Steelers.
"I have known Lowell over a period of time since then. I have always looked at his career, both in Government and with private employment, as an example of what a person can do who has got ability and the desire and the dedication."
Perry eventually would return to Chrysler after serving in the role and go on to become the director of the Michigan Department of Labor from 1990-96.
Through it all, there were so many lessons Perry learned from his father, so many things he holds tight to his heart.
"I think the phrase he shared with me about paying it forward, always being available, willing to mentor and spend time helping others, help improve their lives, improve their situation," said Perry. "Whether that's just time spent educating or assisting, trying to help somebody with employment. There's a phrase that my dad said, and I quote this a lot. He would always say to me, 'You are going to make a living out of what you do, but you make a life out of what you give.' That is what you are going to be remembered for. That is what I carry with me today."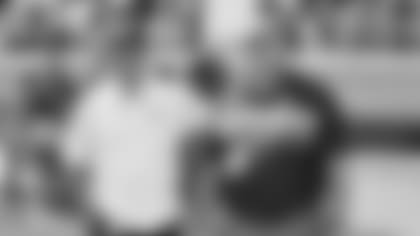 To this day, Perry is a fan of the Steelers, someone who even through his busy days with the New York Knicks always manages to carve out time to watch games. He has seen the team play in person at Heinz Field and on the road and has made the trip to Saint Vincent College for training camp.
It's special to him, part of his life, part of his DNA.
"I grew up in Detroit, Michigan, but from the day I can remember I saw black and gold at home," said Perry. "We always watched the Steelers any time we could get them on television there. That is who I watched. Still to this day. I wish my dad was alive to see Mike Tomlin who has been coaching this team for a long time. How proud he would be of someone like him and what he stands for and what he has brought to the team and organization over the last 15 years. (General Manager) Kevin Colbert and Mike have been so kind to me. I have come and watched them work, learned from them, and it's a good escape for me from what I do.
"Everywhere that I have worked, they know beyond a shadow of a doubt, as long as we aren't playing on Sunday, they know where I will be. People gauge my mood on Monday morning based on what happened on Sunday."
It's those times when he is watching his dad's former team play, or when he meets someone who knew him, or when absolutely nothing at all sparks thoughts of him, that Perry really how lucky he is to be the son of Lowell Perry.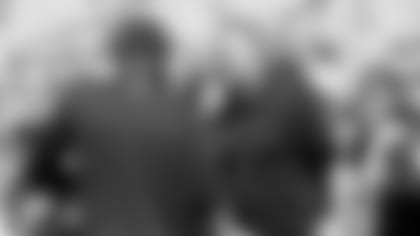 "My dad has been gone since 2001, but there isn't a day that goes by that I don't think about him," said Perry. "Something will happen that I will call upon some wisdom he imparted on me to help me make a good decision. He was always about being fair and doing the right thing. That is important to me too.
"Over time you realize how fortunate you are to have that role model in your home. I was blessed and fortunate enough I had that person in my father who was present and giving of his time, support and wisdom. I know I wouldn't be where I am today without him.
"I never wanted to disappoint my dad. The great thing about him, he never pushed me or my brother to be an athlete. His thing was if you are going to play, give it 110 percent. You can't half do it. That was the main thing. He also said education was a big thing. You can't plan on a life of being a professional athlete. Because his career was cut so short, he could provide that wisdom.
"He wanted me to do more than he did. I can't be him. I have to be myself. But I have a lot of him in me. The big thing for me as he looks down and is proud is I carry on that legacy of paying it forward to young people in terms of the time spent, the mentoring and knowledge shared, just trying to help everybody I come in contact with. As long as I am doing that, I am living that standard he taught me, I am happy."