On Sunday afternoon, John and Connie Watt will be glued to the television when the Steelers host the Houston Texans at Heinz Field.
It's the day they have waited for since their three sons, Steelers linebacker T.J. Watt and fullback Derek Watt, and Texans defensive end J.J. Watt began to play football.
For the first time, other than a pickup game in the back yard, the Watt brothers will all be playing on the same field, in the same game.
"It's always great when we can see two of them at once, rather than try and juggle which game are we going to go to and watch, and which game we are going to tape and watch later or have two televisions going," said Connie Watt. "It's always great to see them together. In the past when two of them played against each other, they always tried to get together the night before. It's definitely a different game when they are able to play together or against each other.
"It's something we treasure. It's a remarkable experience. We are all excited."
It's a dream come true for the Watt parents, but this year, the dream isn't what they expected it to be.
Their expectation was to be at Heinz Field watching their sons, surrounded by family and friends, enjoying every minute of the game.
But as we all know, nothing in 2020 is what anybody has expected.
Because of the COVID-19 pandemic fans are not going to be permitted at Sunday's game at Heinz Field, forcing the Watts to watch the game on television, the plan right now for them to be at home in Wisconsin.
"We wanted it more than anything," said John Watt. "It might be the only time it's going to happen, who knows. Hopefully there will be more."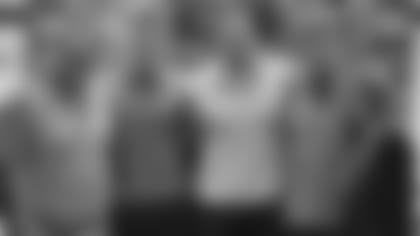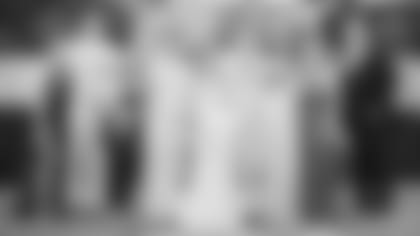 The age difference between the Watt brothers isn't significant, but it's enough that T.J., 25, and Derek, 27, have never had the opportunity to play on the same team as older brother J.J., 31. Before the two younger brothers made it to Pewaukee High School, J.J. graduated. It was the same thing at the University of Wisconsin, with J.J. gone one year before Derek arrived, and T.J. two years later.
"I always felt a little bit bad for J.J.," said John. "He has had a great career. But he has always taken that next step away from the other two. In high school he was out before Derek came to school. In college it was one year before Derek came to college. He has never been able to experience that. More than anybody he is more excited for it.
"I know it was special for him last year when he and Derek were able to be on the same field and play together. That was the first time with one of his brothers. That should make this one even better."
When the Watts learned who the Steelers 2020 opponents would be, there was immediate excitement that T.J. and J.J. would finally have the opportunity to play against each other. In the past T.J. has played against Derek, and Derek against J.J., but the only time the Steelers and Texans met, J.J. was injured and missed the game.
"Up until this point, T.J. and J.J. have never been able to play on the same field together," said John. "Even before we knew Derek was signing with the Steelers, this was going to be the first time they would be able to be on the same field at the same time. Derek and J.J. have had that pleasure, but T.J. and J.J. have not."
The initial meeting between the Steelers and Texans, and T.J. and J.J., was on Christmas Day in 2017, but J.J. was on injured reserve that year.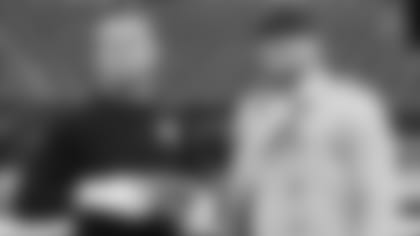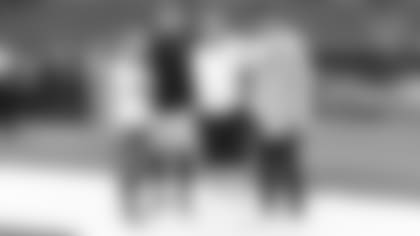 "It was a little more heartbreaking for J.J. than it was for us," said John. "The circumstances with T.J. and Derek playing together throughout the years, we were really looking forward to J.J. and T.J. playing against each other. When that didn't happen, it was a little bit of a letdown. I think they both kept going and now we have this opportunity."
The only good news was much of the family did get to spend time together on Christmas Eve and enjoy being around each other.
"Having it on Christmas Day helped. T.J. and all of us went to J.J.'s the night before and that helped," added Connie. "But it was definitely heartbreaking not to have J.J. out there. At his home stadium too. There is something about that. It was disappointing, but we get this other shot now."
Take that excitement of the two brothers playing and add what they never could have imagined in their wildest dreams…all three playing in one game.
It all became a reality when Derek signed with the Steelers this offseason as an unrestricted free agent, reuniting as T.J.'s teammate for the third time, high school, college and the NFL, and now having the opportunity to be a part of this week's family reunion on the field.
"First of all, to see the excitement on Derek's face when he got the phone call from the Steelers," said John. "We were fortunate enough to be over there when that all happened. The immediate excitement on his face. He knew it was going to be something special, and so did we.
"When we had the chance to sit down and think about it, we were like, oh my gosh those three are going to be on the field together. We knew it was going to be special. Our goal was to keep everyone healthy."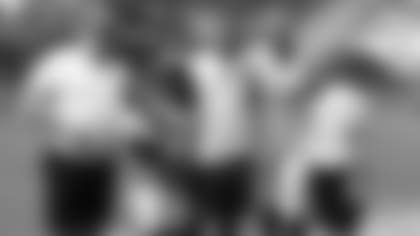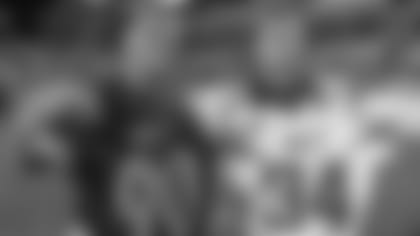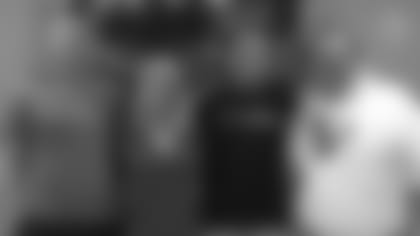 Like all of Steelers Nation, the Watts were holding out hope as long as they could. They kept hoping things might improve, things might turnaround enough that fans would be permitted at games.
"When we found out about the Steelers and Texans playing it was immediate, we know where we are going to be on September 27," said Connie. "That is all we were talking about; all we were thinking about. All of the family and friends have been talking about it.
"As it got closer and closer, I had to start wrapping my brain around it. At least they are going to be together. That is the most important thing. I know we will at least get a picture of the three of them. That is something we never had, all three of them in NFL jerseys on one field. It's going to be priceless for us. I just have to go with the blessings we have and be grateful."
The plan was to have at least 50 people, or as many as they could fit in T.J. and Derek's houses, in for the game, many of them making the nine hour drive from Wisconsin. That is all off though.
There was still that last ray of hope even when the Watts first heard no fans, they were hoping deep in the back of their mind that wouldn't include player's families.
"In the beginning, we thought it was just fans that couldn't come, that family would still be allowed to come," said Connie. "I still had that little bit of hope I held on to. Then when I realized it was everybody for the sake of the players, the organization, it was extremely disappointing, and it still is. It goes back to I still want to see them play the whole season and be safe, though. It's for the best of everyone."
When that reality hit that the only option would be to watch on television, it was definitely disappointing, but they at least have been able to plan for it.
"We had a little bit of a leadup that there was a possibility we wouldn't be able to be there," said John. "It's a little bit different than if it would have happened in a normal season and something happened and at the last minute we couldn't be there. That would have been really tough. At least we had a little leadup that there wouldn't be fans, so it wasn't a total shock or surprise. At this point we are in the it is what it is phase."
It's going to be hard for them to stay away from Heinz Field on Sunday, and they even have joked about you never know where they might show up.
"I joked with the boys that you might want to take a second look when someone hands you a Gatorade because I might have snuck in," laughed Connie.
But for dad, he might watch from a little bit of a distance.
"If you see a low flying helicopter flying over the stadium on that day, you can know it will be us with binoculars," joked John.
For the three sons, they always love to have their family at the games, but they understand as well.
"I think before the season started, they thought it's a shame mom and dad can't be there," said John. "I can guarantee you come that first day of camp until the game, they're focused on football. I don't think they care about mom and dad's feelings once the season starts."
And while they do still care about those feelings despite dad's joking, one of the main concerns is health and safety.
"They are in the mindset of the health and safety of the team comes first," said Connie. "That is what the guys are about. They are not doing anything. They go to work, come home. They are staying healthy and doing what they can to make sure the team stays healthy for the season. I think in one regard that is all that is on their mind. They are just in work mode right now."
Logan Watt might not know what the final score will be on Sunday, but one thing the one-year old son of Derek and Gabriella Watt does know is he will be watching his dad and two uncles play, something many had to wait much longer than him to get to enjoy.
Derek spent the first four years of his career with the Chargers, three in San Diego and one in Los Angeles. It was about as far away as he could be from his family who live in Wisconsin, and Gabriella's family, who are from Eastern Pennsylvania.
When the opportunity to sign with the Steelers arose, the reasons to come across country were too many to even count and the joy couldn't be measured.
"I don't know if there is a word in the dictionary to properly describe, but it truly was such a special moment," said Gabriella Watt, Derek's wife. "To hear the excitement and the smile that didn't go away. It's still pasted on Derek's face. We were in California away from so much of our family. Now we get to live in the same state, and Derek gets to be on the same team doing what he loves, with a brother he loves so much. We have such a tight knit family. It meant so much for Derek to continue his dream of playing football, but also to get to be closer to family, which are his top two properties – family and football.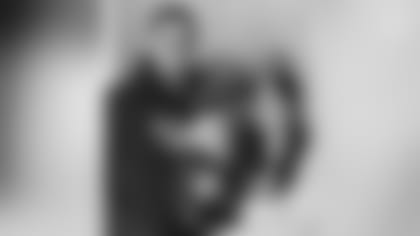 "It's been so great. It's a strange time moving to a new city during a pandemic. We have been trying to be extremely safe. It felt isolating at first. But having T.J. so close, he's an amazing uncle to mine and Derek's son and he is so much fun to be around. He will come over and hang out with us and tell us where we can order food from and give us suggestions for stuff like that. But just to get to see him. We used to Facetime him all of the time, but now to have him here in person, even for an hour here and there each day, it's been really nice."
Like the Watt parents, Gabriella's plan was to be at Heinz Field with Logan watching the game in person, not sitting on the couch watching it on television. It's was a topic of conversation all offseason, and not going to the game is a disappointment, but one she understands.
"I think we all had it marked on our calendars as soon as the schedule came out," said Gabriella. "Then it was just a waiting game if we are going to make it there with the coronavirus. Will we play? We are this close now and they are living out their dream and their job is bringing them to the same place at the same time. It will be so fun for all three of them."
And while they won't be there in person, they will be there in spirit.
"It goes without saying we would all love to be there in the stands showing our full support," said Gabriella. "But at the end of the day the three of them get to experience it, and they know and feel our love and support from home. We'll be glued to the television to see if they show any little interaction they have together. While we wish we could be there, we understand it's for the safety of ourselves and other fans as well."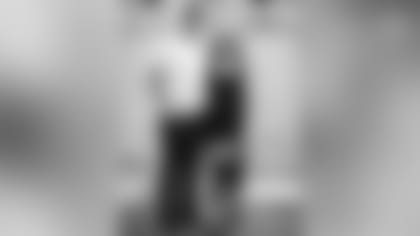 Dani Rhodes, T.J.'s girlfriend, plans on watching the game at home in Chicago, along with her NWSL Chicago Red Stars teammate she lives with, who just happens to be J.J.'s wife, Kealia Watt. Because of their soccer season, neither would have been able to attend the game regardless, and they are happy to have someone to watch it with.
"It's difficult for us to be there," said Rhodes. "I have only been able to go to about two games a year because of my college soccer career before this. I am used to being away from it. It doesn't get any easier. I wish I could see T.J. play more often. I know he wishes the same. It's definitely something I wish we could be at, but it will be cool to see it on television.
"You are excited to be there at games, but with soccer and being away, I am kind of glad no fans are allowed because I can't go. I am staying with Kealia and we wouldn't be able to go anyway because we are in season. It would have been cool though to see and be there in person."
While they might be cheering for different teams, and wearing opposing jerseys in a sense, they will still be supporting the Watt family overall.
"It's exciting," said Rhodes. "I am sure it's harder for his parents with who to cheer for. I know they will be having fun out there. I am excited for all of them and want them to be successful in the game. At the end of the day I want the Steelers to win because I am a T.J. fan. I will be wearing my No. 90 jersey and cheering for the Steelers, but I hope J.J. plays well too."
And that feeling goes both ways.
"It will be nice to be together for that," said Kealia Watt, who said it was easier to attend J.J.'s games when she played for the Houston Dash. "It's nice to have family. We will be rooting for different teams, but it will be cool to be together with Dani.
"There has been so much uncertainty. We haven't even known if there would be a season. It was the same for me with my season. It's definitely sad. We wish we could all be there the first time they are playing each other. But I think the guys are so happy they are able to play they are so thankful this has gone so well. It's sad we can't be there. It's fun to get pictures with everybody and support them. We are so happy the game is happening, and they are able to play.
"It's incredible and not likely for something like this to happen. J.J.'s team played T.J. before, but he was hurt. He played Derek last year. It's always fun because usually everyone is there, we are always just missing one part of the family. It's crazy and exciting that they are all going to be on the same field. We wish we could be there. I know for Connie and John it would be so cool to be there. But it's so incredible they are all in the NFL and to play in the same game, the same field, it's so cool for them."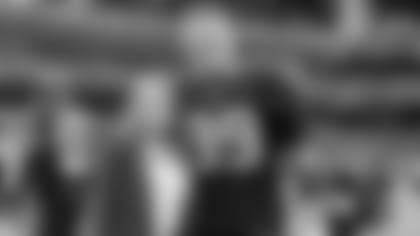 There are undoubtedly going to be texts shared among T.J., Derek and J.J. throughout this week. It's inevitable. And it won't be anything new. The talk about the game has been going on all offseason.
"This was a different offseason for all three of them," said John. "It's the first time for a decent period of time they were all home together and they talked a lot. I can guarantee you they talked about it a lot. They now talk almost daily on the phone and through social media. I think they are all hoping they play well, and it's a good game. The key is everyone is healthy, they play well. One of them is going to have to lose the game."
At first the talk was just about all of them being on the field for the same game. As it got closer, the competitive edge came out more.
"I feel like a lot of that talk goes on in their group chats, but when there is an opportunity for competition, or even a lack of opportunity for competition, they will find it," said Gabriella. "They are each other's best support system. They want to push each other and encourage each other to get to that next level of how great they can be."
And they want to be 'the best Watt.'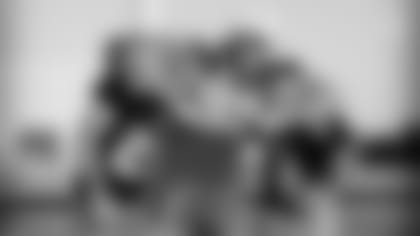 "They are really competitive," said Kealia. "They go after each other and joke with each other. But they train together and workout together. They do compete and try to be the best Watt. That has pushed them their whole lives to get better. They are inspired by each other but want to be the very best. I think that is why they continue to get better and better.
"I am sure J.J. wishes he could be close to his brothers and see them every day. They didn't know where Derek would go or end up, for it to happen like this we were so excited. He wishes he could play with them, but this game is going to be so special for him. it means so much to J.J. He is so close to his brothers. He is so proud of them. It means so much to see them follow in his footsteps. It's going to be special."
For everyone in the Watt family, the game just can't get here soon enough.
"They are looking forward to it," said Rhodes. "It's been a long time coming in all of their careers to be on the same field together. In the NFL, at that level, it's cool to all be in the league but to all be in the same game, it's almost unheard of and really special. Once they found out and saw it on the schedule, they have been looking forward to it and are excited. They have been talking competitively and talking smack all summer as they worked toward the season. It's been exciting and special."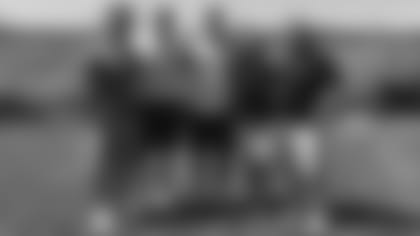 For those accustomed to watching games in person, watching on television is going to be a different perspective, although rewinding and seeing replays will be an advantage.
"I don't ever really get nervous," said John. "The high school/youth football coach in me comes out and I am more the technicalities of it. Connie is usually the one who just will be more about the kid's health, did they get up and go back to the huddle, are they limping, or holding a shoulder. That is more her category."
What they are accustomed to, though, is being able to see their every move, whether it's on the field or the sidelines.
"Being married to someone that their career, the full time they are playing, you hope there are no injuries, have a successful play every play," said Gabriella, who rarely has missed one of Derek's home games. "My eyes are focused on Derek 100 percent of the time when he steps foot on the field. But when you are watching from home the cameramen aren't just focused on my husband. I can't tell did he get off the field okay on that play, does he seem happy. It's definitely different. I enjoy being in the stands more than being at home.
"But we are all being extremely understanding and respectful of the rules that apply to everyone."
One thing an empty stadium can't take away from the Watts is something Connie has always been dreaming of.
Getting a picture of her three sons together in their NFL uniforms.
"The bond that they have, I know they aren't supposed to hug each other or high five, but I don't think that is going to be stopped with the three of them," said Connie. "That is just who they are. They have an incredible bond and love for each other and appreciation for the game. I think that might have to be inevitable as well."
It's a picture that not only Connie wants, but would be treasured by all.
"It would be so special," said Gabriella. "We would have that printed and up on the wall. They truly have a special bond with each other and the game they love. It would be a lasting memory all of our kids could see, and it would show how proud we are of all three of them.
"I think it's going to be a dream come true to get that photo."