By Teresa Varley
Steelers.com
Steelers offensive tackle Willie Colon took part in the Lupus Loop for the third straight year, a walk that benefits the Lupus Foundation of Western Pennsylvania, and the longer he is involved the more he understands the importance of his role.

"I am starting to understand how many people suffer from the disease," said Colon, who helped to start the walk. "A lot of people from day to day come up to me and tell me they love what I am doing and they love that I am involved with the foundation. I am getting a lot of enjoyment reaching certain people that need a voice or need to be heard. At this stage I am happy with how everything is going. I just want to keep it going."
Colon got involved with the Lupus Foundation because his mother, Jean Davis, suffers from the disease and he wants to do everything in his power to help her and others feeling the same pain.

"I have learned about the different types of Lupus and how it affects people," said Colon. "My mother can't be in the sun because of how it flares up her skin. My mother goes to dialysis three times a week. A lot of people do that. I am learning more. I am learning more males are coming up with it. I try to stay up on it."
One of the highlights of the Lupus Loop for Colon is he has the opportunity to participate in it along with his mom. Davis, who lives in Bronx, New York, came to the Steelers-Titans game and stuck around for the walk, which featured the entire family and some of Colon's teammates wearing I Love Jean, with a heart on the front.
"It's special," said Colon, who was joined by Ben Roethlisberger, Trai Essex and Darnell Stapleton. "She enjoys all of the women who come up to her and talk about me. She loves that. It's special because she has always wanted to do something and this is her chance to have an outreach. She wants to do as much as me.


"She is doing well. She is rocking and rolling. She is happy she can contribute and I am doing a good job with it too. She understands by going to dialysis that there are a lot of people like her that don't have a voice. She wants to bring some type of awareness. It gives her something to focus her attention on."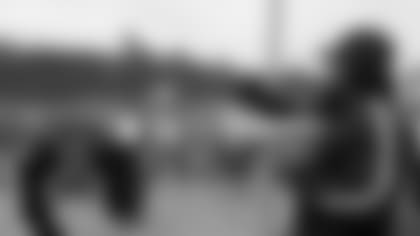 Colon gets things started.
Roethlisberger interviews Colon for Steelers TV.
Colon, Roethlisberger, Essex and Stapleton show their support.