By Teresa Varley
Steelers.com
Like many Americans, Rocky Bleier will never forget the horrific events of September 11, 2001. He was glued to his television that morning, watching America under attack. And just like the rest of us, he felt helpless. He always wanted to do something to give back to those who sacrificed so much that day. And this year, he finally got his chance.
Bleier hosted the "9/11 We Will Never Forget" Dinner at Heinz Field on the eighth anniversary of that tragic day. The dinner raised funds for a permanent memorial for Flight 93, which went down that morning in Shanksville, Pa.  
Bleier, who hosted the dinner along with Steelers President Art Rooney, II and former Steelers Franco Harris and Jerome Bettis, thought Heinz Field would be the perfect location as the people of Pittsburgh have embraced the families of Flight 93, including welcoming them to Heinz Field the night before when the Steelers and Titans played.

"Flight 93 and the family members were not from here but I think because it ended up here that it means so much to this community and to Pittsburgh people," said Bleier. "For them to be able to be on that field Thursday night, they had their Steelers jerseys on with the 93 on the back, and to feel the empathy and support of all of the fans here is an indication of what that memorial means to the American people and how it touches us all in some way."

The goal is to continue to raise funds through public donations for the memorial, which will be dedicated on Sept. 11, 2010.
 
"We want the awareness so the country doesn't forget what happened on that day," said Philomena Nacke, whose son Louis Nacke – a diehard Steelers fan – was one of the 40 heroes of Flight 93. "The memorial is very important to us families. The memorial looks like a field of dreams. The impact site is going to be left alone. It won't be disturbed. We wanted it to be a private cemetery and it is. That's our private cemetery. The park is going to be simple, but nice and that's all we can ask for.
"It's special to me that people do still care. It's good to see the outpouring of the American people. I am proud to be an American."

The dinner was held in conjunction with the National Park Foundation and Flight 93 National Memorial Campaign, which has received donations from over 50,000 people for the memorial.
 
The 600 guests in attendance at the dinner heard from Bleier, Rooney, Harris and Bettis, as well as Retired General Tommy Franks, who was impressed with the way the people of Pittsburgh supported the families of Flight 93.

"It's amazing to be in the Steel City with the Steeler Nation playing football," said Franks. "We had a chance to come and spend some time around this great field and be with some of the families of Flight 93. There is something special about the Steeler Nation. There is something about this organization that every American should have a chance to be around Heinz Field when the Steelers are playing ball.
"That same sort of passion, that same sort of enthusiasm we associate with football was passed to these family members. It's like a big family here."

Former Pennsylvania Governor Tom Ridge, who was governor on the tragic day, has had a special relationship with the families and still feels the pain from the loss of those on Flight 93, as well as the lives lost at the World Trade Center and Pentagon.
 
"The emotions still run because of that day," said Ridge. "But we are getting to when we create a national memorial where we can celebrate the courage and sacrifice and hopefully be inspired that sometimes there are things we have to do that are bigger and more important than we are. They understood that."

Both Franks and Ridge were in Shanksville on the morning of the 11th to take part in ceremonies there and it made them realize that it's a must that the memorial be ready by 2010.
"When you go to Shanksville you think about the eighth anniversary of a really tough day for America," said Franks. "To be on that ground and think about the great blessings we have in this country, it brings to mind the importance of building a permanent memorial to 40 heroes who didn't lose their lives, they gave their lives as the first to stand up and fight against those who would do extreme damage to our country."
To learn more about the Flight 93 Memorial or to make a contribution, please visit www.honorflight93.org.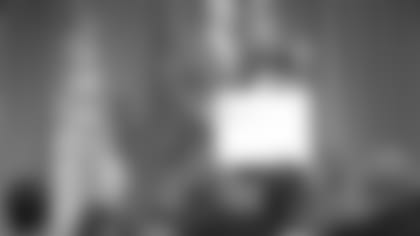 General Tommy Franks addresses the crowd.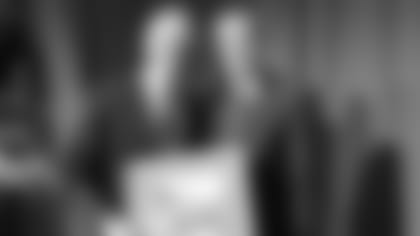 Bleier receives a thank you for his efforts.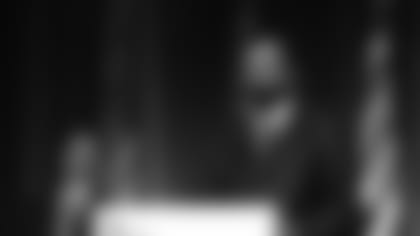 Bleier and Franco Harris support the Flight 93 Memorial.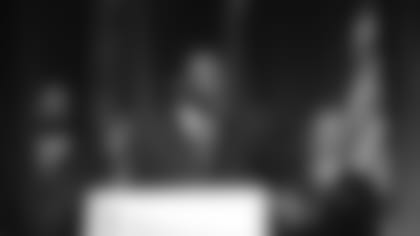 Harris, Jerome Bettis and Bleier.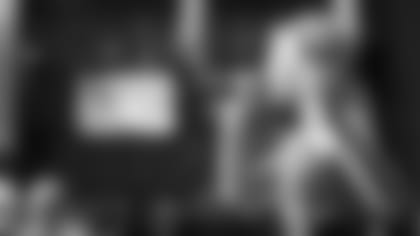 Sarah Marince sang the National Anthem.