If you know Brett Keisel, or even have met him once, there is something you immediately notice.
And no, I am not talking about his amazing beard.
I am talking about his heart.
Keisel is one of the most caring, giving human beings you will ever come across and that is why it came as no surprise he was the recipient of the Andy and Cindy Russell Humanitarian Award, presented on Thursday night at the UPMC Celebrity Classic.
The award, named after the former Steelers linebacker and his wife, has been given the last three years to someone who has made a huge impact on the Pittsburgh community. Late Steelers Chairman Dan Rooney was the first recipient and Rocky Bleier the second.
"It's pretty surreal," said Keisel, who owns Mighty Oak Adventures. "My kids were asking me what this is for. I told them it's about giving back to the community. To see the men who won it in front of me, Mr. Rooney and Rocky, it's a tremendous honor to be mentioned with those guys and what they have done for this city. I am honored to be here. It's a special night."
Keisel, the Steelers seventh-round pick in the 2002 NFL Draft, immediately immersed himself in the Pittsburgh community after he arrived in Pittsburgh. When asked to do something, he never said no. He was involved in Project Bundle-Up, the Homeless Children's Education Fund, Operation Once in a Lifetime and hosted the Cystic Fibrosis 65 Roses Sports Auction.
His signature event is where his heart, okay and beard, are on display the most. Keisel has hosted 'Shear Da Beard' for nine years, which benefits cancer programs at UPMC Children's Hospital of Pittsburgh, an event where he literally shears off the beard with the help of former teammates.
Keisel began to grow his now famous beard back in training camp in 2010 in an effort to get the Steelers back to the Super Bowl after winning Super Bowl XLIII two years prior. It worked, but only to an extent. The Steelers made it to Super Bowl XLV but lost to the Green Bay Packers.
Keisel was as disappointed as anybody after the Super Bowl loss, but he wanted to do something, wanted to end things on a positive note. So he decided to shave off his beard, in public, for charity. What started on a whim has grown into a soldout event that has raised over half a million dollars.
"I love to give back," said Keisel. "The response I get from the families at the hospital, the relationships I have built. The kids I have seen grow up from when they were three or four years old and they are now 13 and 14 and in remission from cancer. They are beating the adversity set in front of them for nothing they have done. To be able to witness that and see it, it touches my heart and I am grateful to be in the position I am in."
Steelers President Art Rooney II was on hand to present Keisel with the honor, something that was special for him.
"Brett is one of those guys who has done so much off the field for so long it's hard to keep track of everything," said Rooney. "His 'Shear Da Beard' event for Children's Hospital has become a legendary event in town. I am happy to be a part of this and honored to present him the Andy and Cindy Russell Humanitarian Award."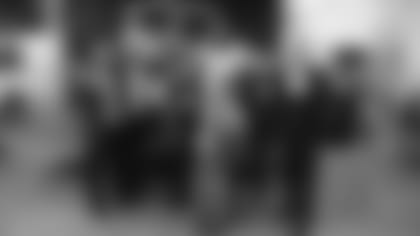 The UPMC Celebrity Classic, hosted by Freddie H. Fu MD and held at Topgolf Pittsburgh, benefited the UPMC Sports Medicine Concussion Program and the Department of Orthopaedic Surgery. It morphed from the Andy Russell Celebrity Classic, which Russell ran for 40 years in Pittsburgh.
"I think Andy had the longest running golf tournament in Western Pennsylvania, so it's great to see them continue to go with it here and continue on the tradition," said Rooney.
The Andy Russell Celebrity Classic benefited various programs run by UPMC, something that Dr. Fu will always appreciate.
"Andy founded this golf tournament 43 years ago. I arrived in Pittsburgh 44 years ago, almost the same time," said Dr. Fu. "I knew Andy because he was a Super Bowl champion. I have been following his career. When I went to UPMC in the Sports Medicine Center, Andy provided us funding so we could support the inner city schools for athletic trainers. Andy and Cindy are fantastic. They are visionaries setting this up. This will always be the Andy Russell tournament."