Calvin Austin III never expected his rookie season to play out the way it did, basically ending before he ever had the opportunity to get it started.
The Steelers selected Austin in the fourth round of the 2022 NFL Draft, the 138th pick overall. Austin was a first-team All-AAC selection in 2020 and 2021, contributing not just on offense for the University of Memphis but also on special teams. He finished his career ranked second in school history with 22 receiving touchdowns, fourth in receiving yards with 2,541 and fifth in receptions with 156. He also returned punts, including 29 for 323 yards, an 11.1-yard average, and two touchdowns, playing the game with no fear as a smaller guy at 5-9.
He came in hoping to make an impact on the offense in his rookie campaign, but spent the entire season on the Reserve/Injured list with a Lisfranc injury suffered in training camp. The injury happened before the first preseason game, not even giving the Steelers an opportunity to see what the speedy receiver was capable of at the next level.
All his hopes, all his dreams of playing in his first preseason game went out the window in the drop of a hat.
"It was tough, it was disappointing," admitted Austin. "It was honestly, crazy."
Through all the craziness, Austin never faltered, working his tail off to get back on the field this season without losing a step.
And his teammates took notice. So much so they voted him the Steelers recipient of the Ed Block Courage Award, given to a player who has shown courage either coming back from an injury or a life-altering situation.
Austin was honored at the Arthur J. Rooney Courage House Luncheon on Tuesday, Acrisure Stadium. The luncheon benefits Holy Family Institute and Nazareth Prep.
"When you get hurt as a rookie, you don't have a base to come back to," said Coach Mike Tomlin, who presented the award to Austin. "He and I spent a lot of time last year talking about ways he can gain experience in non-participation. I knew going into Year 2, he would have second year expectations.
"Aside from battling back from injury, which he has done an amazing job of, that component needs to be mentioned. He got hurt as a rookie. This year was his first time being back. We took him on some away trips last year so he could have the experience of traveling with us and being a component of it. Again, there would be second year expectations on him. He has managed it all, and done it with a smile on his face.
"I know he gets a lot of attention because of his stature. But make no mistake, this is a tough human being. Fear is not a factor in his play and fear was not a factor in his rehabilitation. He doesn't blink. He runs at full speed into dark places."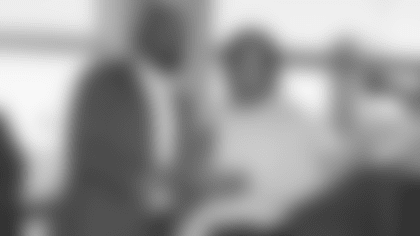 Austin was humbled by the winning the award, especially after being at the luncheon a year ago and listening to Tyson Alualu talk about winning it then.
"That means the most to me. Anytime you get any type of credit, approval and praise from your teammates, that means a lot," said Austin. "Those are the guys you go to battle with every single day.
"For them to recognize me coming back from the injury, for them to recognize what it took to come back from it, that means a lot. It encourages me to continue to do all I can to stay on top of it and work to get better."
Despite the recognition, it's an award no player really wants to win, because they don't want to have to go through what Austin did.
"I never imagined having a season ending injury, not in high school, college, especially going into my first year," said Austin. "That wasn't even anything that was on my mind. When it happened, it was tough."
Austin had no idea how tough.
When he was given the news the injury would require season-ending surgery, it was tough to deal with.
"I remember when I first got the news that I was going to have surgery," said Austin. "I walked out to the field. I needed some time alone and just broke down.
"There were a lot of tears. I went onto the field and called my dad and was crying. I just felt like I was letting people down. I almost felt like I was letting the team down, letting the people back home down. I felt like I was disappointing people who wanted to see me have a good year. I felt like I was letting them down. It was really tough."
It was the first time in his football career he dealt with that type of adversity, and it came as a surprise to him how easy it was to have everything you worked for taken away so fast.
"To have a season ending injury, we put so much time and energy into the things we do, and to go a significant amount of time, almost a year without doing it, it is sort of a reality check," said Austin. "It's almost good to put things in perspective. This isn't everything, but it makes you realize how important it is to you. It makes you realize how grateful you are to play the game every day."
One thing that helped Austin from the get-go was the support he received from others, as well as first and foremost, his faith.
"As soon as people on the team heard the news, just to see how they felt about me and how they surrounded me, told me how much they believed in me and wanted me to get healthy so I could come back next year. That made that process way easier.
"Especially my faith in God, to surround me with people that kept me up and motivated me."
Austin attacked his rehab head on all last season. He was a regular at the UPMC Rooney Sports Complex, never taking a day off, never taking a break.
It paid off not just from a health standpoint, but a mental standpoint as well.
"That is the benefit of being here," said Austin. "I didn't feel alone at all. I didn't feel set apart at all.
"Until I had surgery, I was able to travel with the team, experience the road environment, be on the sideline, in the locker room after games. I still went to all of the meetings. From my teammates to the coaches, I still felt involved and a part of everything.
"That is what made the rehab easier and fun. I got to see a new perspective, watching things, learning from people. I didn't want to go through it, but going through it benefited me for this year and the future."
Austin continued that rehab at the Steelers facility all throughout last offseason, knowing when the team got back to work, he wanted to be able to take the step from Year 1 to Year 2, even if it was just from a mental aspect.
"With Coach (Mike) Tomlin, he is always a guy that, the train isn't going to stop moving," said Austin. "When we step onto the field, we're always about getting better and growing. I would imagine that's what his mindset is, and that's what my mindset is for myself. I was in all the meetings and out at practice. Of course, I didn't get those game reps that are very much needed and valuable, but as far as my mindset that was probably the biggest thing for me last year as a rookie. The physical aspect of it is important, but the mental is one thing that can really slow rookies in their development. I feel as though I had a good grip on that coming out of last season and that helped."
It showed when he first took the field. In the preseason, Austin scored on a 67-yard touchdown reception. He turned on the jets in the regular season as well, scoring on a 72-yard reception against the Las Vegas Raiders.
"Just the first preseason game, I got emotional playing in my first NFL game," said Austin. "My dad came to the game. I made the NFL, but this was my dream come true, playing in an NFL game, for the Steelers.
"That is when it all started hitting me. I waited a long time for that, I went through a lot for that.
"It made the first kickoff, running out with the team, that much more special."
Also honored at the luncheon was Jai'Noah Martin, a senior at Nazareth Prep, who was presented the 2023 Arthur J. Rooney Sr. Courage House Award. Martin lost both his mother and grandfather on the same day in 2020, showing courage beyond belief to keep going, working on finishing his education, playing basketball and interning at Buchanan Ingersool & Rooney PC.
About the Ed Block Courage Award: Since 1984, the Ed Block Courage Award annually honors one player from every NFL team who exemplifies commitment to the principles of sportsmanship and courage. Recipients are selected by a vote of their teammates to recognize both on- and off-the-field extra efforts along with their ability to overcome great adversity, whether it be personal or professional. The award is named in honor of Ed Block, the long-time head athletic trainer of the Baltimore Colts
For more information on the Ed Block Courage Award Foundation, visit www.edblock.org.