Throughout the 2008 season, Coach Mike Tomlin will answer questions exclusively for Steelers Digest and Steelers.com. The following is one of those sessions. For the complete interview, pick up the latest issue of Steelers Digest.
Q. What characterizes December football in the NFL, and how is it different?
A. To me, teams on the rise start to show themselves by being extremely crisp. You see cohesiveness in good football teams. Teams going in the wrong direction start to reveal themselves, whether it's injury or otherwise, at this time of year. It's really the same, but the significance of the outcomes of the games is very clear. That's something that attracts fans at this time of year, and it turns on the players this time of year.
 
Q. Before you were a head coach in the NFL, you were a coordinator. What's it like to call plays in a game?
 
A. It's the ultimate sudoku, or crossword puzzle, it really is. It's putting yourself in position for your men to do what they do best, while at the same time trying to anticipate what's going through the other play-caller's mind. It's very challenging. It's chess. And I'm a big fan of all of those things – I'm a chess guy, I'm a sudoku guy, I'm a crossword guy. It's very similar in a lot of ways.
 
Q. Do you miss it?
 
A. I do. The coaching purists miss a lot of things about the things that you don't get to do as a head coach. I miss play-calling. I miss the intimate relationships you have with a small group of men as a position coach. That's football.
*
*Q. Is calling plays in a game as competitive as you can get as a coach?
 
A. You'd like to think that it is, but as long as the calls are sound it's not as significant as we make it sometimes. Calls don't win games, players do, and as long as calls aren't bad you have a chance to win.
 
Q. Is that what you believed when you were the one calling the plays, or did you sometimes believe you could really make a difference?
 
A. Absolutely, I did. I'm not saying that at times you don't help guys with calls and at times you don't hurt guys with calls. But the more important aspect is what your guys are capable of running and what they are running well, and if you give them that they have a chance to be their best. The outcomes of games are decided between the white lines. I believe that's always been the case and that it always will be the case.
 
Q. You had a job where you were calling plays. Then you were promoted, and now you're not calling plays anymore. Is it difficult to be the head coach and not be in control of the game the way the play-callers are?
 
A. It's a different set of tasks that are equally challenging. What's I'm doing now is just as exciting, or more exciting, than calling plays. It's just part of the natural progression of the profession, if you will, probably not unlike a lot of professions. People move up, because of what they do, and the more they move up the less they get to do of the things that got them there. But that's life. At the same time, I enjoy what I do now, because I get to have a hand in all of it. I get a chance to coach all 53; I get a chance to contribute to all three phases of the plan. That's exciting. If you're a football guy, a football junkie, I get my fill of football.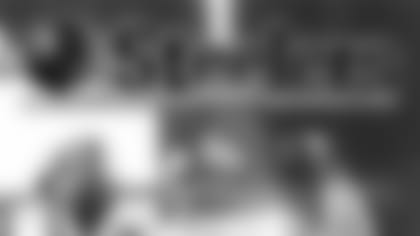 Looking to get Steelers Digest the traditional way - you can subscribe by calling 1-800-334-4005 for credit card orders.