Throughout the 2008 season, Coach Mike Tomlin will answer questions exclusively for Steelers Digest and Steelers.com. The following is one of those sessions. For the complete interview, pick up the latest issue of Steelers Digest.
Q. What makes Larry Foote special as a player and as a part of this team?

A. As a player, Larry is very instinctual. He is one of those guys who has an innate ability to end up on the ball, and at times you might not always like how he gets there but you can't take the instinct out of a player. In our game against San Diego, he sniffs out a power, and he runs back-door and blows it up in the backfield. He's that kind of a guy, and that's one of the things that makes linebackers who they are. As a person, Larry has a charismatic personality. He has a personality people gravitate to. He's very genuine, very open, a very easy guy to get to know. Because of that, I think he endears himself to his teammates.

Q. The Steelers play outside on a grass surface at Heinz Field. How do you decide whether to practice inside or outside during the week, now that winter is coming to Western Pennsylvania?

A. I stay outside if at all possible. The only things that take me inside are inclement weather and footing that may be conducive to people getting hurt. Those are the factors that I weigh, but I'll always stay with the premise that we practice outside if at all possible.

Q. At this time of every season, players emerge as candidates for a number of individual awards. James Harrison, for one, is being talked about as a candidate for NFL Defensive Player of the Year. How do you view those within the team concept?

A. I think those are great things. The reason James is a candidate, and why other players are candidates for awards such as those, is because of what they do and because of what their team does. There are no negatives in regards to that. People deserve to be recognized for outstanding contributions to a football team. Usually the guys who receive those awards get them because they do great things on great teams. There are no negatives from my perspective.

Q. Would you campaign for one of your players to win an award?

A. I'm not a campaigner. I'm really not. I believe in the concept of football justice. For example, I think James' peers, the people in this industry know what he brings to the table. I tend to let that speak for itself. I don't begrudge the people who do campaign, but it's just not me.

Q. Who gets the credit for the number of sacks the defense has recorded this season?

A. We have to give credit to the rushers, specifically No. 92 (James Harrison) and No. 56 (LaMarr Woodley). People are feeding off their performances, and they are feeding off one another. At the same time, like I always say, you get sacks because of coverage as well. I think the guys in the back end are doing an excellent job as well. I don't want to leave them out in terms of recognizing what we are doing in terms of putting pressure on the quarterback. They are playing at a high level as well; guys like Troy, guys like Ryan (Clark), guys like Ike (Taylor), and Bryant McFadden when he was healthy, and Deshea (Townsend) when he was healthy. They are doing a very nice job in the back end.

Q. What is good defensive line play for the Steelers?

A. It's playing fundamentally sound, holding the point and chewing up multiple blocks. That's being disruptive, and ultimately when you talk about measuring defensive linemen, you're talking about being disruptive regardless of scheme. In our scheme, being disruptive is occupying multiple blocks and not getting moved off the line of scrimmage. That allows guys like James Farrior and Larry Foote do what it is they do. In other schemes, 4-3 schemes, attacking, vertical rush, penetration is how they disrupt. I think disruption is the word you use when you describe quality defensive line play.

Q. When you say fundamentally sound, what do you mean?

A. I mean pad level, hand placement, extension, escape, tackling people who come into your gap.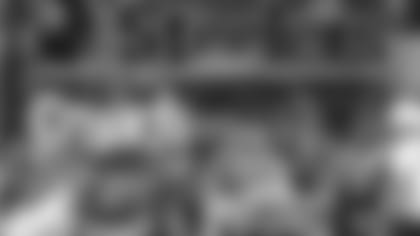 Looking to get Steelers Digest the traditional way - you can subscribe by calling 1-800-334-4005 for credit card orders.