Throughout the year, Coach Mike Tomlin will answer questions exclusively for Steelers Digest and Steelers.com. The following is one of those sessions. For the complete interview, pick up the latest issue of**Steelers Digest**.
Q. You have agreed to be the commencement speaker at St. Vincent College and at your alma mater, William & Mary. Why did that interest you?
A. That's one of the special days in your life, at least it was for me. If I have the opportunity to share that day with some young people, I'm honored and humbled by it. That's what is exciting about what I do, getting to meet people and maybe inspire people by what I say. If I get an opportunity to share that special day, I'll jump at that.
Q. As the speaker, do you feel it's necessary for you to be able to give the ceremony meaning?
A. That's what I intend to do, but let's see if I can be successful. You do feel a certain responsibility. More than anything, I remember the feelings I had on that day – the good feelings, the scared feelings, just the feelings in general. I want those young people to know that what they're feeling is not out of the ordinary, that they're capable of doing whatever it is they do desire.
Q. Do you remember who spoke at your commencement?
Q. Do you feel a responsibility to use your celebrity to advance causes?
A. I'd like to use my life, if I can, to help people. I think we have a certain obligation to do that. I'm thoughtful with regards to that. Time is always an issue, so you have to make choices, and sometimes those choices of whether to participate or not to participate are difficult. But it comes with the territory.
Q. What is your reaction to the fact that the team that won the Super Bowl was 10-6, didn't win its division, didn't earn a bye in the playoffs, began the season with its coach supposedly fighting for his job? What does that say about this league, about every team having hope?
A. I refer to the NFL as the ultimate parity league all the time. It is just that. If you do things right and people are unselfish and you have the key components in the right places you have a chance to win. That's what makes this America's game at this point in time, that regardless of who your favorite team is, there's something to get excited about because you feel you have a chance. And you do. But also as a coach, it challenges you every day, because every team is capable of winning. You have to stay on the cutting edge in all facets of the game, and that's what we're trying to do.
Q. Did it surprise you that the Giants beat the Patriots?
A. No, it didn't surprise me. The Giants could get pressure on the quarterback without blitzing, and anybody who can apply pressure to a quarterback without blitzing has a chance to win any football game. I grew up in this league in that environment, with a front four that could apply pressure to the quarterback, and when you can do that without blitzing, you're going to be in every football game.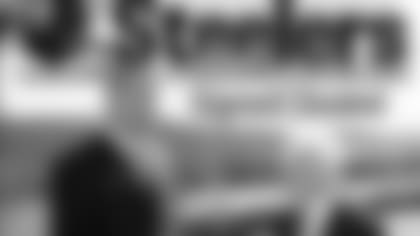 Looking to get Steelers Digest the traditional way - you can subscribe by calling 1-800-334-4005 for credit card orders.