A rookie year is tough on its own, making all of the adjustments to life as a professional athlete for the first time. But a rookie year marred by an injury might be one of the toughest things for a young player.
And if you don't believe me, just ask Ulysees Gilbert.
Now, add to that an offseason where you were on track with your rehab until all of a sudden, a pandemic brought that to a screeching halt.
It's been quite the year for Gilbert. One of the Steelers sixth-round picks in the 2019 NFL Draft, Gilbert came into the season with a lot of promise, making the 53-man roster right out of the box. He made a quick impact on special teams, but a back injury interrupted that, forcing the team to place him on the reserve/injured list on Nov. 5.
"I felt like I was getting in my groove, getting way more comfortable when the injury occurred," said Gilbert. "It was pretty tough. For this to be the first time you are so close to your dream, to be able to play and have it taken away by injury, it really does suck. It's kind of like a mental thing. It messes you up a little bit. You are playing one day and then the next day you wake up and it's all gone. Plus, it was the first time I have been away from football for that long.
"It's tough because you are in it for so long and it's so fast all of the time. Then you aren't in it anymore. But the Steelers, the players and the coaches, do such a great job of making you still feel at home. Every time I came in the locker room during the season everybody checked up on me, saw how I was doing, how my back was feeling. That shows how special the Steelers organization is and how genuine the players are. They never turned their back on me or didn't check up on me. They would text me to check up on me. Other guys who were injured, we kept in touch. You feel alone in the sense of not playing and traveling, but at the same time it's a brotherhood here so you don't feel that as much.
"The injury did come at a weird time. Sometimes I think God takes things away to show you the blessings that you have. At the end of the day he took it away at that time. I have no doubt in him and myself that I am going to make strides to be even better."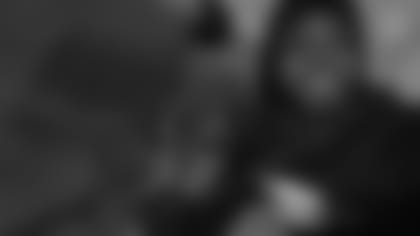 Since the season ended, Gilbert has been working on his rehab, even spending time in Pittsburgh so that he could be close to the athletic training staff during the process. He would be at the UPMC Rooney Sports Complex on a regular basis, working with the staff to try and get back as soon as possible.
Until everything changed that is.
The Steelers organization did what everyone in the NFL, and around the country did, when they shut down their offices because of COVID-19.
At the time it happened, Gilbert was already in Pittsburgh and he knew the right thing was to not travel anywhere but stay put for his safety and the safety of others. He hasn't been able to go to the practice facility for his treatment, instead receiving workouts and rehab guidelines via email from the athletic training staff.
"They are sending me workouts to do, running programs and stuff to do in the house with body weights I do have," said Gilbert. "I also have some weights and resistance bands. We are still on top of it. Every day I am doing something new. I am trying to get back right so whenever this thing does take a turn for the better, we can get back to work.
"The good thing is I am coming along very well. I was back here for a while and everything was normal. We were making great strides to get me back right. I hated that we had to stop and not be in the training room, or weight room or facility, but we are still making great strides at home. I am working out, eating right. I am doing the things they have sent me to do. We are still making strides, I am feeling good, and I am happy about that."
Pushing himself is something that has been a little bit of a challenge for Gilbert. He is doing what all of us are doing, binge watching shows, including Netflix's 'Ozark', He is reading. Taking naps. Keeping his mind busy. And while pushing himself is a challenge some days, knowing how important it is for him to be healthy and ready when the team is able to resume work is vital.
"You want the best for yourself," said Gilbert. "You don't want to be surpassed. As an athlete and someone who is very competitive, you don't want anybody to outwork you. You continue to work and continue to have that motivation to get up every day and do that work. My season got cut last year so I have no room to sit around and be lazy and feel sorry for myself. I just want to get better for myself first and do whatever I can for the team when the season starts up."
The workouts are a great diversion for him, since he is alone in Pittsburgh away from his family and unable to connect in person with any of his teammates.
"It is tough," admitted Gilbert. "I talk to my family every day. They are doing well. But it's tough, especially in this time when you see people getting sick every day and you just pray and wish for the best that your family is well, that they don't get sick, the people you know don't get sick. You don't want any more people to get sick. It's hard being here away from them."
The lessons that he learned last season through his injury, though, are ones that are helping him get through these times.
"I learned so much. I learned I can endure anything and with God anything is possible," said Gilbert. "It was tough at first, getting hurt, not playing. The love the Steelers showed, and by the grace of God to be healed with no surgery. It's things like that we take for granted that are a blessing. I have a chance to come back. I can keep preparing and make sure I am ready. That is a blessing. I look on the positive side of things and not the negative."