Matt Feiler shook his head, thinking about it for a minute.
He remembers the days when he didn't know if he would make an NFL roster, let alone be a starter.
Keep in mind this is a guy who went undrafted in 2014, eventually signing with the Houston Texans and spending the 2014 season on their practice squad.
He was then released by the Texans before the start of the 2015 season, and was signed to the Steelers practice squad, spending another season watching and learning.
The 2016 season was almost the same, spending the vast majority of the year on the Steelers practice squad, active for just one game.
In 2017 it all changed. Feiler made the Steelers 53-man roster and played in five games, including one start. It might not seem like a lot, but it was the start of something special. In 2018, when Marcus Gilbert went out early injured, Feiler stepped in, playing in 11 games and starting 10 at right tackle.
This past season, he started all 16 games and became a staple on the offensive line.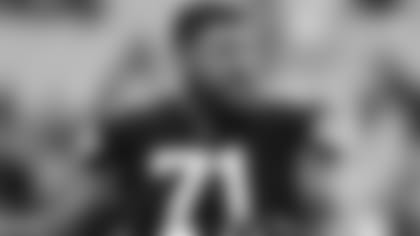 "It's kind of weird," admitted Feiler. "When I first got in the NFL, I didn't know how I was going to be a part of it. Looking back, finishing up my fifth season with the Steelers, it flies by. You are considered an old guy. It's wild to think about.
"It's kind of cool, especially guys from my background, small school, undrafted. It's cool to see my hard work pay off a little bit.
"I have learned a lot since I have been playing in the NFL. My growth and knowledge keep on climbing. It's cool to reflect on."
Feiler credits that learning to his teammates, to the offensive linemen who have helped him since the day he arrived, including Ramon Foster and Alejandro Villanueva, who both entered the NFL as undrafted rookies as well.
"I definitely give a lot of credit to the older guys in the offensive line room," said Feiler. "They are leading the way. Showing the younger guys what it's like to be a professional. They have all helped me out in some way. Ramon is really knowledgeable on the field as well as off the field stuff. (Maurkice) Pouncey, the way he carries himself in the locker room. There are just two examples right there. Al and Dave (DeCastro), the routine they do day in and out it's something to really pay attention to."
It is also the tightness of the offensive line that has had a huge impact on Feiler. They are a brotherhood, spending time together on and off the field, including once a week at Pouncey's house where the bound continually grows.
"It's cool. You get to hang with each other outside of a football atmosphere," said Feiler. "You have conversations about what is going on in the world and get everybody's point of views on stuff.
"I think everybody is accepted. As a young guy you want to prove to the older guys you are serious about what you are doing, and you want to be here for the long run.
"All of that helps on the field. Sometimes when we get up to the line of scrimmage we communicate, but we already know what we are doing so we don't have to say anything out loud. It helps we are all on the same page. It's a testament to the guys who have been in the room for so long, being able to hold the room together for so long."
Feiler is hoping to continue that relationship long into the future. He will become a restricted free agent on March 18, with the ability to sign elsewhere but the Steelers could always match the offer. His desire, though, is to stay put.
"I would love to stay here. I love it here," said Feiler. "My family is from Pennsylvania, so we are very close to home. I think we found a home here."
While he awaits his future this offseason, Feiler is working on every aspect of his game, so whatever the 2020 season brings for him, he will be prepared.
"I am starting to see and realize the areas I need to work on more, especially on film," said Feiler. "Seeing it on film makes me want to work on that more. My footwork and my movement. I feel like I am a little tight in the hips sometimes. I want to work on flexibility and mobility and things like that.
"I just have to continue to do what I have been doing. Every offseason I have worked on something that I have found a weakness in during the season. I am going to continue to do that."
Feiler also looks forward to the 2020 season because of what the Steelers have coming back, which includes quarterback Ben Roethlisberger, who is expected to be ready to go after missing almost the entire 2019 season with an elbow injury.
"I think the sky is the limit," said Feiler. "We have a good defense. We have a lot of weapons on offense. We have a lot of young guys who can make plays and are willing to make plays. Getting Ben back is having another huge weapon for us."