Legends Series:
James Farrior
Linebacker
2002-2011
The Steelers have had some impactful free agent signings over the years, and there is no doubt that James Farrior is right near the top of that list.
Farrior, the New York Jets former No. 1 draft choice, played 10 seasons with the Steelers, recording 30 sacks and 1,078 tackles.
Farrior was a key component in the Steelers run to Super Bowl XL, in particular his performance against the Indianapolis Colts in the AFC Divisional playoffs when he recorded 10 tackles and 2.5 sacks.
Farrior sat down to talk about his time with the Steelers, a time that was special to him.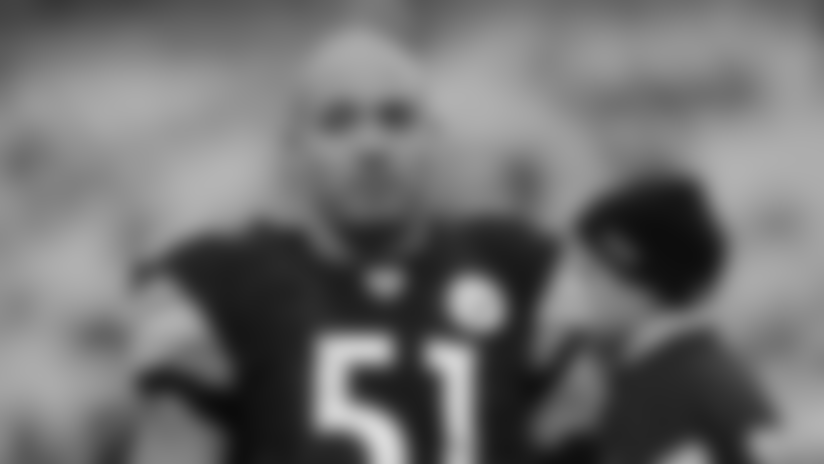 In 2002 you signed with the Steelers as an unrestricted free agent. How did that change your career?
"I feel like Pittsburgh, since I played here and lived here for 10 years, it was my home. This was the place I was born to play in Pittsburgh. No offense to the Jets organization, but Pittsburgh is the place that was meant for me.
"It was that blue-collar town feel. The team was more of a family atmosphere. The Rooneys are great owners. They set the tone right away. From there it trickled on down to the players. That is the type of atmosphere I loved being around. That is the type of atmosphere I thrived in. I think it changed the path of my career."
What's your best memory from your playing career?
"I would have to say the two Super Bowl wins. You play this game and you set personal goals for yourself. But you ultimately play the game to win championships. That is what I was able to accomplish here."
What was it like winning two Super Bowls?
"It's a great feeling. It's something nobody can ever take away from you. It's something that not a lot of people get to achieve those goals. Let alone one, I have two. Getting there is one thing, playing in it is another thing. You dream about playing in the Super Bowl, but you never dream about playing in two Super Bowls. I wanted to get there one time, but to do it twice and have two championships is an unbelievable feeling."
You played on some dominating defenses. What was it like going into a game with that group, knowing you could control the outcome of a game?
"It was awesome. It was so amazing. Looking back on it now, I am proud of what we were able to accomplish as a group. There was a stretch where we were pretty dominant. There weren't a lot of teams that could do things that our defense wasn't prepared for. I think about it all of the time. It's amazing what some of the accomplishments we did."
You played 15 seasons. How did you manage to have that kind of longevity?
"I definitely have to thank the man above. It was truly a blessing to play that long. I never imagined in my wildest dreams I would play 15 years. It is one of those things you stay healthy. That played a big part of it."
What did it mean to you to play for the Pittsburgh Steelers?
"Being an NFL player you understand tradition and legacy. I didn't know as much about it before I got to Pittsburgh, but it was easy for to tell and learn the history and be around a lot of legendary players. It gave me a feeling of pride to be a part of this organization, one of the best organizations in sports period. To be a part of that legacy is such an honor."