Eric Ebron leaned back on his couch and smiled during the entire zoom call. It was because what he was hearing from the teenagers on the call with him reminded him of himself growing up. They were dealing with some of the same things he dealt with as a kid and teen.
Ebron spent over an hour talking with the teens who are a part of the Amachi Ambassadors Youth Leadership Development program in Pittsburgh. Amachi Ambassadors empowers children of promise to raise awareness and education about the impact of parental incarceration on children, families and communities. The ambassadors strive to improve services and shift policies that affect their lives.
The teens weren't shy about opening up to Ebron, and equally Ebron wasn't shy about opening up to them and put his feelings and emotions out there. It was an honest conversation, and nothing was off limits.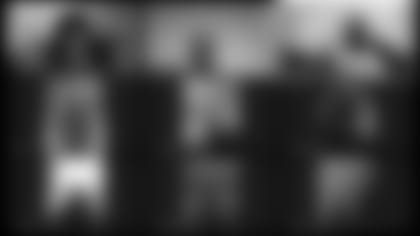 "That is just who I am," said Ebron afterwards. "I don't know any other way to put it. It's how I wish someone would talk to me.
"Growing up I never had anyone, any athlete, any figure, help me through anything. For me it's a blessing when I am able to talk to the kids, get them to see I was once one of them, I have trials and tribulations, I have things I go through. People think we are athletes and life is great. You have to express yourself and show them you go through a lot of things as well."
After the kids shared tidbits about themselves, Ebron did the same, sharing how he made it to the NFL and what he went through to get there.
"I ended up making it," Ebron told them. "I ended up being lucky and fortunate."
He gave the kids advice that came from his experience, advice that can touch every life, not just the lives of those on the call.
"There is always hope," Ebron told them. "You just need somebody to believe in you or believe in yourself. Once somebody believes in you, you can believe in yourself and from that point, it's whatever."
He also took questions from the kids, everything from a young lady who doesn't understand football and wanted him to explain what he does, to others who wanted to know if he had another job.
"I'm a full-time dad," said Ebron, a father of two.
The relaxed call had everyone at ease, everyone feeling comfortable, and everyone leaving it with a good, comforting feeling.
"It really was cool," said Ebron.