Get to know Steelers cornerback Breon Borders
Most entertaining person you follow on social media? Chad Johnson. He is so random. He is always talking about McDonalds. He is a funny, random, dude.
Must have food? Gushers candy. I have to have them in the house. I have five boxes of them right now.
Must see show? South Park
Morning person or night owl? Morning person.
Who is your football mentor or inspiration? My inspiration since I was a kid has been Randy Moss. When I was younger, he was the prime receiver at the time. I wanted to be a receiver and I looked up to him.
What motivates you? My kids and my family and community. I feel like I am in a position to lead. I feel like everyone is looking to me to lead and set a good example for the younger generation, including my kids, family, and everyone.
Why do you want to be that leader? That is something that is really scarce in my town. In my town there are a lot of drugs, shooting, and I want to be a positive light in my community. I am doing all I can for them.
Who was the positive light for you growing up? It was a few people. It was my grandmother Yvonne Bennett, my mentor Charles Minor and my aunt Sandra Reid. My aunt and grandmother helped raise me to be who I am today. It's me repaying my debt back to them. I don't want all of the time they invested into me being in vain. I try to make them proud every day. Charles Minor because coming up within the process of me becoming a man he gave me advice, told me things I need to hear that I will take with me for the rest of my life.
What is your football mindset/approach? I just try to have one up on my competition. I try to win small battles. I try to be the first one up. If I am up before my competition, I have a head start on them for the day.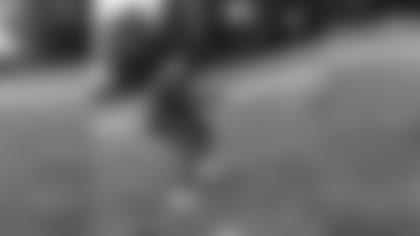 When did you start to dream about playing in the NFL? For as long as I can remember, since I was six or seven years old.
Why do you play football? It's for my family, for my community.
What is your proudest football moment or memory? My freshman year at Duke University. We went to Blacksburg to play Virginia Tech. They were No. 13 in the country. At halftime they put four freshman defensive backs in the game, including myself, to turn the game around. That is exactly what we did. We went there, beat them and it was a great memory. I will never forget it, ever.
When you hear Steelers football, what do you think?
Tradition. Championships. Fan base.
What have you learned about yourself during the period of quarantine you went through? One aspect I have learned it the type of worker I am. A lot of people during this time have to work out by themselves, when normally we are with the team, with each other. It's more difficult than you think to get up every day and go out there and workout by yourself. I have learned the type of worker I am and am proud of myself.