STEELERS vs. RAVENS AFC CHAMPIONSHIP GAME SUNDAY, JANUARY 18, 2009 KICKOFF IS AT 6:30 P.M. HEINZ FIELD
AFC CHAMPIONSHIP PRESS CONFERENCE Steelers Players  Friday, Jan. 16
Quarterback Ben Roethlisberger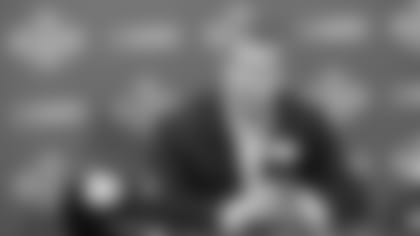 This is your third AFC Championship game. Do you have an appreciation for how hard it is to get here?
It's a great honor. It's a tough thing to do. All of the hard work you put in during the offseason, you have to be a special team. I have been blessed enough to do this, it's my third time in five years. It's a great thing.

**Both you and Joe (Flacco) will be facing the two best defenses in football right now. What advantage do you have based on the experience of playing in games of this magnitude?
I remember my first championship game, throwing six or seven picks it seemed and losing the game. It's not easy. I kind of know what to expect and what not to expect. I am not saying it will benefit me, but I hope it does. I hope our defense gets after him.

With the way your defense plays, do you feel like no matter what the offense does it gets overlooked by those on the outside?
That's fine. That's what the Steelers have always been about, even in the 70s. It's been about the defense. It's about our defense right now. We just make plays and do things when we have to on offense. That's why we are the Pittsburgh Steelers and we are a complete football team. The offense compliments the defense; the defense compliments the offense and the same thing with special teams.

Are the Ravens your top rival right now and why?
Yes because we are playing them this week. It's going to be a tough battle and it always is when we play. That's why it's the big rival this week.

Overall though are they the team that is your biggest rival?
Yes, right now.

Baltimore has some injuries. Are you preparing for Terrell Suggs and Samari Rolle to play and if they don't or aren't at full strength, what are your thoughts?
We are preparing for their defense to be at full-strength as I think you should do. We will go at it and approach it that way. If for some reason they are not out there, which we expect them to be out there, if they are not we will keep playing the way we planned on playing with the game plan and go from there.

In what ways does the Ravens defense challenge your intestinal fortitude?
The Baltimore Ravens defense is a spectacular defense. They do a lot of crazy things, show you a lot of different looks and it really challenges you mentally as well as physically. They will get to you regardless. They will get to you and hit you. You have to get yourself up and get ready for the next play because the next play might be a different blitz you have never seen.

How aware are you right now that there is such a spotlight on what you are saying and the comments you make can get right back to the Ravens?
We know that. But when I talk about how good their defense is, I am speaking the truth, speaking about how complicated they are. They are ranked where they are for a reason. They have given us fits for a reason. I am not just blowing smoke. I am talking the truth.

The last time you saw the Ravens on the field was the 12-play, 92-yard yard drive that ended with the Santonio Holmes touchdown. What did you learn from that, being it was the greatest success you had against them this season?
That was a gut-check for us, an opportunity that we knew we had to make. We had to make plays, everybody from the linemen, to myself, to the running backs, tight ends to the receivers. We know at crunch time we had to do it and we got it done. It tested and challenged our will and our desire to win.

Coach (Mike) Tomlin just mentioned that both teams like to impose their will. What's the best way to do that?
They are going to be coming after us with heat. We know that. For us it's not turning the ball over, winning the time of possession battle and scoring more points than them.

Will you roll out more this week to give yourself more time?
The key to getting out of the pocket, and nakeds and boots and sprint-outs, is moving the pocket. If you have an athletic defense that throws a lot of different looks at you, if you move the pocket and get outside, it helps buy some time. It gives you an option to run the ball as well as a quarterback. I'm sure will see some of it if necessary.

You won a Super Bowl with Bill Cowher and you are going for another one with Mike Tomlin. Can you talk about the similarities between the two coaches?
Well, we are not going for a Super Bowl yet. We have a big game this week that is more important right now. It's the most important game this week. They are both great coaches. I feel honored to have played for Coach Cowher. I really learned a lot from him, a guy that has been in the league for a long time, very well-respected around the league. Now Coach Tomlin, as a new guy coming in kind of brings a new energy and excitement to this team and it's really been fun.

When you played at Miami of Ohio, who was your big rival, your Baltimore Ravens and how different is it on this level?
It was probably Cincinnati just because they were so close and we always played them. It was always a battle. We always went toe-to-toe and it was always a slug-fest. When you get to this level it's completely different because guys are bigger, faster, stronger and hit a lot harder. It's a little different in the rivalry, but very similar.

You have been through a lot, from the motorcycle accident to a coach change, How satisfied are you to get to this level?
I am just proud of the way our whole group has played. You won't hear me talk about myself. I am more proud of the way our offensive line has performed. Everybody talked about how bad they are - kind of pieced together, giving up sacks. But they found a way to get it done when they had to. I am just really proud of them right now.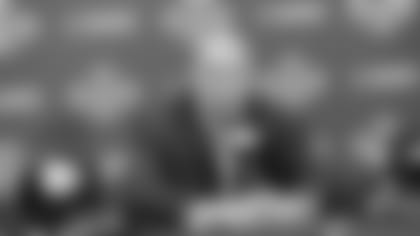 Are the Ravens your top rival and why?
I believe so. I believe that the games that we've played throughout the years have been such great games and great contests that both teams have grown to dislike each other to a level where they're our biggest rival. We face those guys twice a year and it's definitely a game we circle on our schedule every year.

*Could you explain what that's like and how it manifests itself?
It was here before I got here. It was something that was instilled in the Steelers long before I got here and it didn't change when I got here. I kind of grew into it real fast when I first got here and it has just been growing over the years. I think the main thing is just competition, the level of competition, that we both go through it what makes it a good rivalry.

Do you get the sense that people are glad for another shot at the Ravens?
This is our third time. We thought we'd put dirt on them a couple of times. The first couple games we thought we had them out of there, but they're a great team and they fought back hard to get themselves in this position. It's going to be fun facing them for the third time. The ultimate prize in on the line to go to the Super Bowl. It's going to be a good one this time.
* 
*Le'Ron McClain was compared to Jerome Bettis. Do you agree and what are you thoughts on the challenges he poses to you guys?
I would agree to a certain extent. I wouldn't put him up there in Jerome's (Bettis) category just yet. He's got a long way to go. Jerome, he's a Hall of Fame player. Everybody knows what he is around here. He's (Le'Ron McClain) a good running back. He's a tough runner and he's tough to tackle. For a guy his size he has very good speed and very good vision. We are going to have our hands full with him. He had some success against us the last time. We are going to look to do some things a little differently to try to keep him from getting those yards.
* 
*How do you think you might be able to exploit Joe Flacco's inexperience in general and the fact that he's never played in a game like this?
I don't know. We tried it the first two games and it didn't really work. I don't know what we are going to do this time. We are going to have to come up with something new. We all have a lot of confidence in Coach LeBeau and what he brings to the defense. We know he's going to have something good for him. We probably won't be able to rouse him, but we're going to make something happen and force him to do some things that he might not want to do.
* 
**Earlier this week Derrickk Mason said "the Ravens are coming so prepare yourself." Do you have any reaction to that?
Yeah. We'll be ready. We'll be waiting when he gets here. We don't really look at those type of things. Coach Tomlin has done a great job all week of trying to keep us down. We don't want to give those guys anything to put on the bulletin board. They've been talking and we saw the sound bytes and all that that stuff. It doesn't matter. It's going to come down to who plays the best. All the words that are being said right now won't mean a bit when that game starts.

Does that mean if the cameras weren't here you'd have a different answer?
Yeah, we'll see at game time.

What is it about the Ravens that you don't like?
I think a lot of it has to do with the fact that they are so similar to our team. They are sort of a mirror image of us. They do the same things that we try to do as a football team and that's control the ball on offense and play great defense. That's how we've been winning football games around here and that's how they've been winning. I mean when you get two bullies going up against each other. It's about who is the strongest bully.

How do you find the closeness in generations between the coach and players to be an advantage?
I actually played against the guy, but you guys don't know that. I played against him I think one year. I told him a long time ago if I would have known that he would be the coach that I would have really been going after him. I feel like it's a good thing that he's so young in age and that he's so close to our generation. He can relate to his players better on that level. He's a couple years older than me. I'm sure we have some things similar that we like to do and things of that nature. I feel like he can talk to the players on the level that we are on. He's able to get his points across to us and that's probably the main thing. He's just able to relate to our generation a lot better than older coaches.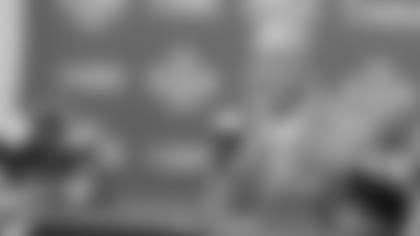 What is it about the Ravens that can bring out the best and worst in the Steelers?
I love purple and black, I love the colors. Any time we get a chance to play them you really want to go out and perform well. Just because of the rivalry its self there is a genuine dislike, but there is a lot of respect. They have great players. Each and every year we play Baltimore, it's one of those games you circle. Cleveland and Pittsburgh is a rivalry itself, but Baltimore and Pittsburgh rivalry is really heated.

*Baltimore fans voted you the most hated Steeler, how does that make you feel?
I guess that's a big honor. I don't know why Baltimore dislikes me so much. I love the crab cakes there; I love the view in Baltimore. I don't know, I'm a likable guy. I don't know what there is not to like about me. I smile all the time. I give 110% every time I step on the field. I could care less if they dislike me. As long as my teammates and the city of Pittsburgh know what I give each and every Sunday that I step on that field, that's all that really matters to me.

Do the Ravens pay too much attention to you instead of doing their jobs?
Every now and then you hear the guys (Ravens) say you're not going to break my jaw. You run around and they look at you. I get a big smile on my face when I hear guys talking about that because they are more worried about me than trying to stop Willie Parker or Heath Miller and those guys. I take pride in trying to get under their skin because I guess they are trying to knock the smile off of my face. To have that impact on the field, they were trying to fight me, literally rather than trying to stop our offense run plays. I just want to do anything to win games.

Have both offenses gotten lost the week because of both defenses?
You have to respect that. To be one and two in the league defensively, you have to respect that aspect of it. Offensively, you look at the playoffs and it really comes down to turnovers. Whatever offense executes their game plan and not turn the ball over usually has a great chance to win ball games. That's been the case with Baltimore; they are very conscientious of not turning the ball over and letting their defense go out there and forcing their opponents to make mistakes. For us the same way, there isn't much we have to do offensively because we have a great defense. Not too many teams in this league can take an 80 or 90-yard drive down the field and score touchdowns against our defense and vice versa. This game really comes down to execution of the game plan and not turning the ball over. When you get down to the red zone you have to put up touchdowns and not field goals. That's usually the winner of the game.

How do you stay hungry when you've made it to this point so many times?
I'm always out there to play with a chip on my shoulder. I was one of those guys that wasn't supposed to play in this league very long. This is my fourth AFC Championship game and unfortunately I am 0-2 at home. That is something in the past that's all you can remember is the guys celebrating on your home field. That's something you have to live with, throughout the whole offseason. There is nothing you can really do about that. There would be nothing worse than seeing Baltimore's players celebrating on our field. For me, I want to make sure that doesn't happen at all. That's all the motivation I need to go out there and give it all I've got




How do you socialize at Pro Bowls with Ravens players if they don't like you so much?
Ed Reed and Chris McAllister, I've been to Pro Bowls with those guys and they say, 'Thank God you're on our side, because we're not trying to have that out here in Hawaii.' They know, because when I go across the middle, those guys are going to just play hard. If you hate me for playing hard, I'm sorry. This is a physical sport as it is. When I cross the middle, those guys are itching at the bit to get a good shot on me. But that's my motto; I'm going to hit you before you hot me. I just have a different approach about it. Each and every time I step on the field, I don't have the intent to hurt anyone, but at the same time if I have a shot, I'm going to take it.

* What's it like playing for a coach as young as Mike Tomlin?
He understands his players. Last year he had to come in and really come in and set the laws down. A lot of guys were in coach Cower ways. He was very strict on his rules, if he started an 8:00 meeting, he wants you there at 7:58. He doesn't want you there after 8:00. If you were (late) you were going to get put in his so called "news board" and you would get fined. He had a year under his belt to let guys know this is his team and this is how he wants things run around here. Going into his second year, he understands what players need to be pushed, what players need to take time off to be fresh. He's done a great job of mixing that in with veteran guys. Veteran guys, we don't practice on Wednesday. We've been in this league long enough and we know we're not going to win ball games on Wednesday. He wants guys to be as fresh as possible on Sunday. He did a great job of doing that for veteran guys. He's a true players coach. He's played the game and he understands. By playing wide receiver not practicing on Wednesday is not going to affect the way I play on Sunday. He's done a lot for me because I feel a lot fresher on Sundays and been able to go out to do it week in and week out.

*Do you want snow and cold Sunday?
It's not like I want it, but this is Pittsburgh you never know what you're going to get. For all I know it might turn around and be 60 degrees on Sunday. Whatever the conditions are, we're the type of team that will be ready for it. Playing in Heinz Field with the field conditions and the weather, we've played in every field condition there possibly is. We're used to it. We worked inside today, but we opened up the garage, because it's still going to be cold. We tried to get used to it and get acclimated to the weather. Rain, sleet or snow, we're going to show up and see if we can go to the Super Bowl."
* 
**Have you thought about your legacy and how another Super Bowl would enhance that?
A Super Bowl would be great. When you look at the previous teams here in this organization, the teams in the 70s winning four Super Bowls, when you win Super Bowls you leave your legacy as a winner. That's what a lot of people like in this league, winners. For me, when I leave this game, all I really want from people is to say Hines is one hell of a football player. I don't compare myself to anybody, to Randy Moss, (Larry) Fitzgerald, none of those guys. I play the game I want to play. My legacy, I want people to say he played the game the way it's supposed to be played. If they do that, I am happy. I did my job.

Ravens wide receiver Derrick Mason said, 'They are going to realize what's coming quickly, the Ravens are coming, so prepare yourself.' What do you make of that? Are you prepared?
We are very prepared. That doesn't scare anybody. That doesn't scare me. Whatever it takes to motivate yourself to go out. Talk is cheap to me. We line up Sunday, we're going to go out and play, and the better team is going to win. For what Derrick said, I don't know if I am supposed to be scared or laugh at that. I really can't comment on that.

Does any of that bulletin board material even matter?
No. if you need bulletin board material to motivate you in this game you don't even need to show up. Playing a team for the third time in our division, knowing it's going to be a physical ball game, there is nothing more Ray Lewis or any of those guys can say. We've heard it all. I've heard it for 11 years now. You still have to go out there and line up and play. All of the bounty talk was just talk. It was something to write about, stories to create. It was something for the media to talk about. You still have to line up and play football. Two great defenses, it's going to come down to whatever team executes. Hopefully it will be us on the receiving end to go to the Super Bowl

Would the worst nightmare for both of these teams be watching the other team celebrate getting to go to the Super Bowl?
A couple of guys joked around that the winner of this game, right here, it doesn't matter what you do in the series after this you are always going to remember this. If we win this game, Baltimore can beat us 10 straight times but they will remember this game and visa-versa. That's what is at stake. Regardless of what you did in the regular season, the winner of this game is going to stick with you for a very, very long time.

How much easier was this week for preparing with the familiarity of this team?
It really wasn't that hard. You look back at the past two games, Baltimore gives a lot of different schemes to try and confuse the offensive line, the offense, so they can get a guy come wide open and sack the quarterback. All week the preparation is just trying to give all of the different looks so everybody can see the different styles of blitzes that they run and hopefully we can get them picked up and protected so we can make plays down the field. If we can do that and have all 11 guys on the same page I think we will be fine. Baltimore gives so many different looks that they like to confuse you. That's why you see one guy coming wide open and getting a sack. For us it's about getting all 11 guys on one page and really just going out there and executing our plays.