When his phone rang, Christian Montano looked at it skeptically, not knowing who was on the other end.
The Steelers rookie, who at the time was a graduate student and the starting center at Tulane, thought the call was coming from New York, but didn't know the number or who it could be.
Skeptically he answered it, not sure if he was doing the right thing or not, the same reaction many of us have when we answer a call from an unknown number.
He, however, did the right thing.
On the other end was the man whose life he changed forever.
"The guy said is this Christian Montano?" started Montano. "This is Jim Calhoun, I am your bone marrow recipient.
"I was like, wow, I have to talk to him and stop what I am doing. I had just finished my classes and was back at my apartment. At that point I stopped everything and just wanted to talk to him."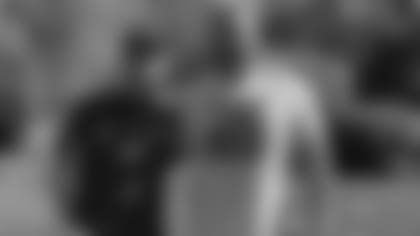 Rewind to Montano's freshman year at Brown University. The campus was having a drive for the national bone marrow registry run by Be the Match Registry, an organization that is worldwide trying to bring donors together with those who need a bone marrow transplant.
The organization had been coming to the campus since a former football player, Lawrence Rubida, an offensive lineman like Montano, lost his battle to cancer. That, topped with losing multiple grandparents to cancer before and after he signed up, made the decision simple.
"They do it every year with Be the Match, they do a mouth swab right on campus," explained Montano. "I signed up as a freshman. It was pretty simple to sign up.
"Part of it is you follow the herd of what everyone is doing, what everyone did before you. But I think I understood it is more than that, that if I do get the call. I think the chances of getting a call back is really small, less than two percent. But I was ready for it.
"It was something I was doing with a wholehearted belief that it was something that I would want to do."
Time passed and as it does things are forgotten, relegated to the back of our minds. That was the case for Montano.
So, when he was back home at his parent's house in Connecticut during Thanksgiving break in 2017, three years later, and his phone rang, he never expected it would be 'the' call.
On the other end of the unknown number was the Rhode Island Blood Bank calling to see if he would be willing to come in for more tests because he appeared to be a match.
"I was home on break for Thanksgiving at the time," said Montano. "I got the call and was like what is this 401-area code number, a call from Rhode Island. Who is calling me? It was the Rhode Island Blood Bank and they said we think you are a match. Would you be willing to come back for more tests? I was like of course. I told them I was home; would I be able to do it when I got back to school? They said no problem.
"When you get the tests it's like a waiting game. It's about a month until you find out if they are going to take you as a donor."
The second test was blood work, which had more detailed analysis if he would be a match or not.
"I was excited," said Montano. "I knew there was still a pretty good chance I wasn't going to be a donor, go through the full procedure. But I knew if I got the call, I was going to go through with it. If I was ever in that situation, or anyone I loved, I would pray to God that someone would be willing to help. I knew immediately it would be an easy decision to make if the opportunity presented itself."
Not many, though, have the opportunity to take that next step, to be the donor, to make the difference.
Montano's opportunity did come. It was around Christmas time when he found out the news. The blood tests came back, and he was a perfect match.
The wheels were quickly put into motion, with Montano going to Dana-Farber Cancer Institute in February 2018 to have the surgery to save a life.
"My family was super supportive," said Montano. "My parents always preached to me when I was young, help people as much as you can. For them to see me be able to help someone like that, a rare opportunity, they were super supportive.
"My mom was with me on operation day. They drove me back and forth to Dana-Farber for some checkups beforehand. They were there the whole process and were really proud of me. I am thankful to have them."
Montano, who stayed in Boston the night before the surgery, had zero hesitation about having the surgery, even though there were some fears.
"It was the first time I had a real surgery," said Montano. "It was general anesthesia. I was nervous. But the doctor tells you how low the risk is. They explain it to you very simply. They aren't trying to pull the wool over your eyes. They explain it to you. They are so detail oriented there at Dana-Farber. I was in the best hands possible for such a situation. You have to have faith in other people. If you minimize the risk as much as possible you will be safe."
Before the surgery, the doctors let him know he wasn't just a match, but he matched on all 12 genes. Something that is rare. But the details of the bone marrow recipient were limited. All he knew was it was a male in his early 40s. But what he did was sign the paperwork that would allow the recipient to contact him after a year if he wanted, the choice being up to that individual only.
"The worst is over because at the hospital you are there, there are a lot of cancer patients there around you. I was one of the true healthy people there. I was laying there and wondering if it was the person next to me, or the floor above me. That was so emotional for my mom and I. So many doctors and nurses came over to me and said what you are doing is such a fantastic thing. You don't understand how great this is. That was a really emotional time.
"You get back home, and you are with your family and you think I really hope this works. You know you did everything you possibly could to help someone. That is when it really hits you, when you are in the surgery ward. It's a thin sheet dividing the beds. You hear so many people who are so sick. For me to be a 21, 22-year old kid to be able to help someone who was having such a difficult time. That was the most emotional part of it."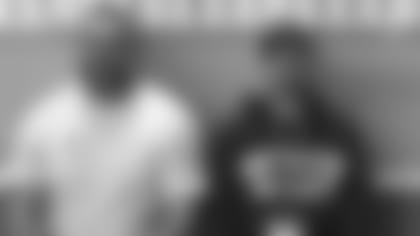 Waiting for that call from Jim Calhoun was agonizing for Montano, because he honestly never knew if it would actually come. Yes, you sign the paperwork on both sides. But that doesn't guarantee anything.
"About a month before the full year went by, I got a call and they said my recipient had agreed to exchange information if I wanted to," said Montano. "I told them of course I would. It's nerve wracking waiting."
The call, though, made the wait worthwhile.
"When we first talked, he told me about when he found out he needed the surgery," said Montano. "He told me about his family. I told him about mine. We live about 100 miles apart. I am from Connecticut. He is from New York."
While the call was above and beyond anything Montano could have imagined, the best moment came when the two finally had the opportunity to meet in person in May of 2019 when he came to Montano's house.
"It was funny. My mom, myself, Jim's mom, we all had tears," said Montano. "But because of the radiation he wasn't able to have tears. But his voice was cracking. He was the only one not crying. "
It was all the beginning of a beautiful friendship.
"We talk on a regular basis. We text each other at least once a week, giving each other updates," said Montano. "He was one of the first people to congratulate me when he heard about me signing with the Steelers.
"He came to one of my games last season. He is an Army veteran and he came when we played Army, he was on the field with us. It was cool to talk to him, let him be a part of my last year of football. It was awesome. The Tulane coaching staff was super supportive of it. At our hotel the night before he was part of our team dinner. A lot of the guys on the team heard the story, went over and shook his hand. To have him on the field was cool.
"He is really supportive of me. I am really appreciative of that."
Becoming a bone marrow donor is something that Montano never thought would be as fulfilling as it is. He never could have imagined that the day he signed up as a freshman, that not only his life would change, but he would change the life of another human being and their family.
He encourages everyone who can do it, to sign up and join a registry, because you never know the impact it can have.
"It is easy to do something to help save someone's life," said Montano. "The majority of people who do bone marrow transplants do it differently than I do. It's called peripheral stem cell. They plug you into a machine, it's in one vein and it goes into a machine. It takes a couple of hours. You sit there. It's kind of like giving blood. The only reason I had to do the surgery is because I have Crohn's disease, colitis.
"I have several friends at Brown who did it the other way. They said it was super easy. I would even recommend doing it my way. You are a little sore, but to help someone have a second chance at life it's a very easy decision to make.
"Knowing you are able to help someone. I had hoped I would be able to meet him someday, shake his hand, that it would go well for him. But the opportunity to help someone who was in a dire situation, that was the best part of it."