With kids back in school, people returning to work, and football season back in full swing, it appears that some of life has returned to normal.
For many, though, life is still far from normal.
The COVID-19 pandemic wreaked havoc on the Pittsburgh region, and the entire country, and one of the biggest side effects on the non-medical side has been food insecurity. People have lost their jobs, and while some are back to work, many are still dealing with unemployment and not knowing where their next meal will come from for their families.
That is the exact reason the Steelers partnered with Convoy of Hope for the third food distribution, this one in conjunction with Shell Polymers, who secured a truckload of food and supplies for over 1,000 families in Beaver County. The Steelers and Shell Polymers teamed up to distribute food and other relief supplies to families in need on Friday at a drive-thru distribution center at the Community College of Beaver County in Monaca. It was a no-contact distribution that followed all CDC and state health guidelines, but more so, provided hope for families in need.
"Shell Polymers is proud to partner with the Steelers in this endeavor to help our neighbors in need during this challenging time," said Michael Marr, Shell external relations advisor. "We thank the Community College of Beaver County for hosting the event, and we thank Convoy of Hope for bringing their philanthropic program and a truckload of food and supplies to Beaver County."
Steelers legends Chris Hoke and Arthur Moats were both on hand to help with preparing the food to be distributed and handing out the food to the families.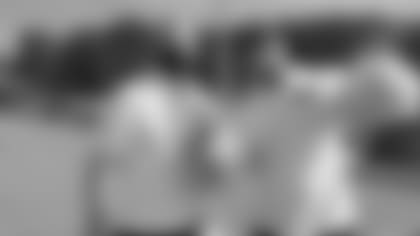 "It feels great," said Hoke. "Over the years this area has been so wonderful to me and my family. When you feel gratitude and appreciation, you always want to give back and help. That is where my heart is, having a desire to help those going through difficult times right now because of the pandemic and the situation we are in right now.
"I think this is a testament to the kind of people the Rooney family hire in the organization. It's people who have good hearts and understand the importance of giving back to the community. It's the people they bring on board and the players they draft and sign. They don't just bring in good football players, they bring in good people who understand the importance of helping their fellow man."
The reaction from the families receiving the food is all that was needed to know they were doing the right thing.
"When you think about everything that is going on, and especially the people that haven't been able to get back on their feet because of the pandemic, any time you are able to lend a helping hand, whether it's your resources or your time, you want to jump at the opportunity," said Moats. "Especially right now when there is so much uncertainty with everything that is going on. You want to be at least be able to take that pressure off of people to have the resources they need."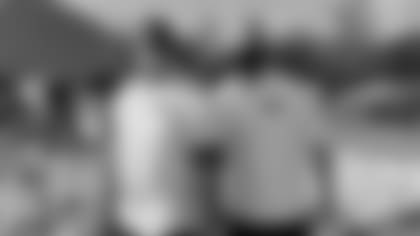 Convoy of Hope began a relationship with the Steelers through Vance McDonald and Ben Roethlisberger, who aided at food distributions earlier this year at Heinz Field and in the New Castle, Pa. area. Those were both a part of Convoy of Hope's mission to distribute millions of meals to communities across the country as a part of their 'Beyond 10 Million Meals' initiative.
"This is a united act of compassion, where groups and businesses are more concerned about helping people than they are receiving credit or making an extra buck," said Hal Donaldson, President of Convoy of Hope. "We're seeing compassion in action on a large scale."
The Steelers will team with Convoy of Hope again on Monday, Sept. 28 at the Westmoreland Fairgrounds for a distribution from 10 a.m.-12 p.m.
Steelers fans who are able can lend their support by making donations. Anyone who donates $35, which supports one family, is entered to win one of four football signed by Vance McDonald. Anyone who donates $175, which supports five families, is eligible to win a jersey or mini helmet signed by Ben Roethlisberger.