A rookie season can be a challenge, trying to learn the ropes, adjust to a new team, new city. For the majority of young players, it comes with a big role change, going from being one of the standout players on your college team to someone who might only get limited snaps, if any snaps at all.
For offensive lineman Derwin Gray, his rookie season was definitely an adjustment. The team's seventh round draft pick last year spent the entire 2019 season on the practice squad, working like his teammates were, going to meetings, practicing, everything, but not reaping the benefits on game day. It's something that could have discouraged him, could have gotten him down. But Gray didn't let himself get discouraged. Just the opposite. He used the 2019 season as a time to learn, to grow, to develop so he will be ready to go when his opportunity comes.
"I wasn't out there. The coaching staff understood why I wasn't out there, why I needed that time," said Gray. "I understood I needed the time. It was helpful for me moving forward. It was the best thing for me. It was like a redshirt year. I needed that year. I could have tried to rush out there and play but I don't think that would have been a smart move for me because I was coming off of surgery still in college. I think Coach (Mike) Tomlin and the whole staff knew that. They could see the change in my body from when I first got here until now. This year will be a different year."
That is an understatement. This year definitely has been a different year. At this point Gray thought he would be working out at the UPMC Rooney Sports Complex with his teammates, taking the next step to get on the field for the 2020 season. But that all changed with COVID-19 impacting every aspect of society, shutting everything down.
For a young player this offseason has been quite the adjustment, but one that has made Gray stronger as he has attacked them without stopping. 
"I won't say this has been difficult, it's just been a different challenge," said Gray. "Being a young guy, it's important for us to stay in touch with the older guys who are giving us advice on what we need to do to maneuver around in this situation. The first thing is you have to be careful. You don't want to put yourself in harm's way as far as your health. At the same time, you want to be productive and continue to grow. You want to keep being productive and get better because will be back at some point and you want to be ready. The challenge is what is the happy medium between being smart and trying to get your body ready and not being too passive and not giving yourself an opportunity to get better."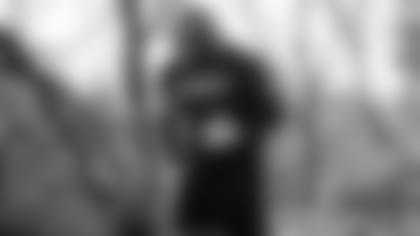 Gray is preparing himself both physically and mentally to be ready when the switch is eventually flipped and football is back.
"I am utilizing my iPad and looking at film," said Gray. "I am looking at old film, seeing things I need to get better at. When I first got here last year, the things I had to develop and grow at. I am going out to an empty field, not spending time where people are. I am doing a lot of things at home. I turned my basement into a gym here. I added some gym equipment, ordered a few more things I am waiting on. I am stretching, yoga stuff. I have gotten some tips on things I can do, workouts to keep me from getting bored. Keeping my body ready to go. I am not going to allow this to not let me to be ready to play."
Gray, who has been in Pittsburgh for a good portion of the offseason, said he is also keeping an eye on what he is eating as his activity level isn't what it normally is.
"That is one thing I have learned, how to cook and be handy around the house, be able to do things on my own," said Gray. "That is something I didn't do at first. With being quarantine I have learned I can do things like this during this time."
While he has depended on his own cooking ability, there is someone he has taken a lot of advice from, one of the same people he depended on heavily all last season – recently retired offensive lineman Ramon Foster.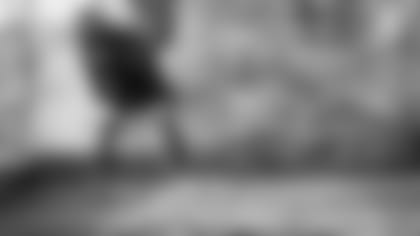 "He has been a big brother for me," said Gray. "When he saw me struggling last year, not getting the minutes or on the field, he was there for me. It was a challenging year. He kept me level-headed and understanding the business side of it.
"I have talked to him a few times recently. He always told me to take care of your body, your mind. It is something that was instilled in him. He is a teacher, a motivator. He wants to inspire people to be great. He was undrafted. He wants to instill in me it doesn't matter where you started, you didn't play last year, things will work out for you. The small little things will help you get ready when it's time to get back.
"To hear him say he was going to retire, it hurt. He kept the room and building in high spirits. He would be joking. It will be a big missing piece with what he brought to the room, how he worked, the energy. It was hard to hear him go. I called him and to hear him explain he knew it was time to go. It's going to be different knowing he isn't there in our corner in the locker room.
"Ramon prepared me well. He always gave me insight on how to be great, take care of your body and your money. He groomed me in different ways than just football. Now he is excited to see me play and I am ready to show him I am ready. I want to show him I can do it. I know he will be giving me his input. I am excited for it. I want him to come back and see me play this season."
In the meantime, he is taking part in the Steelers virtual workout program which began on April 27 and is just waiting for the day he is back with his teammates.
"It is tougher," said Gray. "You look forward to going to the locker room and joking with the guys, run sprints. It has been different, harder without the guys. At some point we will get back together and have more to laugh about."