March mornings in Pittsburgh, especially in the hours before the sun rises, are a time where the best place to be is snuggled under a comforter on a nice, soft mattress. It's still cold in Western Pennsylvania in March, the wind can still bite, and is all just seems that Mother Nature can be especially mean before the sun rises.
On the Tonga Islands, the early morning hours were critical on the Fangupo family farm. That was when young Hebron, known as Loni, would get himself up and out to feed the animals, tend the fields, just do whatever needed to be done to keep the farm that was the family business running as smoothly as possible.
Fangupo's current job is in the field of professional football, and he didn't see any sense in treating that job any differently than his job on the farm. So during the offseason, when players can make their own workout schedule, Fangupo chose early. Very early. Sometimes 5 a.m., maybe he'd sleep in and arrive at 6 a.m., but always before the sun was up.
While that approach made perfect sense on the farm, it was a rather unusual choice for a professional football player.
"I believe a man is fresh in the morning," said Fangupo. "I wanted to get a workout in. I take it seriously. I would do cardio, run indoors and run gassers until I dropped. I did some lifting too."
There were times Fangupo arrived too early, even before the doors to the Steelers' practice facility could be unlocked for the day, and on those occasions he would wait. But starting later just wasn't in the Fangupo DNA.
---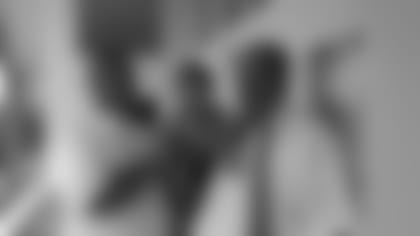 Hebron Fangupo was born in Orange County, California, but just a month after his birth his family moved back to the Islands to get away from the violence and gangs that were everywhere in their Southern California neighborhood.
His father, Taulanga Fangupo, wanted his son to be raised with the same hard-working values he knew, and the farm was the place to teach those. The lessons were taught through chores, such as the one referred to at home as "watering the land." That meant going to the farm's well, filling up two buckets and carrying them to the places needing water. Trip after trip after trip after trip, until it was done to his father's satisfaction.
"My dad always taught me that it's hard work that holds up the four corners of your home," said Fangupo. "We would plow acres of land until it was like sand. One time he had me cut down coconut trees on one side of the farm, drag them across the farm and build a hut on the other side of the farm. I built a hut that no one ever stayed in. He wanted to teach me that hard work will keep your home up."
As the oldest son, the expectations were always highest for Loni and the demands the greatest. He would be the last to eat; his younger siblings got to go first. He would be the first one out to work, and the last one to come in. And he would be the one who would be called upon to pave a path for the others to succeed.
One day after Loni finished his chores, his parents handed him a box. Inside that box was money, the majority of their life savings, and when he responded to it with a questioning look, they told him the money was to send him to America. Once there, Loni's assignment was to better his life and thus prepare a path for his younger brothers and sisters to follow him.
So, at the age of 17 Hebron was packed up and sent off to live with family in California.
"The plane itself was scary," said Fangupo. "I had seen planes flying over the farm, but I never saw one close up. I walked up, heard the engine, and I was thinking, oh my goodness. I was amazed.
"Then I get to Los Angeles, and my uncle picks me up and we're driving on the 405 Freeway. It was the scariest thing in my life. People were honking, yelling. I never wore a seatbelt before. On the Islands the speed limit is 20 miles per hour. I put that seatbelt on and held on to it for my life. We're going so fast, through traffic, switching lanes. That was the scariest thing in my life."
Already overwhelmed by the trip, Fangupo was even more amazed by all of the luxuries and conveniences America offered. It was almost as though he had traveled in a time machine a couple of centuries into the future. Fast food restaurants were one of the first experiences that left him amazed.
"I'm an Island boy," said Fangupo. "In America, you can go to a window and people will give you food. I had to hunt my food, kill my food, clean it and cook it and serve it, and then I was the last one to get to eat because I was the oldest.
"I remember getting off that freeway when I first arrived in America, and we stopped at a Jack In The Box. We drove up to a window. My uncle asked what I wanted to eat, and I still only spoke a little English. I asked him if there are chickens or lambs there, and he said they had hamburgers, and that hamburgers came from a cow. I had never eaten cow that was shaped in a circle before, and when I took a bite of it, let me tell you I had hearts flying around my eyes. I fell in love right away."
The drive-thru turned out to be just the start. Not long after his experience at Jack In A Box, Fangupo remembers the first time his uncle took the family out for dinner. The place was called Hometown Buffet, a popular all-you-can-eat restaurant in California. After cleaning his plate, Fangupo watched as his cousins went back for more food. He was confused, because going for more was something you never did on the farm. Once the concept of all-you-can-eat was explained it to him, Fangupo said he had found his happy place.
"That place was my first love," joked Fangupo. "I thought, yeah, all I can eat. I went from a fullback to a defensive lineman in no time. I transformed that quick."
His growth was a physical transformation but hardly the only one in Fangupo's life at the time. There also was a transformation in him as he learned more of the nuances of American culture, and one that turned out to be life-changing for him was this realization: an education in America can be paid for with athletic ability. So when Fangupo got to Santa Ana High School, he gave football a shot.
"When I stepped onto the football field for the first time, I was barefoot, in rugby shorts and a tank top," said Fangupo. "I was laughed at. That's how I started football."
After high school he served a mission for his church, but upon his return was encouraged to give football another try and enrolled at Mount San Antonio Junior College in 2007 where he excelled at the sport. Major colleges, including Brigham Young, began to show interest, but he wanted to remain in the Los Angeles area and attend USC. But USC showed no interest.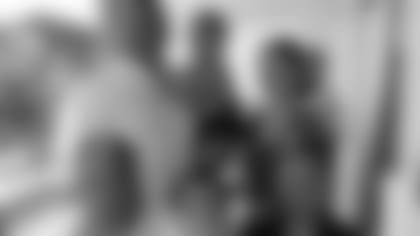 Fangupo had learned from his father back on the farm that nothing comes easy, that if you have something worth fighting for, then fight for it. So he started sending game tapes to USC, wrote letters to the coaches, called, did everything he could to get their attention. He got no reply. He gave it one last shot, a shot not many would ever have considered.
Fangupo went to a USC practice, climbed a 10-foot wall that surrounded the facility, and went over and talked to defensive coordinator Nick Holt.
"I told him I'm the one who is going to replace No. 75 (Fili Moala) who was going to the NFL that year," recalled Fangupo. "I told him I'm there to replace him. He laughed. I told him I'm serious. He said I would have big shoes to fill. I told him I have big feet, size 16."
The next day the USC coaches came to see him practice at Mt. San Antonio. A day later he was offered a full scholarship to USC.
"I knew it wasn't just going to come," said Fangupo. "I had to go after it. So I just went over the wall. Just like my dad said, nothing is going to grow on its own. If you want something you have to water it, you have to go for it."
While at USC Fangupo met his wife Rebekah, but just like everything else in his life, it wasn't in your normal manner. His sister, who had come from Tonga after him, was in court for a speeding ticket when she met Rebekah, there for the same thing. The two talked and learned both had Tongan backgrounds. Rebekah's grandmother asked Loni's sister if she had a brother, and the two eventually met.
"I knew she was for me," said Fangupo. "After two weeks of meeting I proposed to her. I asked her parents for her hand. Her mom said, 'You just met her.' And I said, 'I have eternity to get to know her.'"
It was his love for her that made him walk away from USC after all the effort he had put into getting the scholarship there. While he was at practice one afternoon during his time at USC, he got a phone call that someone had broken into their home while Rebekah was there. He knew right away he had to get out of the area.
"When I got the call I ran all the way to my apartment in cleats and pads," said Fangupo. "I saw the screen ripped open, the bars loose, I opened the door and she was in the closet crying. She said she wanted to get out of there. It put a new perspective in my life. My priority was her protection and safety."
After USC's 2010 season ended he moved to Provo, Utah, where he hoped for another chance with BYU. He was given the opportunity to walk on to the team, eventually earning a starting spot.
His path to the NFL would be similar to what he experienced in college. He wasn't picked in the 2012 NFL Draft, and he eventually signed with the Houston Texans as a rookie free agent. He was released before the start of the season and signed to the Seahawks practice squad, where his college coach from USC, Pete Carroll, was the head coach. The Seahawks activated him for one game, then released him because injuries at linebacker left them short there. They hoped to add him back to the practice squad, but the Steelers claimed him off waivers for the final game of the 2012 season.
---
The piercing shouts sounded like they should be coming from a group of kids who just got out of school for the summer. But it was Fangupo, screaming "dynamite, dynamite," as he ran across the practice field at top speed at Saint Vincent College during training camp this summer. It was a call associated with a special team's assignments, and when it's called, you better get moving.
When he got to the huddle, he was waived off, sent back to the defensive line drill he had been a part of. A minute later, he was running again, yelling "dynamite" so loud it could be heard all over campus. Again, he was sent back before running a drill.
"I remember that day," said Fangupo. "I remember hearing them call for it, and I hear 'dynamite.' I turned and ran over Ziggy (Hood) screaming dynamite.
"I just knew I had to do whatever I could to make the team here) and that means always hustling. I knew when I came here it was all about hard work. I gave it everything."
Fangupo felt like the odds were stacked against him, because he was battling Alameda Ta'amu, the Steelers fourth-round draft pick a year before, for a roster spot. But Ta'amu opened camp on the physically unable to perform list, and Fangupo took advantage of the extra reps to show what he could do. But he was still nervous when it came time for the final roster cut.
He showed up to the team's practice facility on the day before cuts had to be made at 6 a.m. He killed some time in the training room, worked out and just walked around the facility. But no moves were made that day.
"I couldn't sleep that night," said Fangupo, knowing how much he wanted to make the roster to provide for Rebekah and their 18-month old son, David. "If you put your best forward and leave the rest to God, the best time is the Lord's time. Whatever happened I know I put my best forward. I might not have the best technique, but I worked hard and gave it my all."
He returned to the team's practice facility the next morning at 5 a.m. hoping to find something out soon. He sat in his car for an hour before going into the facility. He did the same thing as the day before, walking around until about 2 p.m.
"I ran into the general manager (Kevin Colbert) and he told me just go home," he said. "I was hoping that meant I made it, but I didn't know. I walked outside and then I ran through the entire parking lot back and forth. I thought, don't get your hopes up because you never know. I got in my car and went and parked in the lot a few buildings up and sat in the car.
"My wife called, and she was crying when she told me I wasn't on the (cut) list. I made the 53 man. I froze. Those tears came running because I knew I had fought a battle I was supposed to lose."
Fangupo got off the phone and immediately called his parents. He told his mother the good news, and then she shared it with his dad.
"Everything my dad taught me is why I got on the roster," said Fangupo. "I never saw my dad cry, and my mom told me he fell to his knees because he knew how much it meant. He broke down in tears. It was amazing."