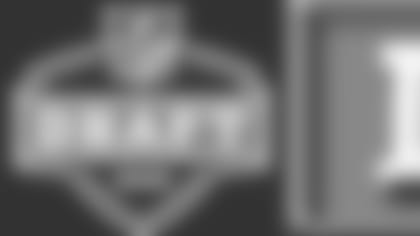 DENNIS DIXONFIFTH ROUND SELECTION156th OVERALL
DENNIS DIXON – QB
HEIGHT – 6-4
WEIGHT – 206
COLLEGE – Oregon
BIRTHDATE – January 11, 1985
BIRTHPLACE –Oakland, Calif.
HOW ACQUIRED –D5-'08 (#156)
NFL EXPERIENCE – Rookie

PRO: Drafted by the Steelers in the fifth round (156th overall) of the 2008 NFL Draft out of Oregon.
COLLEGE: Dixon's 6,337 yards in total offense rank sixth on the school's career-record list…appeared in 953 offensive plays, the eighth-best career total in school annals…his 38 touchdown passes rank seventh in Oregon all-time annals…his 2,585 yards in total offense in 2006 rank 11th on the Ducks' season-record list and his 2,719 yards in 2007 rank ninth…Dixon's 2,719 yards in total offense in 2007 rank ninth on Oregon's season-record list, while his 2,585 yards in 2006 rank tenth…his 80-yard touchdown run vs. Houston in the 2007 season opener was the fifth-longest run from scrimmage by an Oregon player…Dixon's 85-yard pass completion vs. Michigan in 2007 was the eighth-longest completion in school history and the longest since Kellen Clemens had an 86-yard completion vs. Mississippi State in 2003…his 1,208 yards rushing set the school career-record for QBs, topping the old mark set by Reggie Ogburn (1,171 yards, from 1979-80). 2007: Guided Oregon to an 8-1 record and a No. 2 seed in the BCS standings before getting injured...missed the team's final three games after suffering a torn ACL in his left knee (Nov. 3 versus Arizona State)…named Pacific-10 Conference's unanimous Offensive Player of the Year and honorable mention All-American…finished ninth on the school's single-season total offense chart (2,719 yards) playing in only 10 games…finished fourth in the balloting for Associated Press Player of the Year…was one of three finalists for the Maxwell Award (College Player of the Year) and the Davey O'Brien National Quarterback Award as well as one of five finalists for the Walter Camp Player of the Year award…his academic achievements were even more impressive as the ESPN the Magazine Academic All-District quarterback was one of five student-athletes in school history (and Oregon's first football player ever) to be bestowed with the NCAA Top VIII Award…also was the recipient of the National Football Foundation's Scholar-Athlete Award and accompanying post-graduate scholarship…the conference's three-time Offensive Player of the Week…finished his collegiate career as the single-season and all-time school record holder in passing completion percentage (67.7% and 63.9%, respectively)…established the school's standard for most career rushing yards (1,208) by an Oregon quarterback, while his 583 yards on the ground in 2007 finished second only to Reggie Ogburn's 644 yards from 1979 among the school's signal callers…ran and passed for touchdowns in the same game in seven of 10 appearances, and became only the Ducks' third quarterback in the modern era (first since 1995) to eclipse 100 yards rushing in one game (141 yards vs. Houston)…amassed a personal-best 374 yards passing and 382 yards total offense at Stanford while accounting for a personal best of five touchdowns (four passing, one rushing) against the Cardinal…accounting for 29 touchdowns (20 passing, nine running), snapped his string of 146 consecutive passes without an interception in the fifth game of the year against California…concluded his career sixth on Oregon's all-time list for total offense (6,339 yards) and eighth in passing yards (5,129). 2006: Second-team Academic All-Pac 10 Conference selection (3.27 grade point average in Sociology)…started 11 games…helped lead a team that ranked ninth in the nation in total offense (422.85 ypg.), 25th in scoring (29.46 ppg.) and thanks to his mobility, finished 12th nationally in quarterback sacks allowed (1.23 pg)…completed 197-of-322 passes (61.2 percent) for 2,143 yards, 12 touchdowns and 14 interceptions…ranked third on the team with 442 yards and two scores on 94 carries (4.7 avg)…recorded a pair of solo tackles…participated in 416 plays, amassing 2,585 yards in total offense (10th-best season total in school history). 2005: Academic All-Pac 10 Conference honorable mention…appeared in 11 games, starting vs. California, Washington State, Oregon State and Oklahoma (Holiday Bowl)…completed 69 of 104 attempts (66.3 percent) for 777 yards, six touchdowns and three interceptions…gained 143 yards with a score on 49 carries (2.9 avg.)…touched the ball 153 times, gaining 920 yards in total offense (83.6 ypg.). 2004: Played in six games as a reserve quarterback, completing 6-of-15 passes (40.0 percent) for 73 yards and rushed 10 times for 40 yards (4.0 avg.)…gained 113 yards in total offense on 25 plays and also recorded an assisted tackle. 2003: Did not attend school…enrolled at Oregon in January, 2004…graduated with a degree in sociology.

PERSONAL: Attended San Leandro (Cal.) High School, playing football for head coach Danny Calcagno...top vote-getter (8 votes) among quarterbacks on the Long Beach Press-Telegram's Best of the West list and earned Parade All-American honors as a senior, leading the team to an 11-1 record in 2002…that year, he completed 164-of-268 passes (61.2 percent) for 2,736 yards and 30 touchdowns…the three-year starter compiled a 36-3 record and was named to ESPN's Top 100 team (ranked 94th overall and 12th at quarterback)…during his career, amassed 5,951 aerial yards while throwing for 79 touchdowns…was regarded as one of the state's best prep outfielders in baseball and was selected by the Cincinnati Reds in 20th Round (591st overall) of the 2003 Major League Baseball amateur entry draft...selected by Atlanta Braves in fifth Round (168th overall) of 2007 amateur entry draft…appeared in a total of 28 games in the Braves' minor league system as an outfielder in 2007…batted a combined .176 with 13 hits in 74 at bats, stealing five bases, with one double, one triple and seven RBI playing for the Gulf Coast Braves (24 games) and Danville…son of Dennis Dixon, Sr…Full Name: Dennis Lee Dixon, Jr.