The saying 'no good deed goes unnoticed' played out for Jon Potter on Friday.
Potter runs Pittsburgh Good Deeds on Reddit. You would like to call it a company, but it really started as more of a one-man show to help you with anything you need. And while he has some help now, he isn't doing it to get rich, because in most cases he doesn't charge the people he does the work for, unless they can easily afford it. He just does it out of the goodness of his heart.
Potter has become a legend in the Pittsburgh community for his acts of kindness over the last four years, which includes fixing tires on the side of a road, helping with home repairs, and even hosting a yearly Thanksgiving dinner for those away from their family at the holiday.
"I feel good helping others," said Potter. "I just wanted to be a better person. It's amazing how contagious it is too. I have a team that feels the same way. It's kind of amazing that people appreciate me helping others and want to be a part of it."
Potter's kind heart and generosity are virtually unheard of in today's society and they definitely caught the eye of many. Including the Steelers and the NFL.
On Friday, Potter's good deeds were rewarded when the NFL and the Steelers presented him with two tickets to Super Bowl LIV in Miami, Florida. Former linebacker Arthur Moats presented the tickets to him and now it will be Potter's opportunity to enjoy some fun and relaxation after giving to so many.
"It's kind of surreal. I don't know what to say," said Potter. "I don't even have words for it. It's encouraging to know the world appreciates this kind of stuff. To have a big organization acknowledge it is special."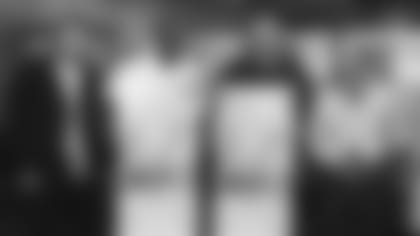 But for a man who is so giving, will he actually be the one to go to the game.
"I don't know," said Potter, who played high school football at Mt. Lebanon High School. "It's kind of not in my character to go."
Potter's acts are too many to count, but the one that stands out the most was donating his kidney to a stranger. Yes, a stranger. saw a photo on Instagram of a girl and her father at a Penguins game with a sign asking for a kidney for her father. He had already given of his time, of his money, so he figured why not. He donated his kidney. For real.
"It was a little scary," said Potter. "Realistically I didn't need both of them. I found out my wife had an uncle that died because he didn't get a kidney in time. I was already on the path to doing it, and when I found that out it made me realize it was the right thing to do."