Growing up in Prichard, Alabama, Mark Barron didn't have someone to look to as an example, someone who could be the person he aspired to be one day.
It didn't deter him from having a dream. And in his mind, a dream that would be a reality one day. The dream was to play football, not just high school or college, but in the National Football League.
But where he grew up, in the Bessemer projects, that dream was far from the reality he saw daily.
"Nobody around me ever had made it," said Barron. "Nobody from those projects made it.
"When I was growing up there were a few guys who almost made it but didn't. The one guy I did see, he got kicked out of college. He went to Auburn and got kicked out. That was it."
Barron knew he could have taken the 'easy' way out. He knew he didn't have to work at his dream. That he could have gone down the same path so many of his friends and those he knew took.
"Everybody that I possibly could have looked up to sold drugs," said Barron. "Cousins, even my friends. It doesn't mean they were bad people, but that was the only option they felt like they had.
"All the people I could possibly look up to, nobody did what I was trying to do. I had to go my own way. It was different. Sometimes people didn't understand it. They thought it was weird. That is what I did."
Barron fell in love with football as a kid, playing in the front yard of his grandmother's house, a place he spent a lot of his time while his mother, Michelle Barron, worked to raise four kids.
"My Mom raised me. I grew up in a house with two older sisters and a younger brother," said Barron. "We didn't have a lot. She worked hard. She tried. She was just a young girl from the projects trying to find a way to make it work. She worked her tail off.
"I was with my grandma every day. My mom went to work, we went there."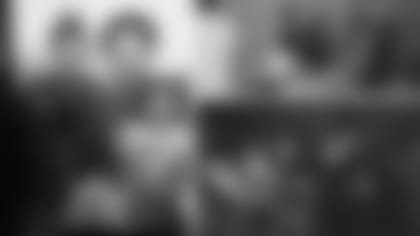 He would play with whoever was around, all the kids who lived in the projects. The games would normally start in the yard, then spill out on the street, even tackling on the concrete. But he was doing what he loved, so it didn't matter.
The more he played, the more he fell in love with the game. And the more he wanted to live out his dream, to make playing in the NFL a reality.
"I always wanted better for myself and my family," said Barron. "I don't know how that got into me, or where it came from. I thank God for it. I looked around at the circumstances and I wanted more for myself and my family."
Knowing he needed more, knowing he needed a place where he could work on the dream, Barron went to St. Paul's Episcopal High School where life was far different from the projects.
"You know the movie 'The Blind Side,' where they took the kid to go live with the family. It was similar to that, but I went back to the hood every day," said Barron. "It was like that. I would be at the school practicing all day and separated from my friends. I was there most of the day and then came home. While my friends were doing what they were doing, I was over there working hard and trying to get where I am today."
Barron, who was classmates with A.J. McCarron at St. Paul's, admitted it wasn't easy to see how others lived, what they had that he didn't, but it was a life changer.
"It was tough to see the different side, but it was one of the best things that could have happened to me," said Barron. "My circumstances growing up, I didn't see a lot of success, a lot of hope. I always believed in myself, but there weren't a lot of things around me to make me feel that way. I just did.
"When I went and saw a different way of living that was motivation for me. I was like these kids are going to college. I started going to school with kids that knew they were going to college, as opposed to coming from somewhere that I didn't know anyone who went to college.
"It motivated me. I saw a different way of life. They lived in big houses. I was like is this real? I didn't know people lived like this. It was a motivator for me. Sometimes it got rough, thinking why didn't we have this or that? But it was a motivator for me."
While it truly was a motivator, something gives you the feeling that Barron didn't need much to motivate him. He always had a strong belief inside that he was going to be the one who made it out of his neighborhood to the NFL. He never doubted himself. He got a scholarship to Alabama, where he quickly emerged as not just an NFL prospect, but a star in the making as a two-time All-American and three-time All-SEC selection.
The dream was becoming reality.
"It was always real to me," said Barron. "It was always the grinding. It was always real. This is what I was always working toward. In my mind it was always real to me. But when I first started, my sophomore year in college, after playing my freshman year, that is when I started to feel like I was getting close to where I wanted to be. I had seven interceptions my sophomore year. I was like I have to keep it going, keep it going."
The dream came to true when he was selected by the Tampa Bay Buccaneers in the first-round of the 2012 NFL Draft, the seventh pick overall. It was more than he could have possibly dreamt about.
But the road wasn't an easy one. Barron was traded by the Buccaneers to the Rams during the 2014 season, something that was unexpected.
He doesn't harbor any ill will, but instead continued to move forward with the right attitude.
"It wasn't easy," said Barron. "In Tampa I had two head coaches in two and a half years. As soon as I got comfortable with one scheme, he got fired. I had to deal with another scheme. I still don't know what happened, why I got traded. It is in the past now. I used to worry about it, because I didn't know why it happened. I thought it was disrespectful the way they made it happen. It wasn't disclosed to me. I didn't know what was going on. I don't know why I got traded. I was always one of the most productive players on the defense.
"Then I went to the Rams. They liked me. They wanted me to play safety, they ended up creating packages for me to get on the field. I got on the field that way. We get into the offseason and I was supposed to compete for the safety job. I end up hurt. We go into the season and they had packages to get me on the field. Then Alec Ogletree got hurt and that is why I play linebacker now. They were already trying to find ways to get me on the field. Someone was down, they thought I was physical enough to do it, so they threw me in there. Ever since then I have been playing linebacker."
Another twist in what the business of football can bring happened after the 2018 season. The Rams released Barron, making him an unrestricted free agent.
"I had been there for a while," said Barron. "I know it's a business and I had been injured a lot. I believe they still wanted me, they thought I would fall back into their hands. I had been injured, I had three surgeries, couldn't practice during the week, just play on Sundays. They felt like they couldn't trust my availability. I understand that. I have no hard feelings.
In the world of things happened for a reason, Barron signing with the Steelers this offseason as an unrestricted free agent perfectly fit the bill. For the Steelers, they got the player they needed to help solidify the inside linebacker position, a spot where they also drafted Devin Bush in the first round. For Barron it was the opportunity to come to a team that holds the same values he holds close to his heart … family, faith and football.
"I guess it's meant to be," said Barron. "Those things are what has gotten me to this point. The game of football I love. My family has been one of my biggest motivators. And faith, believing in what God had planned for me and set out for me, and continuing to believe in him, in any tough situation I always fall back on that.
"The crazy thing is the first team I ever played football on was the Steelers. I started in black and yellow and I am back in black and yellow."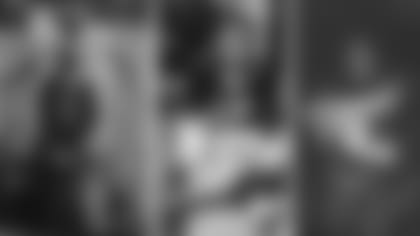 It's the kids who now play on that Steelers team, and teams like it, back in Prichard, Alabama that Barron wants to make a difference for. He will never forget that he didn't have that person to look up to, so he takes his place in life as a role model seriously. Barron hosts an annual football camp in Mobile, which neighbors Prichard, where kids can attend for free to learn about the game, or simply have fun. It's just part of his mission to give back to his hometown, which also includes an annual turkey giveaway at Thanksgiving, and become a beacon for youth there.
"I know how hard it is coming from those environments where you don't see anybody around you that has had any success," said Barron. "Sometimes it's hard for those kids to believe in themselves. If you don't believe in yourself it's over before you start. Believing in yourself and thinking you can get something done is one of the biggest parts of getting something done. If you don't believe in yourself, you are shooting yourself before getting something done and you might go do something stupid instead of believing you can do what you want. You might be limited in the resources you have, but you have to believe and go make it happen.
"I could have easily said nobody did this before me, but I found a way. I want to be that face that they know it's possible. Don't give up on yourself. Go find a way. Make it happen. That is a big part of why I do that.
"I wish I had that as a kid, to go see someone who is actually in the NFL. They think it is cool. They are having fun. They are just out there running around. Sometimes they don't even know what is going on, they are just out there having fun. It's just the tip of the iceberg. There is so much more stuff I want to do. I just have to figure out how I want to do it. I want to be that guy. I want to be that face. I want to be the motivator for those inner city kids that might not see the things around them, might not see any glimmer of light around them. Everything around them might be messed up.
"I want to be that light for them."