Conner strong: What James Conner did on Sunday against the Browns in the ground game, was exactly what his offensive linemen thought he was capable of all along. They sang his praises before the game, and after the fact the story didn't change.
"He is a humble, humble guy," said David DeCastro. "He runs hard, and goes to work. He is a different style (than Le'Veon Bell). It doesn't change anything I am doing. I am trying to block the guy and get the running back the best hole and hold on as long as I can. He hits the holes hard, downhill and makes big plays when you can just hit it quick."
Alejandro Villanueva said he was a fan of Conner's watching him play at the University of Pittsburgh and seeing what he went through battling hodgkin's lymphoma, and now he enjoys blocking for him.
"We all know he is a hard runner, he hits the holes, which offensive lines care about," said Villanueva. "It's seeing your block yield a lot of yards, which is awesome.
"I have been a fan since he was at Pitt overcoming cancer. To have that determination to come back, finish your college years, get drafted by the team where you are from and go out and Cleveland, which isn't far from where he is from and do as well as he did, it's something everybody wants to see. I wish we could have come up with a victory so everybody could have felt better about it."
Conner got the start at running back and had 31 carries for 135 yards and two touchdowns. Conner also had five receptions for 57 yards. If that is a load he can handle moving forward, only time will tell, but the big guys up front think he can.
"It's the nature of the NFL. It's a war of attrition," said DeCastro. "A lot of guys that are able to be professionals and make a career out of it are the ones who are able to be out on the field every week and get their body in tiptop shape. I am sure he will figure it out quick."
Game changer: In a game where one play could have made a difference, this was a play that could have been a difference maker.
The Steelers were ahead, 21-7, with 8:52 to play in the fourth quarter. After a stalled drive, Jordan Berry's punt appeared to hit off the helmet of the Browns' Nick Chubb. An alert Sean Davis grabbed the ball out of the air, and it looked like it would be Steelers ball in good field position, at their own 47-yard line at the worst.
The Steelers sideline celebrated, and even Browns receiver Antonio Callaway reacted by going after the ball, even pounding his hand on the field after the play when he saw Davis make the recovery.
The officials thought otherwise, ruling that Davis simply downed the ball, and that it didn't hit off of Chubbs. The Steelers challenged the call, and without definitive evidence, the call was upheld.
"I saw it hit the dude's helmet," said Davis on Monday. "The ball trajectory even changed. I think even No. 11 (Callaway) of the Browns tried to recover it. It was tough.
"I saw the ball hit the dude. A turnover is a turnover. Can't do anything about that one. It looked like a turnover to me."
While the Steelers were able to hold off the Browns on the ensuing series, when they got the ball back deep in their own territory James Conner fumbled and the Browns scored one play later, turning the tide of the game, which eventually ended in a 21-21 tie.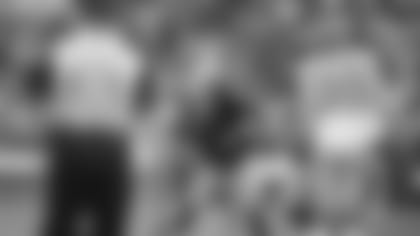 Losing his cool: Artie Burns was hit with a 15-yard unsportsmanlike conduct penalty against the Browns after getting into a skirmish with receiver Jarvis Landry, and then taking his helmet off on the field. Burns, who also was hit with an unnecessary roughness penalty on the same play that was declined, said it was a mistake and something he can't let happen again.
"During the game (the coaches) were telling me to keep my cool," said Burns. "I lost my cool a little bit. I have to keep my professionalism and just keep going through the battle.
"It was a couple of things that got me going. I just reacted. I lost my cool. I don't see myself doing that again, losing my cool like that."
Burns said that Browns offensive coordinator Todd Haley, who previously held the same position with the Steelers, said something to him as he came from the sideline after the skirmish, but didn't know what.
"I can't really remember," said Burns. "It was like a blur. I was kind of heated, so I couldn't really hear."
Confident in Cam: Cameron Sutton stepped in for Joe Haden on Sunday after Haden left the game with a hamstring injury in the fourth quarter.
Sutton was tested quickly, when the Browns went at him on a touchdown pass to Josh Gordon that tied the game. The Browns went back at Sutton, but this time he was ready and intercepted Tyrod Taylor, his first career interception, to send the game into overtime.
If Haden isn't ready to go against the Chiefs on Sunday, and no update will be provided until Coach Mike Tomlin's press conference on Tuesday, Sutton is ready.
"I just do what I do on the field, fly around and have fun," said Sutton. "The same way I prepare each and every day, approach it that way and it translates over into games."
It Sutton is called upon, his teammates know he can get it done.
"I am confident in our group," said Davis. "Cam came out there, they tested him, that's what the NFL does. He lost his first battle but came back and won the second one. That is expected of him. That standard is the standard. I am confident in Cam Sutton."