Javon Hargrave doesn't like the feeling of not being a part of January football, a part of postseason football every player strives for. It's something he wasn't accustomed to his first two seasons with the Steelers, and it certainly isn't something he wants to ever experience again.
"We have a standard we have to upkeep," said Hargrave. "Any time we aren't in the hunt, it's hurtful around here and we don't want this feeling again. It's going to stick for a while, but then you have to get to work and get ready for next year. You can't sit and dwell on it. You have to do something to make it get better. You have to work to get better and you have to get back to work."
Hargrave said the feeling is something that will burn inside him for a while, but what he does about the feeling is what's important. Sure, he is taking some much needed time off now, something every player has to do at the end of the season. But when he gets back to work, he is going to do it with a purpose.
"I am going to try and be the best player I can for the team and do everything I can do," said Hargrave. "There is always a drive to do that, whether we make the playoffs or not. But I need to do that."
He had his best season in 2018, finishing with 49 tackles, including 32 solo stops. His six and a half sacks are a career best after having two sacks each of the last two seasons.
"I feel like I came a long way since my first two years," said Hargrave. "I made strides, but that is just the league. You are either getting better or you are getting worse. You have to get better. I feel like I grew up a little, took advantage of some of my opportunities this year. I made a few more plays than I did before. Just getting older and knowing what is coming for me, what is coming in the league. There is a lot more behind the walls than what everybody sees. It's the ups and downs of the NFL that everyone doesn't see. Seeing that my first few years, taking advantage and growing from it, was really important.
"There is still a lot of stuff I need to work on to improve and to contribute to the team the way I want to. I need to make more strides."
The biggest factor in his ability to improve has simply been experience. There is no better teacher than being on the field, and with that experience has come the growth for Hargrave.
"You have to get the reps and get better off the reps," said Hargrave. "The more you play, the more you are going to learn from it. One thing they always tell us is that you can't let that one mistake happen twice. I feel like I was good in that area.
"I grew overall football wise. Run game knowing what to do. Pass rush stuff knowing what to do. Just growing in all aspects of the game. Trying to help my team win. Things like that. I still feel like I left a lot out there. I hope next year I can put it all together."
Some of that growth came as a result of a change on the coaching staff. Karl Dunbar was brought in last offseason to coach the defensive line, while John Mitchell was named assistant head coach and his duties transferred to more off the field responsibilities.
"Coach Dunbar demanded different things than Coach Mitchell did," said Hargrave. "It started off slow, but we picked it up and came a long way from where we were. We look to improve next year with it.
"It was more technique things. Just different technique things, being able to play off it, respond from it. That was big. That was real big. It was definitely different. He caught me in a good year, my third year. He helped me grow. Coach Mitchell helped me grow. Everyone has been a part of the process."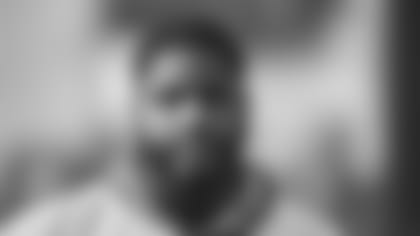 Also a part of the process have been his teammates on the defensive line, veterans like Cameron Heyward, Stephon Tuitt and Tyson Alualu, who never hesitate to give young players tips and are always there for them.
"When I first got here Cam taught me everything I need to know," said Hargrave. "Just taking care of my body. Being able to prepare myself for the game. What to look at. Little things that are big things in football. They all helped me grow in football too. Just helping me be a better player.
"I couldn't imagine where I would be without them. Coming from a small school I didn't know anything about massages or anything like that. I didn't know about eating right, just every little thing. Seeing guys like that who did it and succeeded at it is big for me. I think as a unit the whole defensive line is a tight group. Just hanging with them is a good thing for me. It has helped me grow in so many ways."
Hargrave, who is a no-nonsense, hard-hat wearing, lunch pail kind of guy who comes to work, does his job, and really doesn't like to say much about it, understands he is going to have to hit the ground running this offseason. As he walked out of his end of season meetings with his coaches, it gave him a full idea of what is expected. And no matter what others expect from him, he expects even more from himself.
"When you meet with them you know what they think of you, what they demand from you, where they want you to grow and get better," said Hargrave. "It just gives you a whole feel for it. Just how much more you can grow as a player. That is a good thing and something I needed to hear.
"I learned the league is a humbling league. You don't take anything too personal. You can't get too high. You have to stay level headed and keep working and trying to get better."