As Joe Haden stood in front of a group of athletes from Special Olympics Pennsylvania one afternoon at Steelers training camp, someone special stood right alongside him. Someone Haden looks to for inspiration, someone Haden admires and loves, someone Haden would do anything for.
It was his brother Jacob Haden, himself a Special Olympian. Jacob, who is five years younger than Joe, has a cognitive disorder which affects his ability to speak and communicate verbally. But it hasn't stopped his love for sports. That is why big brother Joe plays sports with him, and has made a commitment to helping Special Olympics, serving as a Global Ambassador for Special Olympics since 2015.
"It's special. I wanted to figure out a way I could help," said Haden. "Being on the platform I am, I can help out so many people. I wanted to be their spokesperson, their feet on the ground.
"Special Olympics is everything. Being able to bring awareness to Pittsburgh, show the kids what they can do. Seeing them play gives me motivation. Being able to show them the Steelers care about them. Getting the love and support from the organization, who is willing to help me out, shows how much they care also."
Jacob calls Joe his '1,' because he is the oldest sibling. And Joe takes that to heart, protecting his younger brother at all costs, looking out for him, starting from the time when they were young.
One summer day the Haden boys were swimming at their aunt's house. They all came in after a while, except for Jacob. They couldn't find him. Joe, who was nine years old at the time, went outside and saw a shadow in the bottom of the pool. It was four-year old Jacob. He jumped in and saved him, his aunt performing CPR, and a helicopter eventually transporting him to the hospital.
"It was the scariest day of my life," said Haden.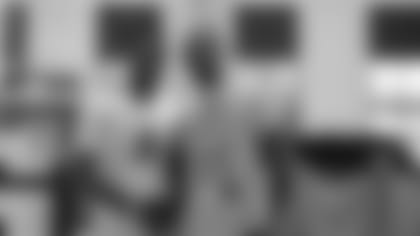 Jacob doesn't let his condition hamper him, and it's his passion that has led Joe to get more and more involved with Special Olympics.
"He is one of my best friends," said Haden. "I have four younger brothers. Three play football and he is a Special Olympian. He has always been doing it, bocce ball, track. We would always go to those events. I became the Global Ambassador for Special Olympics. I would go to the regional games. It was a great time. They would have flag football, bocce ball, track, basketball. It was just so much fun to see how much joy we brought to those kids just to play the games.
"At the end of the day everybody got their ribbons and awards, but it wasn't about that. It was about them having the opportunity to play."
Haden's eyes light up when he talks about Jacob. You can tell immediately how proud he is of him, how much he loves him, and how much he respects and admires the strength he has in dealing with his challenges.
"I am so happy for him, so proud of him," said Haden. "Just for him to live his life the way he does, being so happy and proud. He has a speech delay so he can't really talk. For him to be so happy, and have so much joy every day, it teaches me never take for granted what you have, just being able to talk, interact with people, being able to get people's attention and for them to know what I am talking about.
"Sometimes talking to him I can't understand what he is saying. I will be like Jacob what are you trying to say. That is when it gets to me the most. He never gets down, he will still be trying to let me know what he is trying to say, what he is talking about. It takes a big man to do that.
"When I am having a tough day, he makes life a lot easier."
It's that love that Haden shared with the Special Olympians gathered at camp earlier this summer.
"I love your passion, love your heart, love your drive. I love being a part of it," Haden told them. "Anything I can do to help you guys it's near and dear to my heart. It's family. It's blood. This is my brother and he means the world to me.
"Enjoying what you do brings so much love to me and makes me want to go out there and do what I can do and play harder. I know if Jacob had the chance to be in the NFL, he would be in the NFL. Just giving you guys the opportunity is all you need. I want you to have a fair shot and let you know you have my support. I have your back, the Steelers have your back. We are here for you guys."