Get to know Steelers center John Keenoy
John Keenoy
Center
Western Michigan
Most entertaining person you follow on social media? Probably Barstool Sports.
Must have food? I love Italian food, so pasta, fettuccine alfredo, spaghetti and meatballs, pizza. Anything Italian I love to eat.
Must see show? Blacklist. I love Raymond.
Morning person or night owl? Night owl for sure.
Who is your football mentor or inspiration? My dad, John. Growing up he coached all of my football teams. He played college football at Central Michigan and I always wanted to grow up and be like him. I always looked up to him. He instilled the fundamentals in me.
What motivates you? To be the best. You never play to be second best. You play to be the best. You want to be the best and represent yourself the best.
What is your football mindset/approach? To be the best for yourself on and off the field. To be a team player. To do whatever it takes to help the team. It takes all of the guys in the locker room rallying around one common goal. My favorite thing to do is be a team player, be goal oriented and be the best player I can be.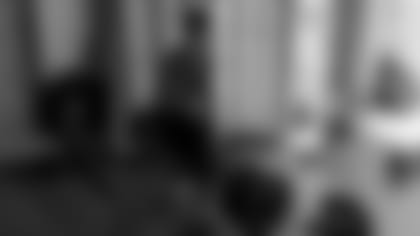 When did you start to dream about playing in the NFL? At an early age. Having my dad play college football I knew that was something I wanted to do. That was my goal. My goal was to play college football and then play in the NFL. I started playing in the third grade.
Why do you play football? For the love of the game and the relationships you build throughout your playing days.
What is your proudest football moment or memory? When we won the MAC championship my sophomore year in college.
When you hear Steelers football, what do you think? I think championship mentality.
You played college football with Chuks Okorafor. What has he shared with you about the team? He texted how great the locker room is. How great the coaches are. That they are willing to develop you as long as you are willing to put in the work.
Has it been tough to not experience that locker room atmosphere? It's tough. You can only do so much over the phone. Just trying to get to know the guys and whatever talks we do get to have in the zoom chats or football stuff it seems like a good group.
You played in the XFL this offseason. What was that experience like? It was awesome, a great experience. I loved my teammates, loved my coaches. I hope it comes back.
What was it like to have season shut down because of COVID-19? It was tough. I was starting to start at guard for the Renegades. I was catching a break when it ended. It sucked. We could have improved a lot over the next few weeks and would have had a shot at the title.
How odd was it shutting down the way it did? How did it happen? We were seeing the news about other leagues, the NCAA tournament shutting down. After practice coach called us into a team meeting and said we were going to take a few weeks off and then hopefully come back. At that point we were sent home with the intent of coming back. It just never happened.
What have you learned about yourself during quarantine? I think how disciplined I can be. Looking within and finding things you like and don't like, especially when you spend all day with yourself. You find out what you are good at, what you are bad at. You find out what you care about you will spend time doing. That is what you really learn most, what you care about.
Did you pick up any hobbies during that time? Football and golf are my two things. As soon as the golf course opened up that is what I started doing.