A Closer Look: B.J. Finney
Position: Center/Guard
Experience: Fourth Season
College: Kansas State
Twitter Handle: @catcenter66
Most entertaining person you follow on social media?
I have no idea. I am not about that life. I am not about the likes and follows. I am on there to follow friends and see what everybody is up to.
Must have food?
Lasagna. I love lasagna.
Celebrity crush?
Too many of them. My wife and I have a running list together. It's a fluid list. Some go off it. Kate Beckinsale is consistent, though.
Must see show?
I have been watching MeatEater on Netflix.
Morning person or night owl?
Morning person. I always like getting up early because you feel like you get a jump on the day. If I sleep too late, I feel like I have wasted half of the day.
Who is your football mentor or inspiration?
My sports idol is Jerome Bettis. I always loved the way he ran the ball, the way he carried himself. How he is portrayed. He seems like he is a great guy. Having the chance to meet him, he was everything that everybody said he is. It was awesome.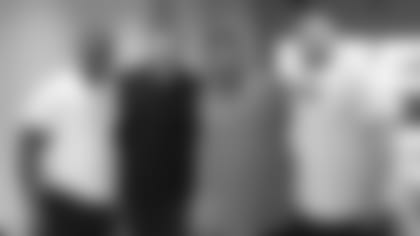 What motivates you?
My family. Just knowing what I am doing now cannot just alter my life but can alter their lives for the better. Getting opportunities to the younger generations of my family. Having doors opened to me and be able to share that with them.
What is your football mindset/approach?
Come in, do your work as hard as you can, be the best that you can, and as detailed as you can.
Why do you play football?
Because I love the game.
What is your proudest football moment or memory?
My most special moment in football thus far in Pittsburgh was my first start. It was against Kansas City. A lot of my family are Kansas City fans. My aunt had passed away the previous spring, and that was the one game she always wanted to see, me playing against Kansas City. The stars aligned that I got that start. It was a special moment for me and my family.