LATROBE, Pa. – Passes were being caught. Blocking drills were in full force. And the energy level was high.
Just a typical day at Steelers training camp at Saint Vincent College.
On Sunday morning, well before the team took the field, the annual Steelers Women's Training Camp, presented by UPMC Magee-Womens Hospital, was in full effect and the ladies were ready to go.
"This is so much fun," said Princess Scott, who is from Pittsburgh attending for the first time and brought boundless energy with her. "Football brings my family together watching the games on Sunday and Monday Night Football. I am excited to be here and do this and to get to meet all of the players."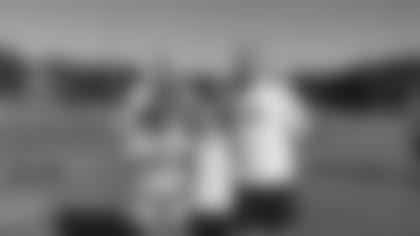 Over 300 female fans were on hand to go through some of the same drills the players do, conducted by Steelers alumni Santonio Holmes, Shaun Suisham, Greg Warren, Mike Wagner, Gerry Mullins, and John Banaszak, as well as watch practice later in the day.
Let's just say it was fun for the ladies to learn from the pros. And they came from near and far to do so.
"I came here just for this," said Kulsun Patel, flying all of the way from Blackburn, Lancashire, England for her second women's camp. "Being a Steelers fan, getting this experience, it's amazing. I was here a few years ago and wanted to come back. I think this is amazing, how inclusive it is. It's so much fun. It's a great experience.
"It's really great. It's not an opportunity you get every day. It's fun to be a part of. And to see the team practice is great."
Holmes stood on the field taking it all in, taking videos of the group and just amazed by it all.
"This is just a pinch of what the female fan base is like," said Holmes. "For these women to come out here and compete, take their time out of their schedule, to show their dedication to the organization. We have to tip our hats to them for coming out here and wanting to experience what it's like to be a part of the Steelers organization.
"The women cheer for the history of the Steelers, and the guys here in support of the camp today. They are showing their love for them. We love them too."