"Fear is a choice. I choose not to fear cancer."
Those were the words James Conner uttered when the University of Pittsburgh football standout made his diagnosis with Hodgkin lymphoma public in 2015.
And those were words he lived by.
Conner never wavered from that. Always standing strong against every obstacle that came his way. And there were many. But he didn't let them get him down, didn't let them discourage him.
He has told his story since overcoming the battle with cancer, talking about it freely on numerous occasions. But he has never shared it in the manner he did recently.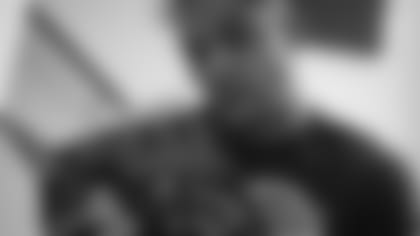 Conner opened up like never before, sharing his story and providing inspiration for others in his newly released memoir, 'Fear is a Choice: Tackling Life's Challenges with Dignity, Faith, and Determination.'
"It's been unbelievable," said Conner. "I feel like God keeps surprising me with things. Now to be able to call myself a published author I don't take it for granted. I am so blessed and fortunate. I can't believe it's here. A lot of hard work went into making this book possible. Now it's here and to hear all of the positive feedback is amazing."
Conner has admitted that he was scared when he got the diagnosis. Honestly, who wouldn't be? But he held true to his mantra, inspiring people all over the world, from kids to senior citizens. The inspiration he provided others was a driving force in what inspired him to write his book.
"It was the constant message of how people refer to me as their motivation, their inspiration," said Conner. "It's funny. Everybody who comes up to me says I should write a book. Last year the opportunity presented itself to be possible and I said, 'Let's do it.' I wanted to make it a timeless piece and just have people know adversity happens in life and there is always a way to overcome it and be better because of it. Now that we have it on paper I hope people can go back, read it, and apply it to their life if need be.
"I want them to understanding there will be hard times in life but there are ways to get through it. I think the book touches survivors around the world, people of faith around the world, football players around the world. It hits on a lot of points that I hope it resonates with a lot of people."
Writing the book forced Conner to relive some of the tougher times he experienced, things that with the passage of time have gotten easier, but still are a part of him.
"That was one of the toughest parts about the process, going back and revisiting the dark times, the dark days," said Conner. "It's the truth and what people need to hear. I didn't want to leave too many things out. I just put myself in that space to where people can understand what life was like for me."
The reaction since the book was released on June 16 has been phenomenal. Book sales are going well, and the feedback from fans, teammates, friends and the media has been nothing but positive.
"The feedback with Twitter is a lot of people telling me they can't put it down," said Conner. "I think people are loving it. The most satisfying part is hearing the feedback and people telling me how much they like it. The messages keep coming. It never gets old. It's getting great reviews. We moved up some spots on Amazon. I think it's the top football book out there. I think it might have hit No. 1. That doesn't happen without the support of everybody. I don't take it for granted. It's a different space I am unfamiliar with. To go down this path to be an author, it makes me feel good."
Conner has made the rounds doing a book tour, with the majority of the interviews virtual. And in a time when so much is virtual, and so many activities cancelled, the timing of his book release is just right.
"With quarantine and people needing something positive, it came at the perfect time," said Conner. "I hope people get lost in it and use it as an escape. It's perfect timing."