James Conner sounded like a man on a mission when he talked on Tuesday afternoon on a Zoom call.
He wants to come back strong in 2020, not to prove anything to others, just for himself and his teammates. 
And he wants to spread a strong, positive message, one of togetherness and unity, a message he feels is desperately needed right now.
Conner has spent the last two and a half months, the time he has been dealing with not being able to work out at the UPMC Rooney Sports Complex because of the COVID-19 pandemic, to stay in shape. 
He has even posted pictures, including one of his back that set social media abuzz.
"It's just the angle. I haven't been working out," joked Conner.
"A lot of people comment on it, saying I am going to be stiff," said Conner. "I am a professional. I know how to work out. I think it starts with genetics, but I have also been putting a lot of work in. It's the way I flexed it. It was nothing. A lot of people look like that."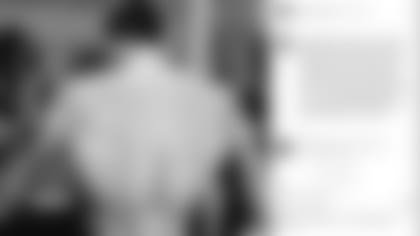 Well, a lot of people may not look like that, but Conner does because he has been laser focused on his health and well-being, taking advantage of every minute, not wasting time, but using time wisely, especially after dealing with injuries that forced him to be sidelined for six games last season.
"I was playing it smart and had my healing up," said Conner. "As soon as the quarantine started, I made a decision every day to get a little bit better and take advantage of this down time we had. I am going pretty hard, I am working out a lot, about six times a week, just trying to stagger all throughout the day. I am just trying to get strong and live a healthy lifestyle."
Conner battled a shoulder injury last year, limiting him to 116 carries for 464 yards and four touchdowns. They weren't numbers he wanted to put up, especially coming off a Pro Bowl season. But that was last year, something he is putting behind him.
"You have to prove it day in and day out. We're getting evaluated every day," said Conner. "I threw last year out behind me. There is nothing I can do to get last year back. I am working every day as hard as possible to be in the best shape ever, to be the best football player I can be.
"When I step out on the field this year, I am going to give it everything I have. That is just my mindset. I am not trying to make it bigger than what it is. All it is, is perform. I do that when I am on the field. I am not too concerned about it. My faith is in God. It's not any come back or this and that. It's just let's go play football.
"I am healthy right now, so I am excited to go play football. I am always confident in my game."
This offseason the team put their confidence in him, but he is still entering the final year of his contract, with no extension in place. That is something he won't let bother him, giving his everything to the team.
"My goal is to win. I have the opportunity to do that," said Conner. "I am going to go into training camp with this year's team, special team that we have. We had some pieces that were out last year, coming back healthy. I'm really excited for the opportunity to win. I am not playing for a contract or not to get hurt. I am playing to win. Simple. It's all it's about. I have visions of us and me being a part of Super Bowl number seven for this organization.
"That is why I try to live a healthy lifestyle, that will translate to the football field. The more work I put into my body, I know it will translate. I just want to be healthy, give it all I've got. Play for my teammates. We have an awesome group year in and year out. The goal is to win.
"I want to do a lot more and give a lot more to this organization. I trust the Lord's timing. Not concerned about the extension. I have another year left on my contract. I am giving everything I have for one more year and we'll see what happens after that. I am just going to ball out, play football and play to the best of my ability."
When Conner talks about pieces coming back, one of the main ones he is referring to is Ben Roethlisberger. Roethlisberger missed the majority of the 2019 season, sidelined in Week 2 with an elbow injury. But recently he has been throwing again, with Conner one of his targets.
"Just having him back there. We know what he is," said Conner. "It's no secret. I know what type of person he is, his ethic and how he loves the game. For him to be back out there, we're excited for it. He looks good, strong, determined, motivated. We're excited. We're looking forward to it."
While football is one of Conner's focuses, it certainly isn't his only one right now. Like everyone in America, Conner is focused on what has happened since the death of George Floyd last week. He has seen the video. He has seen a country not just mourn his death but be outraged by how it happens. He feels the same way, but he is trying to harness his feelings into something more.
"I have been trying to use my platform about spreading awareness about hatred," said Conner. "There is more to it. We have been aware of it for quite some years now. I am trying to promote togetherness and unity. I am going to continue to promote togetherness and unity. What has been done, what is currently going on, is very wrong. For me, I am going to continue to promote togetherness and unity.
"We need change. It starts with hope. This younger generation coming up, it's on us. Young parents and stuff to teach their kids about unity and togetherness and how we are stronger together. I have been trying to use my platforms to spread that. I just try to touch on that."
Conner said he and his teammates have talked about what happened during their virtual meetings that are going on. And they are on the same page.
"I don't feel it's my place to talk for the whole organization," said Conner. "We know and feel what is going on. We are impacted by it. I can just speak for myself. I know a lot of the guys feel the same way. Change needs to be done. It needs to be done quick. We definitely talked about things. We're hopeful things will get better as well."
Conner said he understands there are many people who want to help with the movement that is going on now, but don't know how, don't know what to do. He said it can start with just reaching out to others and offering their support.
"A couple close friends of mine reached out," said Conner. "That is exactly what it is. People who aren't black and don't understand what it's like, I think maybe the best thing they can do is reach out to their black friends and just let them know how they feel, keep that relationship. We want to stay together and not get divided. Relationships could be different, but we can't let them. We have to stay together. You just reach out. I have had friends reach out to me and it means a lot."