The center position is one where leadership is required, where communication is a key, and where being a solid, steady force is a must for an offense, and in particular offensive line, to function.
This past season, the Steelers got every one of those qualities from Mason Cole, the veteran who signed in the 2022 offseason as an unrestricted free agent and took over at the center spot from day one.
"Man, he's a sharp guy," said Coach Mike Tomlin of Cole during the season. "He brings a can-do attitude. He's a winner in his approach to ball. He's a good communicator. His football intellect is really solid and it's helpful at that position in terms of the identification of protections and picking up the blitz game."
When Cole arrived in Pittsburgh last March, being a leader, a communicator, was something that was important to him. He wanted to be a go-to guy not just for the offensive line, but anyone who just needed that steady force.
But he wants more. Which is a sign of the type of leader he is.
"I think there's always room for improvement in every part of the game whether it be physical, mental or even the leadership aspect," said Cole, the 26-year-old who just wrapped up his fifth season. "So, I think I can be better in that aspect. It comes with the position. And then when you sign a new contract here, it comes with it a little more too. Just being an older guy in the room, even though I don't feel that old. In our offensive line room, I would be one of the more experienced guys, along with Chuks (Chukwuma Okorafor) and James (Daniels). It just came naturally. I think we've got a really good room and guys bought into what we were doing."
Tomlin tabbed Cole as a 'hub of communication on the offensive line.' That communication is something that came into play even more this year with a young line playing together as one for the first time and working with a rookie quarterback in Kenny Pickett.
"One of the biggest parts of playing center is making sure everyone's on the same page," said Cole. "So over time, through the year, I got better communicating and just understanding the guys you're playing with, how much need to be communicated, what needed to be communicated. There are certain guys who know a little more, have a better feel. And there are guys that don't. It's knowing the guys you are playing with, knowing what they need. It's more like a servant to those guys and making sure they know what they're doing and being that guy for them."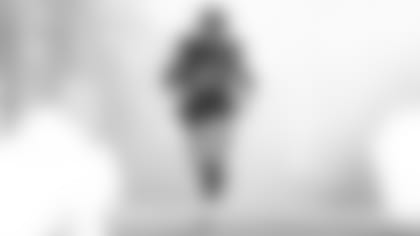 Being 'that guy' was a necessity, especially when the line was taking heat from every direction, except within, at the start of the season. The media and fans were hard on them as they worked to become a unit, something that took time.
"I think there's always going to be strong criticism for the most part for the offensive line," said Cole. "But in our room, we just didn't pay attention to the noise. We just kept our heads down and it kept working. We knew the type of guys we had in the room. We knew the type of players we had in the room. We never lost confidence. There was never a point where you thought about losing confidence. We knew the type of players we were and just kept pushing forward."
That attitude, that patience, paid off as the season wore on, because with an offensive line time is the key. Getting five players to work as one isn't going to happen overnight. It takes reps, it takes experience, it takes time.
The time was also aided by something else, something that can't be measured on a stat sheet. It was good health. The Steelers starting five offensive linemen started every game in 2022. Every. Single. Game.
"We all played together," said Cole. "The whole season long. All 17 games we started together and that is pretty impressive for a group. It's huge. I think we're the only offensive line that played all 17 games together this year, which is pretty impressive. The reps are so valuable, especially those in-game reps. There's no way to replicate it. As you get more reps you have a better understanding for the guys next to you and what they need, what they need to hear from me at the line and just how we play together and just those reps, they're just invaluable.
"I think we saw that through the year. I don't think we played horrible early in the year, but we weren't playing at a super-efficient level. And just as the offensive line went, it felt like the whole offense went. We started playing a little bit better, the offense got more efficient, scoring more points, and winning more football games, rushing the ball better.
"For the offensive line, there wasn't a whole bunch of pep talk that got us to that point. We knew if we were good, we were going to help the offense be really good. I think you saw that as we performed better, the offense went with us, which is natural. In football as the offensive line goes, the offense is going to go. We knew what we had to do. We understood the magnitude of our play and how it affected the offense. And we just got better.
"It did take time. Maybe a little more time than all of us wanted it to. But I think we're going in the right direction for sure."
Going from 2-6 to start the season to 7-2 in the final nine games is something that Cole takes pride in, not just for himself, but for everyone in the locker room.
"Just super proud of the guys," said Cole. "The whole team never stopped working. We just put our heads down and worked. We knew how good we could be, and it wasn't great early in the year, but we just kept pressing forward and we started to see some of the results later in the year."
Cole is looking forward to returning in 2023 with a group that has experience under their belt, has the reps as a unit, has cohesion and a relationship. He knows it can do nothing but help them.
"I feel good about the offensive line play and how we ended the season," said Cole. "It felt good to end the season the right way. If we would have lost the last couple of games, it wouldn't have felt right. Obviously, we wanted to be in the playoffs, but it feels good now to carry that momentum through the offseason and into the next season."