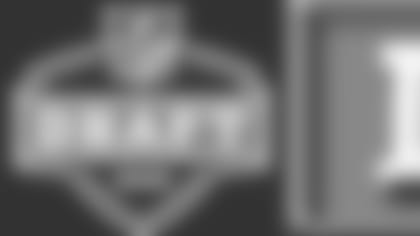 RASHARD MENDENHALL CONFERENCE CALL
Running Back - University of Illinois
Coach Mike Tomlin and Director of Football Operations Kevin Colbert
Running Back - University of Illinois
Kevin Colbert:  Well obviously we're very excited about this draft pick, Rashard Mendenhall.  As we finalized our preparations mid-week, the coaching staff, scouting staff and ownership all sat down and we came up with a list of players that we would not trade away from if they were available at 23.  Rashard Mendenhall was one of those players – so we are very excited that this player was available at 23, because it was unexpected.  I don't want his agent hearing that, but it's the truth.
This is an exciting running back.  He's 225 pounds, he'll run a sub-4.5, he runs with power, he runs with moves, he can catch.  He'll work as a blocker.  This is something that's very exciting for this organization, and we were happy to make that pick.
Your intentions were to trade down?
KC:  We were of the mindset that we were thinking that, with only six picks and the guys we were looking at at 23, if teams were interested in coming up, then we would entertain it for sure.  We came up with a list of guys, and said 'If these guys are there, we're not trading down because they're that good and we want them.'
How big was the list, and did you have any offers?
KC:  It was about 15 guys.  We had a few calls at the last minute, but they were nothing that would have interested us even if it was a player that we were interested in trading away from.
Did he bulk up after college?  He was listed at 210-215, and now he's listed at 225.
KC:  No.  This kid, he's put together.  He's a nice-sized kid.  I'd have to go back and look and see exactly what he played at, but I think during the season he was in the low 220's.  218 to 222, somewhere in that range.
How do you see him fitting in?
Mike Tomlin:  First and foremost, he's a quality human being.  We were thoroughly impressed with him while getting to know him through the interview process.  A very humble, blue-collar worker.  Those type of individuals don't have any problem fitting in.  In terms of what he brings to the table – he's a complete back.  He can run inside, he can run outside.  He's a powerful runner.  He's elusive, and of course he has the speed to go the distance.  It shouldn't be too difficult finding ways that he can contribute to this football team.
Does this open the possibility of a two-back set?
MT:  That sounds good.  Draw it up for me.
This guy does a lot of things well.  He catches the football.  He's going to enable us to do a lot of things.
Willie Parker said that he'd welcome another back to help him carry the load.  Was that a consideration with this pick?
KC:  In all honesty, when you look back on last year, once Willie was injured it was a difference, obviously.  Willie Parker's a Pro Bowl running back, and when you go from a Pro Bowl running back to anybody there's going to be a drop off unless you have another Pro Bowl running back.  You want to try to add something to that backfield.  Willie's still going to be a great running back, and we thing Rashard will be a great running back as well.  Most successful teams have two productive running backs that they can count on.  This one's a little bit bigger than Willie, so there may be some things that he can do to complement Willie, and that's only going to help us.
What did the Rose Bowl do to his evaluation?
MT:  He showed up big on the big stage, and you like guys that show that characteristic – the ability to rise up at opportune moments.  But he's got a complete body of work.  Any tape you turn on, he's a force for that football team and one of the reasons that they were able to get to that game.
He never takes the ball out of his right hand.
MT:  If they were finished products, they wouldn't need us as coaches.  They all have little things that you want to correct.  That's just the reality of it.  We look forward to doing those things with him.
Will he compete to start?
MT:  No, we have a Pro Bowl running back.  This guy's going to help our football team.
If you hadn't taken Mendenhall, would Jones have been another option for you at that position?
Do you see him backing up Parker or alternating with Parker?
MT: At this point he's a young guy trying to fit in.   He'll be backing up Parker.
The highlight package right after you made the selection its a lot of Juice Williams in the shotgun fake misdirection handoffs and the offensive linemen get out and block its not the classic Big Ten offensive.  Is that a little bit of a disconnect for a 225 lbs. guy?
MT: That's just the state of college football if you look at Jonathan Stewart tape you would see the same thing from Oregon.  That's just the way the college game is played.  And we will be looking at and evaluating a lot of backs in the future that play in that offensive system.
What did he say about coming to the Steelers?
MT: He is fired up.  Needless to say as are we.
Kevin were there any other players on your list that were still available or was he the only one?
KC:  No.  Not really it came off pretty clean as we expected it too.   Those guys, there were a lot of special players that got picked ahead of us.  This kid was one of them and we were just happy he was there.
Do you think he would drop this far?
Mike are you alright like in a crucial situation late in the game fourth quarter something like that when you have to run the clock out you have got to have those yards on the ground to give the ball to a rookie potentially?
MT: Sure I'm open to it what he does when he comes here will determine that.
Kevin were you surprised by all the trades in the first round or did you expect this level of activity?
KC: A little bit because there were some things like we said once you get beyond No. 20 everything starts to scatter and you see teams fulfilling needs really.  And it keeps widening as we go through this draft.  So hey teams did what they felt they had to do to get there guy.  So there was a little more activity then we thought.
Mike a lot of us we want an offensive lineman to protect Ben.  How does he protect Ben?
MT: You know there are two schools of thought to protect a quarterback.  You can get linemen or you can get him weapons.  People that people have to account for.  Obviously with this pick we've gotten a weapon.  So what he is able to do on a football field will help our quarterback and our football team.
MT: He's got some nice skill level.  He's shown the ability to do that.  He's probably got to get a little better technically.    But again all these guys are unfinished products.  Looking forward to working with him there is no question that he is open to getting better in all aspects of his game.
Does the fact that you were surprised that he was available here change your plans going forward today or tomorrow?  This obviously like you said wasn't where you expected to go with this first pick?
KC:  I don't think it will change we will just keep watching this thing.  I mean we got him up there the players are rated and hopefully we are going to have another surprise in the second round.  Chances are it will happen.  Again as you go further into this thing players are going to be there that we like.  Maybe someone else doesn't.  That doesn't mean we have it correct we just have to wait and see if he's the right guy.  We will have a lot of options at the second pick as well.
Kevin not to say you might get an offensive lineman but you said it's a deep draft. Your thoughts on the guys that were taken so far and will there be guys available in the second or third round perhaps?
KC: Yeah they were all quality players for sure and there is still some good quality left.  Absolutely.
Kevin do you have another list somewhere to look at.  And is it more difficult to trade down in the second round then it is the first round.
KC:  No we will have certain guys we didn't really go that far into it we wouldn't trade away from these guys in the second round.  But again we are still interested in adding more picks because there are a lot of good players left