Get to know Steelers wide receiver Saeed Blacknall
Saeed Blacknall
Wide Receiver
Penn State University
Most entertaining person you follow on social media? I guess I will say Tory Lanez. During quarantine he had his quarantine radio going crazy. So many people were tuning in. It was the only entertainment at the time.
Must have food? Fish. I like salmon.
Morning person or night owl? Morning person.
Who is your football mentor or inspiration? I would say my pops, Chris Blacknall. He couldn't go as far as I could or have made it. I do things for him. It's cool to see him live through me. He was like every high school athlete, trying to get recruited. He was the man around my area during his time in high school. He was a really good running back. Injuries and other circumstances stopped him from being able to do that. He had two sons and he put that in us. He put a football in our hands one day and the rest is history.
What motivates you? Time. I realized this is our only chance to walk this earth in history. Time is something you can't get back. Once you are gone, it's gone. Right now, 2020 changed that for me. I used to have a lot of other motivations. After watching Kobe (Bryant) die and so many things happen this year, I realized how precious time is and how you have to take advantage of it and use every second of the day.
What is your football mindset/approach? To be professional. I am always trying to take the next step of my game. It doesn't matter what it is, footwork, details or film. I am always trying to push myself higher each and every time. Especially with football. Nobody has mastered the game of football or is perfect. It's such a physical and mental game and can wear you down. If you aren't on top of it, you can fall on the other side of the fence. If you always keep moving and never stop in your craft, you are fine.
When did you start to dream about playing in the NFL? Since sixth grade. When you are a kid you play baseball, you play everything. After that I was like this is what I want to do.
What is your proudest football moment or memory? It's going to be neck-and-neck with winning the Big 10 Championship in 2016 when I was at Penn State and then making it to the league. Making it to the doors. I was undrafted, but I made it to the room.
When you hear Steelers football, what do you think? Pride football. Tough football. A beautiful city. I think of tough, steel. Anything that comes to mind of that nature. Family-oriented. It feels like anyone who is part of the organization, who walks through the facility, always has each other's backs and best interests, along with the coaches. It's a historical program to be a part of.
Why do you play football? At first as a kid you are in the neighborhood and everyone is playing. Then you realize you are fast, or you are pretty good, and then you make people miss and you want to take it to the next level when you get to high school. It was something I picked up and fell in love with. It's like art. Art is my second love. The first time I drew something, or painted, or did any type of art or photography, I felt I had to keep doing it. It felt good.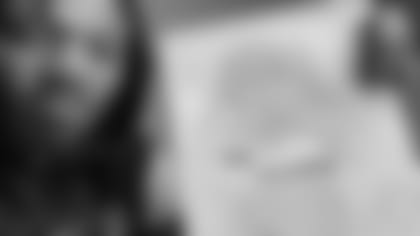 As far as your interest in art, what do you do, how did you get interested in that? I used to draw a little bit, sketch, mess around. I started painting. I was always in art classes, even in college. I took it to a whole new level. Trying to paint or draw can get a little boring unless I can dive deep into it. That is why I started to get more digital. I like graphic design, editing pictures. Those things you see before a game, the highlight films to get the fans pumped up, I did an internship and worked creating those digital effects and doing different highlight films and promos to get ready for the upcoming season. I fell in love with that side of art. I like fashion. During quarantine I bought a sewing machine and started patching things together and making things. I just like creating. I would have blank jean jackets and if I saw something on it from a shirt a liked, even a female blouse, I would cut a square of it and just sew it on. I just learned so it's kind of rough. But you can make anything you want.
What did you learn about yourself during quarantine? The time factor I was talking about. Taking advantage of the day. When the quarantine hit and everyone was forced to be in their thoughts, can't watch games, can't go out, you are forced to sit in your thoughts and go back to the cave man days, which I think are the days I liked more. I drove by a park the other day and all of the kids were on their phones on the bench and not talking to each other. I was able to use time and stimulate myself like the world was normal and do other activities.