It wasn't the rookie season Zach Gentry hoped for. Not even close.
Gentry, a tight end from Michigan who was taken in the fifth-round of the 2019 NFL Draft, had hoped to have been a contributor last season.
Instead, though, he found himself inactive for 12 games and in the four games he played coming away with just one reception for four yards.
"It's always tough as a competitor," said Gentry. "I was inactive for a lot of the games, just watching. That is tough as a competitor being on the sidelines watching. It's a numbers game. At the end of the day it is what it is. I am setting myself up to be more of a role and a factor next season.
"I learned a lot this year. Just the ins and outs of everyday life in the NFL. I was lucky. I had a lot of guys to look up to in the locker room. I was happy because I felt like I was able to learn every day and that's what I needed."
One of the main people Gentry leaned on for advice and to learn from was veteran tight end Vance McDonald. McDonald became a mentor to Gentry, a leader who helped him navigate through the muddy waters of a rookie season.
"He helped me out a ton. I call him dad," said Gentry. "He knows so much, knows the offense, he knows about the day to day life. I really appreciate him.
"With him it was small things you might not notice, like on the first step of a cutoff block making sure you get off really quick, something you might not think about. Little things that resonated in my mind, made me a better ball player and I am really thankful for that."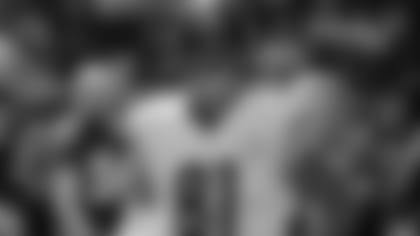 Gentry plans on spending a lot of time in Pittsburgh this offseason, working at the UPMC Rooney Sports Complex with conditioning coordinator Garrett Giemont.
"I am going to be in the weight room all offseason working," said Gentry. "I want to make sure I continue to get stronger. I want to work on flexibility to make sure I can bend my hips and stay lower to the ground.
"It's a no brainer for me to stay here. I can work with the conditioning staff, I can have the training staff here, everything I need I have here. I don't see a point in leaving. It's a new home so I am glad I am staying here."
And a distinct difference and advantage Gentry has this offseason vs. last offseason is he doesn't have the stress of the NFL Draft weighing on his shoulders. All he has to focus on is being in the best shape possible when OTAs kickoff in May.
"A rookie year is challenging, but it's what we all signed up for," said Gentry. "It's a lot going from the last season of college football, right into combine training, then preparing for the NFL Draft and the season. You have a 20-game season with the preseason. It's challenging but rewarding at the same time.
"I am excited for this offseason. I can't wait to work and not have to worry about a hand-held time in the 40-yard dash. I can't wait to know what is in front of me. I can't wait for my second season to come and know what I need to work on and just go for it.
"I am excited to not be a rookie anymore and come back with that first year under my belt and keep working."