Keeping him contained: It didn't take long for Tyreek Hill to make his impact on the 2018 NFL season when he returned a punt 91-yards for a touchdown and had seven receptions for 169 yards and two touchdowns in the Kansas City Chiefs opening day win over the Los Angeles Chargers.
And on Sunday, it will be the Steelers defense that will have to stop, or at least contain, the explosive Hill.
"He went crazy. He had a good game," said Artie Burns. "We're going to prepare for him. We're going to look at the film, see how we can slow him down, and have a good game.
"Tyreek is a big play maker, as well as (Travis) Kelce. We just got to make sure we get the ball down once they catch it."
Hill, who at 5-10, 185 pounds has the self-proclaimed nickname of 'Cheetah' because of his speed, brings on a different challenge than a big receiver.
"Each guy has their own challenge," said Cameron Sutton. "Tyreek being a small guy, shifty guy, speed guy. It always come down to fundamental technique, trusting yourself, doing what you love to do, and not shy from anything. Be ready to go, be locked in for the moment, go play by play, and be ready to go each and every day down.
"Guys like that, it's going to come down to technique and we are going to do some things to not just limit him but the rest of the offense as well. They have a lot of guys on that side of the ball, so we just got to do what we need to do as a defense, win those battles, get off the field, or create turnovers and the ball back for our offense."
Conner Strong: James Conner made his first career start against the Browns last week, and his strong performance earned him the FedEx Ground Player of the Week.
Conner had 31 carries for 135 yards and two touchdowns against the Browns. Conner also had five receptions for 57 yards.
If that is a load he can handle moving forward, only time will tell, but the big guys up front think he can.
"It's the nature of the NFL. It's a war of attrition," said David DeCastro. "A lot of guys that are able to be professionals and make a career out of it are the ones who are able to be out on the field every week and get their body in tiptop shape. I am sure he will figure it out quick."
A $2,000 donation will be made to the USO in Conner's name through FedEx Cares.
No panic button: The Steelers go into Sunday's game with a record they never expected to have at 0-0-1. And while they look at it as an opening day loss, they know there is no reason to panic.
"It's a really long season, it's one game, first game," said Anthony Chickillo. "We want to be 1-0 and we aren't. But we have a locker room that will respond appropriately because we have a big game against the Chiefs."
Starting strong is a key in football but finishing strong is even more important.
"You never overreact after one game," said Alejandro Villanueva. "It's early in the season. You want to play your best football towards the end of the year. But we need to make sure we are doing things right so we can gain confidence toward the end of the season and position ourselves for the playoffs."
Sean Davis on making the move to free safety this season.
"I am definitely liking this position change. I like being back there patrolling deep and having everyone's back. I still have a lot of work that needs to be done. I am adjusting well and getting better each week.
"I have to continue to get better, get better reads to be able to help my corners out on fade balls. I feel like I have the skill-set, the speed to get sideline to sideline."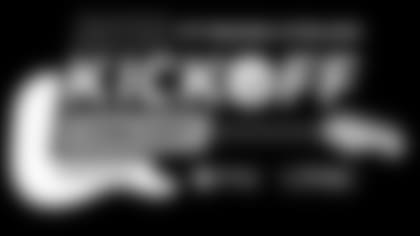 Friday, September 14, at Stage AE
Kickoff concert with Kip Moore, featuring special guests The Wild feathers and Jameson Rodgers at Stage AE, presented by UPMC and PNC Bank. The concert also features The Ryder Cup Trophy on display for photo opportunities. Ryder Cup Captain and Steelers season ticket holder Jim Furyk will introduce Kip Moore. All fans attending the event will receive a free 2018 Steelers schedule magnet courtesy of the Steelers Pro Shop.
Tickets start at $37.50 ($40 at the door) and are now on sale at Ticketmaster.com.